China reins in controversial politician Bo Xilai chatter online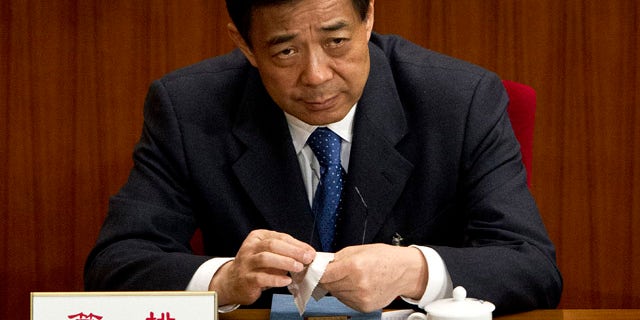 China's social-media services, which had allowed wide discussion of controversial politician Bo Xilai since his ouster last week, are now cracking down on searches for his name, as his downfall seems to have put much of the country on edge and given rise to fevered rumors of political infighting.
On Monday night, Internet users were startled by reports—entirely unsubstantiated—on China's wildly popular Twitter-like microblogging sites of gunfire in downtown Beijing. Nerves were further jangled by accounts of a heavier-than-usual police presence along Chang'an Avenue, one of the capital's main thoroughfares.
Among the legion of social-media fanatics, there has been fevered chatter of a political struggle inside the towering walls of the Zhongnanhai leadership compound in downtown Beijing.
One theory, widely explored: A battle is brewing between Zhou Yongkang—the country's domestic security chief who is believed to be a strong supporter of Mr. Bo—and President Hu Jintao, Premier Wen Jiabao and other leaders who analysts say likely supported Mr. Bo's ouster.
Mr. Zhou is a member of the party's all-powerful Politburo Standing Committee, and one of the country's nine most powerful political leaders.
The Communist Party's grip on power depends in large part on maintaining a facade of unity, so the online rumor mill is clearly unsettling China's propaganda officials and their armies of Internet censors. That is particularly true in the run-up to a once-a-decade leadership change scheduled to take place later this year.
Rumors of a power struggle also appeared to unsettle markets: Credit default swaps on China's government debt—which offer a sort of insurance if China is unable to pay back its obligations—briefly rose on Tuesday before falling back to previous levels, according to a trader.
On Wednesday, Beijing appeared outwardly calm, though rumors continued to spin around overseas Chinese-language news websites, including that of the Epoch Times, a New York-based news organization with ties to the Falun Gong spiritual group, which is banned in China.
Mr. Bo was dumped last week after a scandal involving his former police chief, Wang Lijun, who apparently sought asylum in the U.S. Consulate in nearby Chengdu. Mr. Bo was a populist politician who grabbed national headlines with a high-profile crackdown on organized crime and attempts to revive the singing of Mao-era revolutionary songs.
For several days after his ouster, censors took a hands-off approach to online gossip, letting speculation flow freely. That changed this week as popular microblogging site Sina Weibo reinstated an earlier block on searches for Mr. Bo's name and additionally blocked a wide range of user-invented code words for Mr. Bo, including the term "not thick"—a play on Mr. Bo's surname, which means "thin."
Searches for Mr. Bo's name, "not thick" and other related terms were also blocked on Tencent Weibo, another of China's popular microblogging sites, which often impose their own blocks in anticipation of what the government will deem sensitive.
In the current overheated atmosphere, unexpected news is being parsed for political meaning. For instance, speculation has swirled about the identity of a man killed on Sunday morning when the Ferrari he was driving crashed into a bridge on a Beijing highway and shattered into pieces.
Online rumors that the driver was the son of a high-level central-government official picked up steam after censors moved aggressively to quash discussion of the accident.
Please click here for the entire report from the Wall Street Journal.