China cracks down on terror, religious extremism, but doubts cast on its effectiveness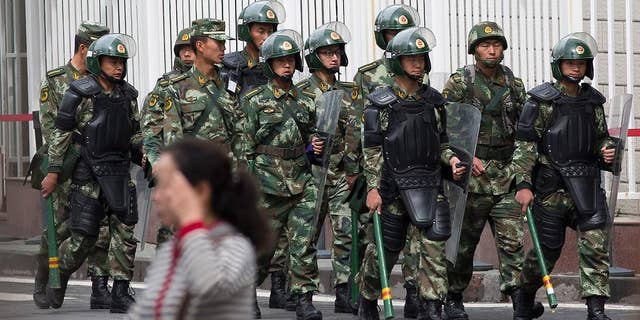 BEIJING – China announced Monday that it has arrested more than 200 terror suspects over the past month in the restive Xinjiang region, highlighting its commitment to a security crackdown even as a bloody attack last week raised questions about its effectiveness.
Since the attack, which killed 43 people in a vegetable market in the regional capital of Urumqi, Beijing has responded with a show of force in the form of police and troops parading down city streets, an announcement of a one-year crackdown on terrorism, and creation of ad hoc anti-terror work teams around the country. But some observers say the strategy — no matter how toughly it is implemented — is ineffective and could even backfire.
"These terror attacks show those launching them are capable of attacking any place with methods and timing of their choice," Shanghai-based independent military commentator Zhao Chu said in an article that concluded that China's Xinjiang is quickly becoming like Russia's Chechnya. "The so-called counter terrorism is nothing more than tightening the social controls that are already extremely tight. It is undoubtedly a policy of adding fuel to the fire."
Violence has long been linked to ethnic tensions in Xinjiang. Many of its native Muslim Turkic Uighur people say they are discriminated against by the ruling Han Chinese. Recent attacks blamed on radicals among the Uighurs have become bolder and have targeted civilians, although Xinjiang experts say it is unclear whether groups of people are linking up to make long-term plans on how to maximize terror.
Security has been tight for years in the region, which is flooded with armed military police, city police and community wardens as well as large numbers of surveillance cameras looking out for the slightest signs of riots. Armored personnel carriers are a common sight in Urumqi streets.
Police routinely conduct special operations aimed at rooting out potential militants and deterring likely followers. State media said Monday that local authorities have broken up 23 terror and religious extremist groups and caught over 200 suspects so far this month.
The latest attack shook Urumqi just one day after Xinjiang courts jailed 39 people on terrorism-related charges stemming largely from sharing audio and video materials that authorities said promoted violence. And it followed a Central Asian security summit hosted by Chinese President Xi Jinping in Shanghai.
Three weeks earlier, just as Xi had urged police to be "fists and daggers" in fighting terrorism during a tour of the Muslim northwest, two suspected suicide bombers detonated explosives at a train station there, killing themselves and one other person.
Both attacks took place amid a renewed crackdown after five assailants believed to be Uighurs killed 29 by slashing at crowds at a train station in southwestern China. Last year, three Uighurs rammed a jeep through crowds of tourists in the heart of Beijing and exploded the vehicle, killing themselves and two tourists.
Ahmed A.S. Hashim, a terrorism expert at Singapore's Nanyang Technical University, said Chinese authorities already have "enormous amounts of resources" to try to prevent attacks in Xinjiang, and that many of the units are "not exactly well versed in civility."
"The more they take a hard line — the 'strike hard' strategy — the more they tend to feed the disgruntlement and seeking of revenge, and the more likely the Uighur separatists might get support from outside groups, particularly in Central Asia," Hashim said.
A Chinese terrorism expert, Li Wei, said the country had to step up counter-terrorist measures across the country because attacks once confined to Xinjiang are now occurring outside the region. He defended China's efforts so far.
"It is not that our existing counter-terrorist measure are not effective, but the spreading of the extremist thought has played a key role (in bringing about more terrorists)," said Li, director of the Institute of Security and Strategic Studies at the China Institutes of Contemporary International Relations.
"We are not only targeting the terrorists that directly participate in terrorist activities, but also people that spread extremist ideas, manufacture explosives, plan and organize terrorist activities, because they are all different segments of the terrorists' activities," Li said. "Only by doing so can we reduce the risk of people becoming victims of terrorism."
But Zhao is far less optimistic. He said China's security apparatus has failed because it is built to suppress political and social dissent instead of terrorist threats. "Faced with the tides of terrorist attacks, China's security paraphernalia are nothing but a paper-pasted levee," he said.
Zhao also warned against suppression of open discussions about terrorism and ethnic issues in China.
"It must be said that it is a horror that China should ban public discussions and news investigations when it faces such serious terrorism threats," he said. "By suppressing public attention, exchanges of ideas, the society can never fully face this threat."
___
Associated Press writer Louise Watt and researcher Yu Bing contributed to this report.