Chile Struggling To Figure Out Who Is Behind String Of Chilling Bombings In Santiago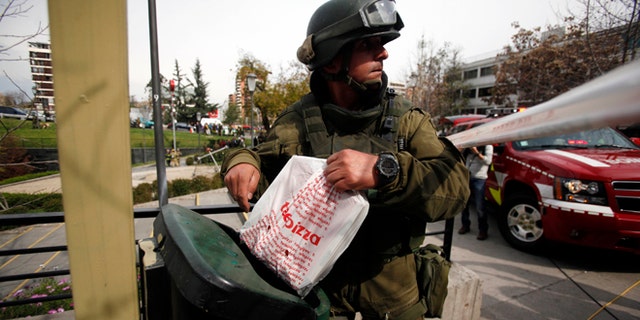 NEWYou can now listen to Fox News articles!
The recent bomb explosion inside a crowded shopping center next to a subway station in Santiago shook Chileans' sense of security in what for decades had been deemed as Latin America's safest metropolis.
It wasn't only that a bomb went off in the city's bustling downtown — Santiago has seen around 200 such explosions in the last 10 years and almost 30 this year alone. It was the brazenness of the daylight attack on a swarming subway stop and the fact that Chilean authorities still have no clue who carried it out.
The Monday blast occurred near the country's top military academy and occurred just three days before the 41st anniversary of the Chilean military coup that ousted socialist President Salvador Allende and began the dictatorship of Gen. Augusto Pinochet.
The Chilean government called the explosion that seriously injured 14 people a "terrorist attack" and blamed it on fringe anarchists groups who have claimed responsibility for past bomb attacks on police stations, office buildings and banks. No group has come forward to claim a role in this attack.
While around 80 different groups have been known to be active – mostly nighttime explosions that have yet to kill anyone – prosecutors are unsure if they are dealing with one group that continually changes its name or many separate cells.
This is an abominable act, so we are going to apply all the weight of the law, including the anti-terrorist law, because those responsible for this act will have to respond.
The groups go by names like "The friends of gunpowder" or use the names of long-dead anarchists from Europe and the United States to label their organizations. A group named after Leon Czolgosz, the anarchist who assassinated U.S. President William McKinley in 1901, has claimed responsibility for at least five of the Santiago attacks in the last decade.
The groups' motivations vary widely as well – from anti-U.S. sentiments to indigenous rights supporters – and Chilean authorities tend to believe that most groups operate in small cells of no more than 10 to 15 people, causing havoc through crude, homemade bombs, or improvised explosive devices (IED).
"The typical modus operandi was to place IEDs composed of gunpowder inside of a fire extinguisher in front of businesses; banks were most frequently targeted," a U.S. State Department report on Chile's bomb attacks stated. "The majority of the IEDs were crudely built, characterized as "noise bombs," were used late at night, and did not appear to be designed to kill or injure people. However, they did have the potential to injure passersby in the immediate vicinity."
So far the worst harm to come from the bombs has been inflicted on the anarchists themselves. Mauricio Morales, a young activist, was killed when the device he was carrying exploded prematurely; two years later, another anarchist, Luciano Pitronello, was severely injured when a bomb he was planting outside a bank went off in his hands.
Despite the low levels of casualties and seeming indifference for the most part from Chileans, the government of Michelle Bachelet and many other members of the government are taking this threat very seriously. Bachelet has boosted security at subway stations and elsewhere and has controversially brought up the use of the country's tough, dictatorship-era terrorism laws.
"This is an abominable act, so we are going to apply all the weight of the law, including the anti-terrorist law, because those responsible for this act will have to respond," Bachelet said during an address Tuesday night. "Chile will keep being a safe country."
The anti-terror law was enacted during the dictatorship and lets suspects be held in isolation without charges and permits the use of phone taps and secret witnesses in investigations. It has been under fire for years from critics of the Chilean government for being an unnecessary holdover from the dictatorship.
This week Chile sought help from foreign security agencies in identifying those responsible, but didn't say which countries had been contacted, only referring to the fact that "international agencies" had been asked for help in the investigation into the blast.
On Wednesday, a spate of false bomb scares and two explosions of low-powered homemade devices at supermarkets in Viña del Mar kept raising tensions further in the Southern Cone nation. In Viña, 75 miles west of Santiago, one woman reported damage to her ears from one of the blasts, which appeared designed to make noise but cause little damage.
The attacks stand in stark contrast with the image Chile has attempted to send to the world ever since the end of the Pinochet dictatorship in 1990. Chile has long been hailed as a commercial and democratic example for the rest of Latin America, thanks in large part to its strong economy based on exports ranging from copper to fruits, and its supposed stability under the moderate left-wing governments that followed the Pinochet years.
Observers, however, argue that this façade may only be skin-deep as Chilean society is heavily separated between the have and have-nots with this anger spilling over in recent years to widespread protests from labor unions, students and the country's indigenous peoples.
"Chile presents a kind of Switzerland-like persona but it's a country with deeply unresolved issues," Larry Birns, the director of the Council on Hemispheric Affairs told Fox News Latino. "Chile is very vulnerable to domestic issues."
This vulnerability, highlighted most tellingly by the violent student protests between 2011 and 2013, is also shown in how the government has dealt with the bomb attacks. A so-called blame game has sprung up between police, prosecutors and judges over who is culpable for failing to arrest and prosecute members of these anarchist groups with Bachelet attempting to ease the tensions while reassuring a wary public in the aftermath of this recent string of bomb attacks.
"It's important that we don't simply pass the blame from one body to another but instead we coordinate and work together and come up with the intelligence to respond accordingly," Bachelet told local radio station Radio Cooperativa in a recent interview.