Chewbacca arrested during Ukraine elections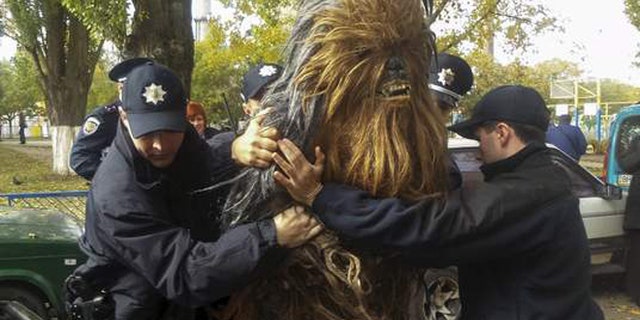 Video has been released of the moment Chewbacca was arrested in Ukraine for unlawfully canvassing for the country's Internet Party.
The Wookiee was stopped by police on Sunday while driving Darth Vader to a polling station in Odessa where the pair were campaigning for Vader in the mayoral elections.
Ukraine's local election law forbids candidates from canvassing on the day of voting and Chewbacca was taken into custody after failing to show police his ID.
It took four officers to restrain and handcuff the space pilot after he resisted arrest and he was later fined 170 hryvnia ($7.48) despite protests from Lord Vader.
After being released Chewie said he could not pay the fine because his money is tied up in an intergalactic bank that does not have a branch on Earth.
It is not known why the Wookiee has turned to the Dark Side after previously fighting a successful campaign against Vader with former co-pilot Han Solo and the Rebel Alliance.
A few hours later, Vader was reported to be furious when he arrived at the polling station only to discover he was not listed on the voter registry, despite holding a Ukrainian passport.
The Dark Lord's Internet Party was founded in 2007 and campaigns for free computer lessons for Ukrainian citizens and a transition to digital media away from paperwork.
An official statue of Vader was unveiled in Odessa on Friday after a law passed earlier in the year required the removal of communist symbols in Ukraine.
A former statue of communist revolutionary Lenin was refashioned to represent Vader with his iconic mask, helmet and cape. The statue also serves as an internet Wi-Fi hot spot.
In the country's 2014 parliamentary elections the Internet Party secured 0.36% of the vote but failed to win a constituency seat.