Chavez sends letter to regional summit condemning US embargo of Cuba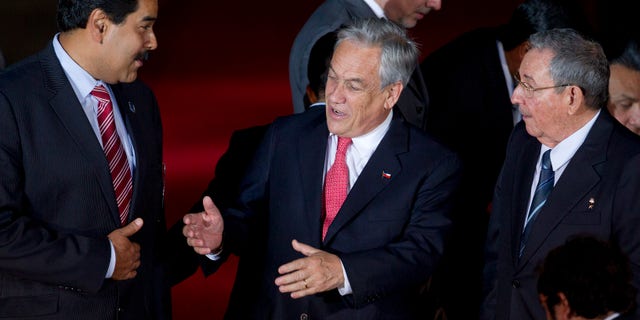 SANTIAGO, Chile – Venezuela's vice president read a letter from Hugo Chavez at a summit in Chile Monday, exhorting the region's leaders to show unity while criticizing the U.S. embargo on Cuba.
The typewritten speech, about a dozen pages long, said the assumption of Cuban President Raul Castro as the rotating president of the CELAC group of Latin American and Caribbean leaders is a huge victory against U.S. pressure to isolate Cuba.
"After 30 years of resisting this criminal imperial blockade, Latin America and the Caribbean is saying to the U.S., in one voice, that all your attempts to leave out Cuba are failing," the letter said.
Venezuelan Vice President Nicolas Maduro made no comments about the letter after reading it to other leaders. He has been the government's top public figure while Chavez remains in Cuba after his fourth surgery for cancer. The letter was highly anticipated after Venezuelan officials said it would show that Chavez remains lucid and in charge.
Chilean President and summit host Sebastian Pinera has said several times that the gathered leaders are praying for Chavez's recovery. In the letter, Chavez says he'll be watching from Havana and "praying for the complete and excellent development of CELAC."
The letter is classic Chavez, urging the leaders to work together on a broad range of issues, from energy policies to literacy. It defends Argentina's position on the Falklands, which are islands the country says were stolen from them by Britain 180 years ago.
"The fight continues," the letter said. "There is more than one who is brave, from here to Patagonia."
As Maduro finished reading, television images showed Chavez's signature in red ink at the bottom of the letter.