Chavez Makes First Televised Appearance in Attempt to Discourage Rumors of Failing Health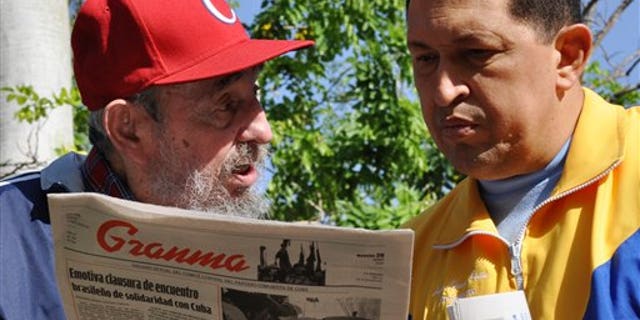 HAVANA – In the latest effort to dispel rumors of the flagging health of Venezuelan President Hugo Chavez, his government aired a video late Tuesday of the leader strolling in Cuba engaged in a lively conversation with mentor Fidel Castro.
The recorded meeting is the latest attempt by Venezuelan authorities to counter mounting speculation that the 56-year-old Chavez is suffering from a more serious health concern than has been openly admitted.
Theories of what ails the former tank commander have only multiplied during the weeks he has remained in Cuba, mostly hidden away from the public following surgery on June 10.
The roughly 90-second footage, broadcast on Venezuelan state television, mixed video with a montage of still shots of the two allies talking while standing on what looked like a park path and also seated indoors.
At one point, Chavez and Castro can been seen sharing a Tuesday edition of a Cuban newspaper, apparently in an attempt to prove the images of the animated Venezuelan president were recorded on the same day they were being released. The date is also flashed across the screen following the title graphic which read "Brotherly encounter between Fidel and Chavez."
Chavez, wearing a jacket in the colors of the Venezuelan flag, is shown deeply engrossed in the chat, gesturing and nodding.
But he also seemed skinnier since arriving in Havana and undergoing, according to Venezuelan officials, a procedure for a pelvic abscess. The conversation is muted out with Venezuelan folk music the only sound accompanying the footage.
"These images should serve to calm the Venezuelan people down over the health of President Chavez," Information Minister Andres Izarra told Venezuelan state TV after the images were shown.
Many in Venezuela have begun to question why Chavez would need nearly three weeks of hospitalization away from the South American nation for treatment on an abscess, which is a build-up of pus from an infection and in itself not a very serious condition.
Speculation on his condition has ranged from non-life threatening peritonitis, an inflammation of abdominal tissue, to a case of prostate cancer that has metastasized. Venezuelan columnist Nelson Bocaranda, who has said he knows the identity of the leader's doctors, has said Chavez is receiving hormone and radiation treatment for prostate cancer.
Opposition lawmakers have demanded more detailed medical information, while allies of Chavez say he will return to Caracas in time for the long-planned bicentennial celebration of Venezuela's independence. The local El Nacional newspaper reported Tuesday that Chavez was expected back as early as July 1 for a military ceremony.
With a 2012 presidential election looming, questions surrounding Chavez's health have fueled uncertainty in Venezuela. The tension heightened over the weekend after Chavez's older brother, Adan Chavez, suggested that supporters of the ruling socialist party might resort to violence to keep power.