Chapo's tweety bird: Mexican officials find dead sparrow inside drug lord's jail cell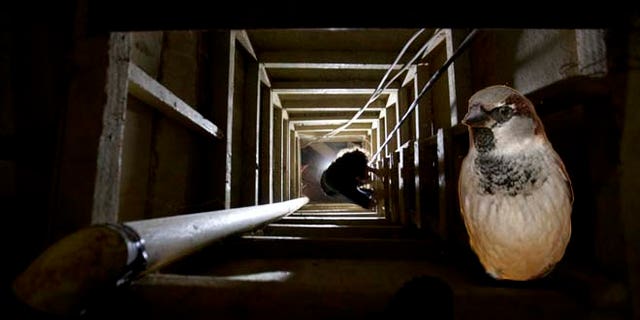 When Joaquín "El Chapo" Guzmán flew the coop from the maximum security prison where he was held for about a year and a half, he left behind a little friend in the nest.
Or in the wastebasket, rather.
Mexican government officials searching the drug lord's cell after his brazen escape from the Altiplano Federal prison found the remains of a dead sparrow in Guzmán's trash can and a small, dirty nest near the cell's window.
Purportedly nicknamed "Chapito" by Mexican officials, authorities believe that Guzmán used the sparrow as a literal "canary in a coal mine" to test for toxic substances in the almost mile-long tunnel that led to his freedom. There is also speculation that the dead bird was meant as a message to his captors about his own flight from custody.
Along with the dead sparrow, Guzmán also left a small, LCD television turned on at high-volume inside his cell, apparently to distract guards from suspecting his absence and to drown out the noise of his henchmen breaking into his jail cell.
Video released by the authorities showing Guzmán's final moments in his cell and of journalists' climbing into the tunnel put real dimensions to a high-tech engineering feat three stories underground, where planners and builders managed to burrow through dirt and rock right to the one spot in Guzmán's cell that surveillance cameras couldn't see.
Mexico's security commissioner Monte Alejandro Rubido said Tuesday that up to the moment Guzmán disappeared, his pacing was considered normal for someone who lives in about 5 square meters (60 square feet) with only an hour a day outside for exercise. But there was nothing usual after he lifted a slab of concrete shower floor and descended into a warm and humid man-made underworld, where a motorcycle rigged to two carts on rails waited to whisk him away.
Guzmán either rode on the bike or in one of the carts for a mile (1.5 kilometers) in the dirt tunnel built just high enough for a man called "Shorty" to stand without hitting his head. When he reached the other end, he climbed a wooden ladder through a large, wood-framed shaft with a winch overhead that had been used to drop construction supplies into the tunnel. After pulling himself up 17 rungs, he reached a small basement, where a blue power generator the size of a compact car provided the electricity to illuminate and pump oxygen into the underground escape route.
From there, Guzmán walked to a shorter ladder and climbed one, two, three steps as the air thinned and the temperature dropped 10 degrees. As Guzmán's head poked above the dirt floor, he climbed three more rungs to stand inside the unfinished bodega built to hide the elaborate scheme.
Digging crews had left behind 4-by 4-inch wooden beams, 8-foot-tall coils of steel mesh, gallons of hydraulic fluid, 10-foot lengths of PVC pipe and an electric disc saw. A battered wheel barrow full of fine gray soil sat just above the opening in the floor. A couple of improvised wooden tables and a wooden bench rounded out the bodega's furniture, along with shelves of assorted drill bits, a circular wood saw blade, a jar of liquid cement for pipe joining and a bottle of motor oil.
Seven more strides and the man who Mexico's government said could not possibly repeat his 2001 prison escape stepped through a sliding steel door into the chilly night on a high plain west of the capital.
The Associated Press contributed to this report.
Like us on Facebook
Follow us on Twitter & Instagram