Source: Mexican officials met with FBI, DEA reps over search for Chapo Guzmán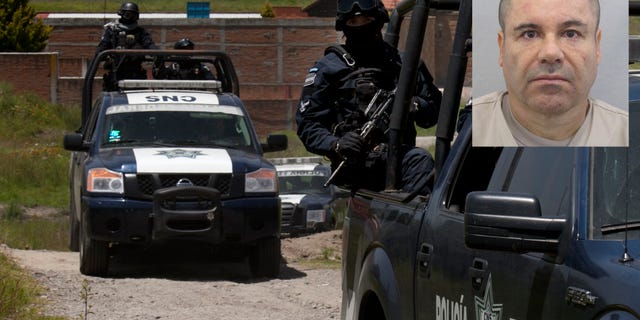 MEXICO CITY (AP) – Mexican authorities have distributed 100,000 photographs of drug lord Joaquín "El Chapo" Guzmán to highway toll booths since his weekend escape from a maximum security prison, the Interior Ministry announced Wednesday.
A ministry statement outlined actions taken so far.
Ten thousand agents of various components of the federal police remain on high alert across Mexico, and authorities have established 101 checkpoints on major highways throughout the country.
Hospitals, hotels and funeral homes are being checked. Forty-eight canine teams are searching passenger and cargo vehicles. Airports are on alert, closely reviewing passengers on private planes.
Guzmán is once again Mexico's most wanted criminal since he escaped late Saturday through a mile-long tunnel dug to come up under the shower of his prison cell.
The U.S. Embassy in Mexico said Wednesday that U.S. Ambassador Anthony Wayne had met with Mexican Interior Minister Miguel Angel Osorio Chong the previous day to discuss how the two countries could cooperate to recapture Guzmán.
A Mexican government official, who insisted on anonymity because he was not authorized to speak publicly, said representatives of the FBI and the U.S. Drug Enforcement Administration met with Mexican officials in the capital Monday to discuss the search for Guzmán.
DEA documents obtained by the Associated Press on Monday showed that U.S. agents had seen signs that work on plotting Guzmán's escape began almost immediately after his arrest in February 2014.
Like us on Facebook
Follow us on Twitter & Instagram