Car bomb kills at least 56 in Nigerian city, civilian group says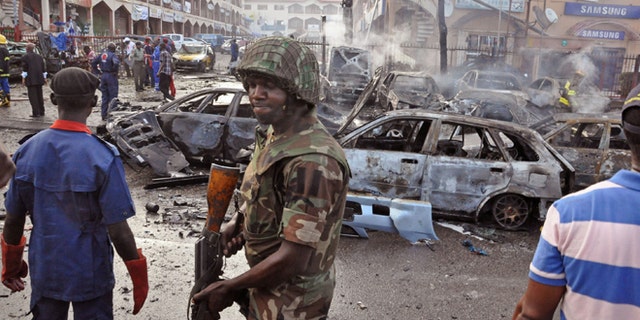 MAIDUGURI, Nigeria – A car bomb in a marketplace in Maiduguri, the northeast Nigerian city that is the birthplace of Boko Haram extremism, killed at least 56 people on Tuesday, the leader of a civilian group that recovered the bodies said.
Sadiq Abba Tijjani, leader of the Civilian Joint Task Force, told the Associated Press his group recovered at least 56 dead bodies at the blast site, mostly elderly women who sold peanuts and lemon juice at the market.
Tijjani said they managed to identify 21 of the dead but the rest "were either burnt or damaged beyond recognition."
Other witnesses also estimated the death toll to around 50. Some officials said only 17 people died in the explosion that ripped through the market early Tuesday, but officials regularly play down the death toll.
Witnesses and officials blamed Boko Haram extremists who are accused of a series of recent bomb attacks in the West African nation. The group has attracted international attention and condemnation since its April abduction of more than 200 schoolgirls from a northeastern town.
Tuesday's explosives were hidden under a load of charcoal in a large vehicle, according to witnesses who spoke on condition of anonymity for fear of reprisals.
Trader Daba Musa Yobe, who works near the popular market, said the bomb went off just after the market opened at 8 a.m., before most traders or customers had arrived.
Security forces cordoned off the area for five hours but had a hard time keeping people out, though they warned there could be secondary explosions timed to target rescue efforts.
Last week, explosions ripped through the biggest shopping mall in Abuja, Nigeria's central capital, killing 24 people; a medical college in northern Kano city, killing at least eight; and a hotel brothel in northeast Bauchi city that killed 10. It was the third bomb blast in as many months in Abuja, and the second in two months in Kano. In May, twin car bombs at a marketplace also left more than 130 dead in central Jos city and killed at least 14 people at a World Cup viewing site in Damaturu, another town in the northeast.