Camera lost in shipwreck found 2 years later with pictures intact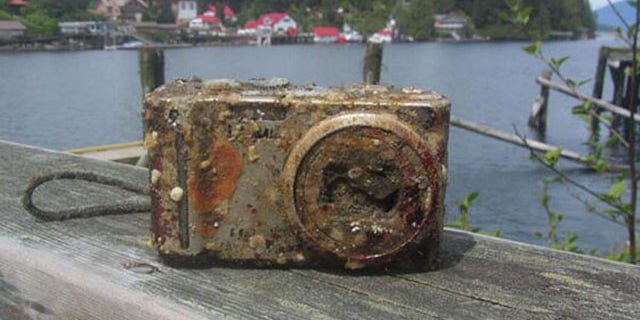 A camera lost in the Pacific Ocean during a shipwreck two years ago has been found and is being returned to its owner with the pictures and videos still intact.
The Vancouver Sun reports two Canadian university students were out on a research dive earlier this month when they stumbled across the camera on the sea floor.
Isabelle M. Côté, a professor of Marine Ecology at Simon Fraser University, told CBC there were multiple marine species living on the camera when it was found. However, Siobhan Gray, a dive and safety officer who was on the boat with the students, thought the camera could still be salvaged.
"My first thought about the camera was, are there still images on the card?" Gray told the Sun. "I cleaned the contacts off of the (memory card) put it in my computer and it worked."
Côté and Gray realized that if they shared the images, they could possibly find the camera's owner. Côté tweeted out a group photo found on the camera, along with photos of the camera itself, and Gray posted the photo on a community message board.
Sure enough, a member of the local Coast Guard recognized one of the people in the picture, Paul Burgoyne, as a man he had rescued after a shipwreck two years earlier, the Sun reports.
Burgoyne had lost the camera in 2012, when his boat wrecked on a trip from Vancouver to his summer home in Tahsis, B.C. He told the Sun he was stunned to recover the camera and its memory card, which contained some priceless family photos.
"That just shocked me," Burgoyne said. "Getting the camera, or the photos back, that's really quite wonderful."
The camera and its memory card it now going to be returned to Burgoyne.
Click for more from the Vancouver Sun.