California Bus Crash Dashes Dreams Of Students And Chaperones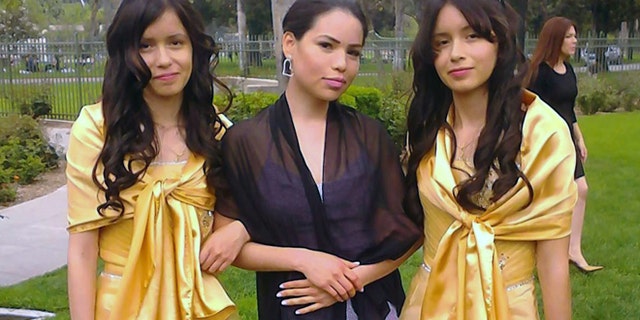 ORLAND, Calif. (AP) – Desperate families awaited word about loved ones Friday, while investigators tried to figure out why a southbound FedEx truck swerved across a grassy divide about 100 miles north of Sacramento before sideswiping a car and slamming into a tour bus, which burst into a furious blaze.
The Serrato family, whose identical twin 17-year-old daughters set off on the adventure on separate buses Thursday, had a panicked, sleepless night. Marisol made it to their destination, Humboldt State University, but the family had no word on Marisa, who had been aboard the now-gutted bus, for nearly 24 hours.
They received the official word Friday evening when dental records confirmed Marisa was among the dead.
"Marisol is devastated," the girls' 23-year-old brother Miguel Serrato said.
The bus carried a lot of dreams. It was one of three the northern California college chartered to bring prospective students, many of them hoping to be the first in their families to attend college, to tour its campus before they got busy with prom and graduation.
"I can only imagine the excitement of these high school students as they were on their way to visit a college campus, and the pride of the adults who were accompanying them," U.S. Secretary of Education Arne Duncan said in a statement. "Our young people are our greatest treasure, and this loss is heartbreaking."
Another student feared dead was Adrian Castro, 19, a senior and a football player at El Monte High School east of Los Angeles. Castro was considering going to a state university closer to home but decided to give faraway Humboldt, home of sports teams known as the Lumberjacks, a chance, his father, Raúl Castro, told the San Gabriel Valley Tribune.
"He told me two days ago, 'Should I go up and check it out anyway?'" said Raul Castro, who dropped his son off to meet the bus on Thursday morning. Later that night he got a call from Adrian's mother, who said she had heard from the California Highway Patrol that the young man had died.
Three months after sharing a picture-perfect Christmas engagement outside the Louvre Museum in Paris, Michael Myvett and Mattison Haywood were on another adventure, accompanying the 44 teenagers on a visit to Myvett's college alma mater.
The Los Angeles couple volunteered to be chaperones on the charter bus carrying high school seniors on a 650-mile trip from Southern California to Humboldt State University. They died together when a the FedEx tractor-trailer slammed into the bus, officials and relatives said.
That Myvett, who graduated from Humboldt State with a psychology degree in 2007 and worked with autistic children, was eager to make the trip with the fiancé to whom he had proposed on bended knee made sense to friends and co-workers.
Haywood was "the love of his life" and "to be a liaison and representative for high school students who wanted to attend Humboldt was in sync with his personality, wanting to facilitate peoples' achievement of their dreams," said Kyle Farris, a colleague at the Center for Autism and Related Disorders in Torrance.
Rescuers said the people who were killed were mostly at the front of the bus, or outside on the ground in front of it. Most survivors were injured, some with critical burns or broken limbs.
Those who made it out said they scrambled through a kicked-out window, and the ones who could ran or staggered to the opposite side of Interstate 5 before the bus exploded and was swept by flames.
Humboldt admissions counselor Arthur Arzola, 26, who recruited for the school in the Los Angeles area, was taken to a hospital burn unit in critical condition but died overnight. Arzola was a newlywed studying to be a school counselor at the University of LaVerne in Southern California and was set to earn his graduate degree in May, LaVerne officials said.
His passion for bringing kids to Humboldt was evident on his "Meet the Counselors" webpage. In his online bio for the job, which shows him with slick hair and broad grin in the university's forest-green colors, he said the school "provides all students on campus with incredible opportunities that change the world for the better."
"There are no words during times like these that can fully express our sadness," University of La Verne President Devorah Lieberman said.
The teenagers aboard, from dozens of different Southern California high schools, were participating in a program that invites prospective low-income or first-generation college students to visit Humboldt. They were supposed to join hundreds more potential students from across California and the West for a long weekend, paired up with existing students and staying in the dorms.
Before launching the event Friday, university Vice President Peg Blake's voice broke as she asked a crowded theater for a moment of silence in honor of everyone affected by the accident.
University president Rollin Richmond says they will welcome back the accident survivors at a time of their choice.
Neither driver had been identified as of Friday night. The bus was operated by Silverado Stages Inc., which is based in the central coast city of San Luis Obispo but operates buses throughout the West.
CEO Michael Vodarsik said only that the company was "working closely with authorities" and trying to support passengers and families of the dead.
FedEx Chairman Frederick Smith, in a statement, expressed his "deepest personal sympathies and the condolences of over 300,000 other FedEx team members to everyone involved in this accident."
The CHP and the National Transportation Safety Board were investigating, but warned it could take months to conclude what happened.
Mark Rosekind, an NTSB member, said Friday that the agency would be gathering information over the next one to two weeks. He said it will review whether the stretch of California freeway where the bus was struck should have had a barrier along the median to prevent head-on collisions.
In addition, Rosekind said it will determine whether a fire suppression system recommended but not mandated for buses would have made a difference in the crash.
Based on reporting by The Associated Press.
Follow us on twitter.com/foxnewslatino
Like us at facebook.com/foxnewslatino