Banksy's painting self-destructs moments after it's sold for $1.4M
A stencil spray painting by elusive street artist Banksy self-destructed on Friday, moments after being sold for $1.4 million, baffling onlookers.
The artwork titled "Girl With Balloon," one of Banksy's best-known works, went under the hammer at Sotheby's in London, fetching more than three times its pre-sale estimate and equaling a record price for the artist. Sotheby's said the painting, which depicts a small child reaching up toward a heart-shaped red balloon, was signed.
As soon as the alarm sounded, the painting ran through a shredder embedded in the frame, emerging from the bottom in strips. Pictures captured the shocked looks on onlookers face as the expensive art was cut into ribbons.
EXTREMELY VENOMOUS SEA SNAKE KILLS MAN IN AUSTRALIA
A post on Banksy's official Instagram account showed the moment — and the shocked reaction of those in the room — with the words "Going, going, gone..."
Alex Branczik, head of contemporary European art at Sotheby's, realized at that moment they had been pranked by the artist.
"It appears we just got Banksy-ed," Branczik said.
The auction house said it was "in discussion about next steps" with the buyer.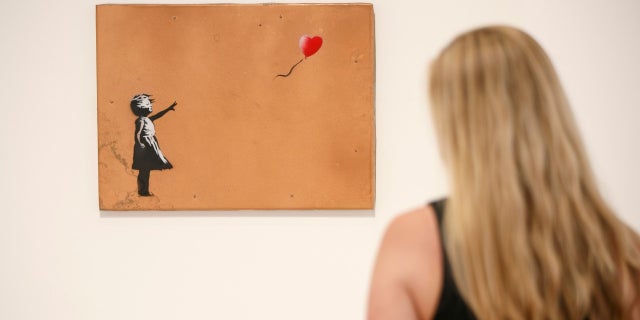 "We have not experienced this situation in the past where a painting spontaneously shredded, upon achieving a record for the artist," Branczik said. "We are busily figuring out what this means in an auction context."
BRITISH MAN TRAPPED IN SHED AS 'SLAVE' FOR 40 YEARS, OFFICIALS SAY
However, it is possible the artwork may be worth more after it was shredded, Sky News reported.
Banksy, who has never disclosed his full identity, began his career spray-painting buildings in Bristol, United Kingdom, and has become one of the world's best-known artists. He has a penchant for elaborate pranks.
In 2005, he hung an image of a spear-toting ancient human pushing a shopping cart in the British Museum, where it remained for several days before being discovered. The next year he smuggled a life-sized figure of a Guantanamo Bay detainee into Disneyland.
The Associated Press contributed to this report.