Australia fireworks mishap sends spectators fleeing
People across the world welcomed 2018 with massive fireworks displays and all-night celebrations.
Unfortunately, a fireworks show at Terrigal Beach in New South Wales, Australia, didn't proceed as planned.
An apparent malfunction a few minutes after the show began sent thousands of spectators running for safety, the BBC reported.
A barge from which the fireworks were launched apparently caught fire after an explosion, the Sydney Morning Herald reported.
"It was an absolute chaos," Twitter user Anooshe Mushtaq wrote.
"The boat shooting the fireworks goes on fire and started shootings randomly. Lucky I escaped as soon as I saw the boat on fire."
Two pyrotechnicians had to be treated for minor injuries, but no other people were hurt, the report said.
Australia and New Zealand were among the first nations to welcome the new year, with a grand show of fireworks exploding over the iconic Sydney Opera House and people watching from boats in the nearby harbor.
In Asia, hundreds of engaged couples partook in a mass wedding ceremony in Indonesia on New Year's Eve aimed at helping the poor who are unable to afford a wedding.
South Korean Buddhists lit candles during the celebrations at Jogyesa temple. The mood for reveling were less joyous in the north, where hours after the fireworks in Pyongyang, North Korea, the country's leader announced the capabilities of a nuclear strike, adding that his threats were now a "reality."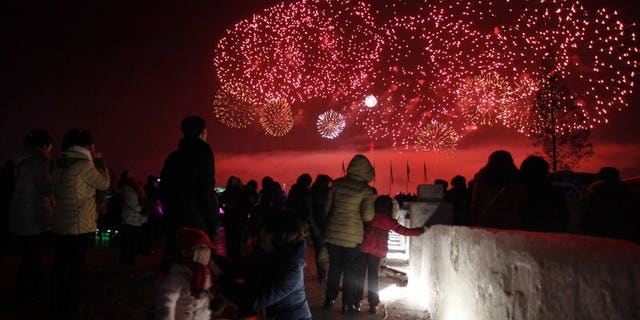 Turkey, in addition to festivities across the nation, used the celebration to pay tribute to the victims of last year's New Year's Day mass shooting, when 39 were killed outside a nightclub.
In continental Europe, hundreds of thousands of revelers watched fireworks displays above the Quadriga at the Brandenburg Gate in Berlin and over the Arc de Triomphe as part of the New Year celebrations on the Champs Elysees, in Paris.
Britain's Bing Ben boomed at midnight – for only the second time since August because of renovation work – while at least 100,000 Londoners swamped the city's center to celebrate and watch a 12-minute fireworks show.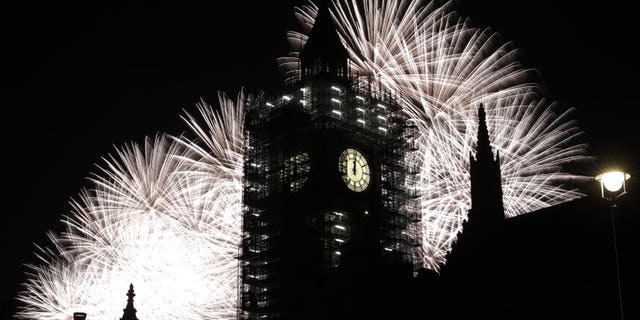 The 10,000-fireworks show was accompanied by a women-only soundtrack as a tribute to the 100th anniversary of women being granted the vote in the country.
Despite increased security, including armed police and security barriers, there were fewer police officers present during the celebration.
The Associated Press contributed to this report.