Attacks Across Afghanistan Leave More Than 20 Dead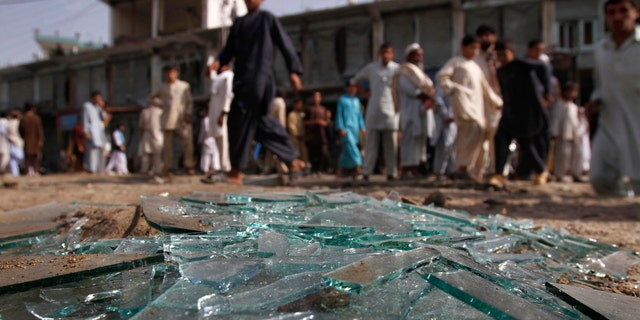 Kabul – A string of attacks across Afghanistan, including a suicide bomber pushing an ice cream cart, killed at least 21 people Saturday, officials said, while the U.N. released a report showing May to be the deadliest month for Afghan civilians since 2007.
The worst attack Saturday took place in the Khakrez district of Kandahar province in southern Afghanistan, where a roadside bomb killed all 16 members of a family traveling to a shrine for a religious pilgrimage. The family included eight children, five women and three men who were in a minibus, said provincial police chief Abdul Raziq.
He said the bomb was planted by the Taliban and was intended for NATO or Afghan forces.
In the eastern province of Khost, a suicide bomber blew himself up outside the local police headquarters in the Shai Kali area, killing three policemen and a child, according to provincial police chief Sadar Mohammad Zazai.
Among the four people killed in the blast was a local police chief, Mohammad Zahir Khan, Zazai said. It was not immediately clear whether Khan was specifically targeted. Provincial health director Hedayatullah Hamidi said 25 people were wounded in the attack.
Another suicide bomber, this one pushing an ice cream cart, killed one child and wounded three more in the central province of Ghazni, according to provincial police chief Mohammad Hussain.
"The suicide attacker was a young boy with a thin beard and mustache wearing a scarf," said an eyewitness who identified himself as Asadullah. "He was pushing an ice cream cart. I was just standing 20 meters from him and then he exploded."
President Hamid Karzai condemned the bombings, and said "all Afghans want peace and stability in their country and none of these cruel and inhuman actions will stop the aim of peace."
The violence came the same day the United Nations released an interim report on civilian deaths that concludes that 368 people were killed in the conflict and 593 were wounded last month, making May the deadliest month for Afghan civilians since 2007 -- when the U.N. started keeping detailed records. Previously, the deadliest month ever was August 2008 with 341 deaths.
The U.N. said insurgents are responsible for 82 percent of those civilian deaths last month, while 12 percent were attributed to the international alliance and Afghan forces. Homemade bombs, such as the roadside device that struck the minibus in Kandahar on Saturday, were the leading cause of death, according to the report.
NATO airstrikes, a frequent cause of tension between the Afghan government and the alliance, were responsible for three percent of civilian deaths in May.
Casualty figures blamed on the coalition and Afghan forces have been steadily declining over the past four years -- despite a rapid swelling in the number of allied and government forces. A recent U.N. report found that insurgents were responsible for 2,080 deaths in 2010 compared to 440 for the coalition and Afghan troops. The report found that deaths due to airstrikes declined by 52 percent compared to 2009.
The U.N., which is preparing a midyear civilian casualty report for 2011, said it decided to release the interim numbers Saturday because of the high rate of civilian killings in May.
Meanwhile, a bomb killed two policemen and wounded nine others who were investigating an earlier explosion late Friday at a satellite television network office in Mehterlam city in the eastern province of Laghman, said Faizelullah Patan, a spokesman for the provincial governor.
The Taliban announced its spring offensive several weeks ago and has been stepping up its attacks around the country. The insurgency has focused on Afghan security forces in a bid to undermine training and recruitment efforts of the international coalition, which hopes to transition security to the nascent Afghan force in targeted areas.
Security along Afghanistan's border with Pakistan has been fraught, however, with Taliban fighters filtering in from Pakistan to stage spectacular attacks in the eastern part of the country.
A NATO service member died as a result of a noncombat related injury Friday in eastern Afghanistan, according to the international alliance. NATO did not release any other details about the death.