Arthur hits eastern Canada, causes power outages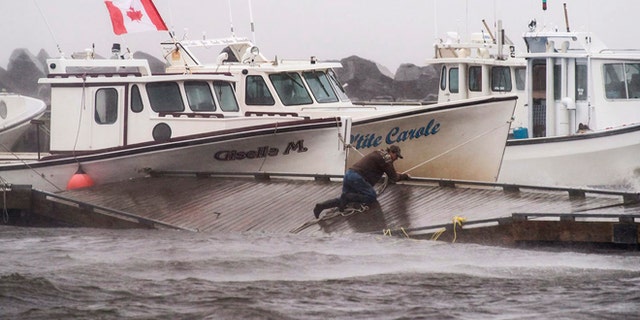 HALIFAX, Nova Scotia – Arthur hit Canada's Maritime provinces with near-hurricane strength winds and torrential rains, knocking down trees and leaving about tens of thousands of people without power.
Canadian Hurricane Centre spokesman Chris Fogarty said that winds were easing, but more rainfall is predicted for already drenched southwestern New Brunswick.
In Fredericton, New Brunswick, Mike Gange said the buffeting winds tore down a maple tree in his front yard, damaging roof tiles and a rain gutter as it fell. He said that as he drove around the New Brunswick provincial capital he saw about 25 homes with big trees knocked down.
Gange said he has not seen weather this severe in his 41 years in Fredericton.
"It's like a Tasmanian devil ripping through your backyard," he said. "It's crazy here ... at times it rains so hard you can't see 10 feet in front of you."
Arthur was downgraded from a hurricane to a post-tropical storm Saturday morning by the time it reached Atlantic Canada. A day earlier it swiped at North Carolina's Outer Banks, where some vacationers were already back on beaches Saturday despite warnings that the water remained dangerous.
Environment Canada measured wind gusts topping 72 mph in the Halifax area, while more than 5 inches of rain had fallen in some areas of New Brunswick.
By late Saturday afternoon, Arthur was 19 miles southwest of Moncton, New Brunswick, with maximum sustained winds of 56 mph, the Canadian Hurricane Centre said.
Nova Scotia Power said about 135,000 of its customers were without power at mid-afternoon Saturday. New Brunswick's main electrical utility reported more than 115,000 outages by mid-afternoon. It warned some residents they could be without power for up to 48 hours because of widespread damage caused by the storm.
NB Power said the largest number of outages was in Fredericton where winds of more than 62 mph had knocked down a number of large trees, leaving streets littered with debris.
Police in Saint John, New Brunswick, said some local roads were closed because they were covered by flood water. The storm also caused flight cancellations and delays at the region's largest airport in Halifax, Nova Scotia.
The Royal Canadian Mounted Police in Prince Edward Island said a number of electrical poles had been knocked down by the storm and roads were blocked by downed trees.
The Canadian Hurricane Center said the storm would end in the Maritimes overnight and then track northeast through the Gulf of St. Lawrence toward Newfoundland on Sunday.