Anti-Muslim French Presidential Candidate Surge After Sex Charges for Ex-IMF Boss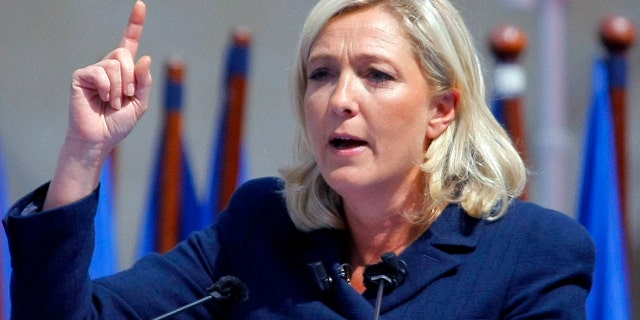 The rape charges against former IMF Chief Dominique Strauss-Kahn are headline news across the world, but as Strauss-Kahn prepares for what could be a lengthy legal battle, France is preparing for a 2012 presidential election -- suddenly without the leading challenger to President Nicolas Sarkozy.
Strauss-Kahn, a prominent member of the Socialist Party in France, was predicted to be his party's candidate in 2012 and would have faced off against Sarkozy and his UMP party. Sarkozy, who has been floundering in polls, has been seen as a weak and ineffective president – a man who promised big change and has failed to deliver. But with Strauss-Kahn almost certainly out of the 2012 race, Sarkozy's biggest challenge could come from Marine Le Pen, a candidate known for her nationalistic and anti-Muslim views.
Le Pen is the daughter of immigration foe and 2002 presidential runner-up Jean-Marie Le Pen. She has been gaining in the national polls and overall popularity. As voters in France prepare for a long year of presidential politics – could Le Pen's candidacy also be a foreshadowing of what's to come for the rest of Europe?
Jennifer Fredette of the Rockefeller College of Public Affairs and Policy says Le Pen and her father's views reflect a trend across the continent.
"It's been going on for a while now. It's all these critical little moments that get played up and people focus on them, like the burka ban, things that are visual and they spread," Fredette told Fox News, referring to a controversial new French law that forbids women from going out in public with their faces covered. "You talk about it in France and then people in Germany say 'oh we see that here. Is it the same here?' There's a trend of suspicion going on right now. Not just towards Islam and Muslims but immigration too."
Regardless of the overall trend in Europe, Strauss-Kahn's arrest is of the highest importance for politics in France. Without Strauss-Kahn in the running, the Socialist Party is scrambling for a viable candidate. There are three potentials: Segolene Royal, who lost to Sarkozy in 2007, Martine Aubry, the first secretary of the French Socialist Party, and Francois Hollande who many wanted to run in 2007 and who didn't when his live-in girlfriend, Royal, decided to get into the race. While some bemoan the loss of Strauss-Kahn (known as DSK in France), others see hope for the Socialists.
"This will offer them an opportunity to do soul searching. Because DSK was the presumptive leader perhaps the party didn't take the opportunity to see how to meet the challenge," Heather Conley of the Center for Strategic and International Studies told Fox News. "The center left has had difficult job finding its footing. But what we're seeing now is that they're having to find a new platform in an age of austerity."
In fact, the loss of Strauss-Kahn doesn't really hurt the socialists in the latest polls. In three possible matchups with Aubry, Hollande or Royal, only Royal gets a lower percentage than Sarkozy with Aubry and Hollande a full seven to 10 points above Sarkozy. But while the Socialists sort out their own issues, Marine Le Pen is continuing to harness a growing resentment in France towards the elitist politicians and their way of life.
Le Pen, whose father made it into the final run-off against incumbent President Jacques Chirac in 2002, is known for the same nationalistic and anti-immigration views of her father, but some experts suggest she learned from his mistakes.
"She's displaying a great deal of political acumen. She's working the grass roots. She's working very hard. Her message is moving away from the absolute noxious stuff," Conley said. "She's a smarter version here than of her father. A more modern, politically savvy force. Something we have to watch very closely."
Le Pen's politics is something many in France and the rest of Europe are responding to in large numbers. As youth unemployment continues to grow and countries like Greece and Portugal face ongoing economic crises, many are seeking alternatives to the current political system.
"There are trends that deserve close scrutiny. This is nothing new and revolutionary but we have to watch them," Conley warns. "Governments have to respond appropriately. We can't take for granted that Europe is completely solved. The fact of the matter is these parties are doing well, there's low voter turnout, and you may have parties come into power that you thought were fringe."
As Le Pen tries to woo those in France who are discouraged by the current economic climate, Sarkozy's failures are increasingly coming to light. The man who was going to shake things up in France and use a more "American" approach and encourage multiculturalism has essentially failed.
"Sarkozy was so exciting to people because he entered the scene saying 'I'm going to do it differently' and people were looking to him to bring in more American style approaches to diversity. Everything Sarkozy said he could do better, he's screwed up. It's all a bit of mess," says Fredette.
Regardless of who France ends up electing in 2012, almost everyone agrees on one thing – Strauss-Kahn won't be the next president of France.
"We say he's presumed innocent until guilty. I think it's unlikely for the forseeable future that he will return," says Conley. "The severity of the charges put it in a different category."