Ancient Roman helmet with complete mask is facing auction in Britain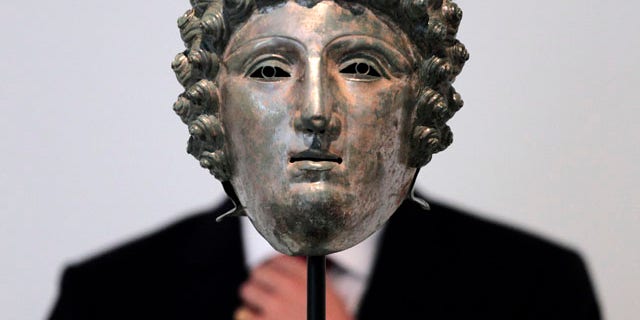 LONDON – LONDON (AP) — The helmet is topped with a griffin. The face mask features arched eyebrows and an ancient gaze, framed by curls. And it's up for auction.
Considered an extraordinary example of Roman metalwork, the mask was discovered in a field in northwestern England by a treasure-hunter with a metal detector. It's scheduled to be auctioned Oct. 7 by Christie's, with a guide price of 200,000 to 300,000 pounds ($242,000 to 363,000).
Georgiana Aitken, head of antiquities at Christie's, called the helmet, which dates from the late 1st century, "a hugely important discovery." Christie's said Monday it's one of only three similar examples found in Britain over the last 250 years.
Christie's said it wasn't intended for combat, but for the Roman army's cavalry sports events.