American On FBI's Most Wanted List For Financial Crimes Nabbed In Peru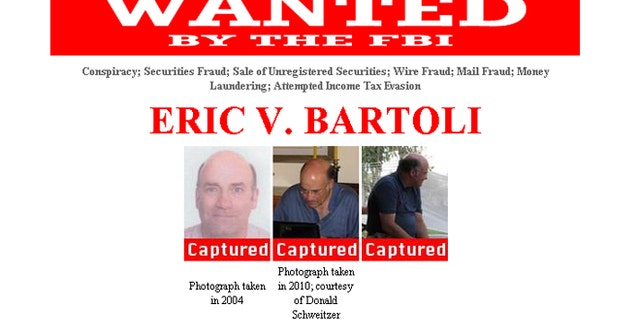 Peruvian authorities have tracked down one of the people on the FBI's most wanted list, a man who has been on the lam since 2003 for allegedly operating a $65 million Ponzi scheme in Ohio and Latin America.
Eric V. Bartoli was hauled in by Peruvian police after an intensive investigation, where he is also wanted on charges of money laundering. The FBI and the U.S. Attorney's Office in Cleveland both praised Peruvian authorities for the arrest.
"The hope and the expectation is that he'll be brought to the United States to face charges," Mike Tobin, a spokesperson for U.S. Attorney Steven M. Dettelbach, told the Northeast Ohio Media Group.
Oscar Llatas, the chief of the fiscal division of Peru's police, said that Bartoli was arrested while leaving his home to go exercise. Peruvian authorities have received a request from the U.S. for his extradition.
Bartoli used many tricks to avoid detection from police, Llatas said, including carrying documents with three different names and nationalities - American, Argentinean and Peruvian – and that he sometimes used wigs and sunglasses to disguise himself. While on the run, Bartoli became a Peruvian citizen and worked as an investment adviser and a financial pundit, allegedly luring Peruvians into similarly fraudulent schemes.
Bartoli was indicted in 2003 on charges including money laundering, securities fraud, wire fraud, conspiracy and attempted tax evasion. The U.S. Securities and Exchange Commission (SEC) also hit him with a $49 million civil judgment, accusing him of fleecing Ohio residents and wealthy Latin Americans by selling spurious mutual funds, trusts and certificates of deposit.
Authorities in the U.S. purport that Bartoli and his partners promised about 800 investors in Ohio and Latin America investors high yields in conservative blue-chip stocks, raising $65 million from 1995 until 1999 when he and his partners stopped sending out checks to investors, who recovered about half of the money they put in.
Bartoli used his portion of the money to fund a affluent lifestyle and home, which featured a replica of a 16th-century pub, jewels and gold coins hidden inside walls, and a barn with chandeliers and hardwood floors.
If convicted in the U.S., Bartoli could face more than 10 years in jail and hundreds of thousands of dollars in fines. If the SEC's civil judgment goes against him, he could also be for $49 million.
Follow us on twitter.com/foxnewslatino
Like us at facebook.com/foxnewslatino