Albanian political leaders fail to agree on judiciary draft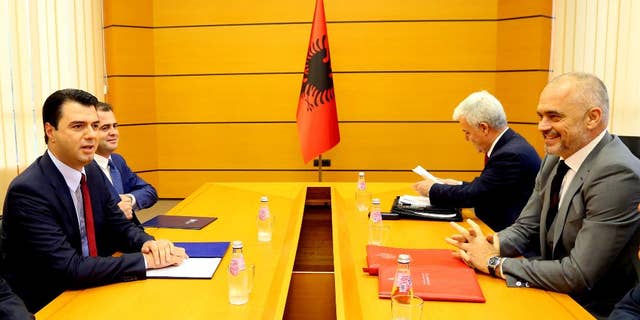 NEWYou can now listen to Fox News articles!
TIRANA, Albania – Albania's political leaders on Monday failed to agree on a judicial reform, the next step the country should take to convince the European Union to launch membership talks.
In a rare moment of unity in post-communist Albania the leaders of the two main political parties had met to discuss the reform. Delegations headed by Prime Minister Edi Rama of the left-wing Socialist Party and Lulzim Basha of the center-right Democratic Party met at the Palace of Congresses.
But after three hours of talks, both came out to blame each other for the failure to reach consensus on the draft of the legal package, apparently blocked over one item: how to divide up certain political appointments.
"We shall not wait for the Democratic Party anymore," said Rama. "After this meeting the draft goes to Parliament."
Rama said his party would never agree on changing the essence of the draft as it was recommended by the U.S., the EU and the Venice Commission of the Council of Europe.
Basha warned: "Any unilateral act sent to the Parliament will fail."
Albania's 140-seat parliament needs two-thirds of the vote to pass the package as it includes some constitutional amendments — numbers that cannot be achieved without the opposition Democrats.
EU and U.S. officials were directly involved in writing the draft, which reconstructs the judicial system and instates checks and balances for judges and prosecutors, and have been trying to persuade the Democrats to accept it.
Last week, the EU's foreign policy chief Federica Mogherini and Enlargement Commissioner Johannes Hahn issued statements, while U.S. Assistant Secretary of State Victoria Nuland made a telephone call to Basha. U.S. and EU ambassadors in Tirana have made frequent visits, mainly to the Democrats.
The reform package is seen as key to fighting corruption at all levels, especially in the judiciary.
The judicial system has been an Achilles' heel in post-communist Albania, always mentioned in international reports for its political dependence, corruption, lack of independence and professionalism.
It has the lowest credibility among common Albanians, who come up against a richer opponent in a trial who pays hefty bribes, or learn of big properties and bank accounts owned by judges and prosecutors.
After getting EU candidate status from Brussels two years ago, Albania, a NATO member since 2009, expects to launch full membership talks this year — on the condition that the legal package is approved and starts to be implemented.