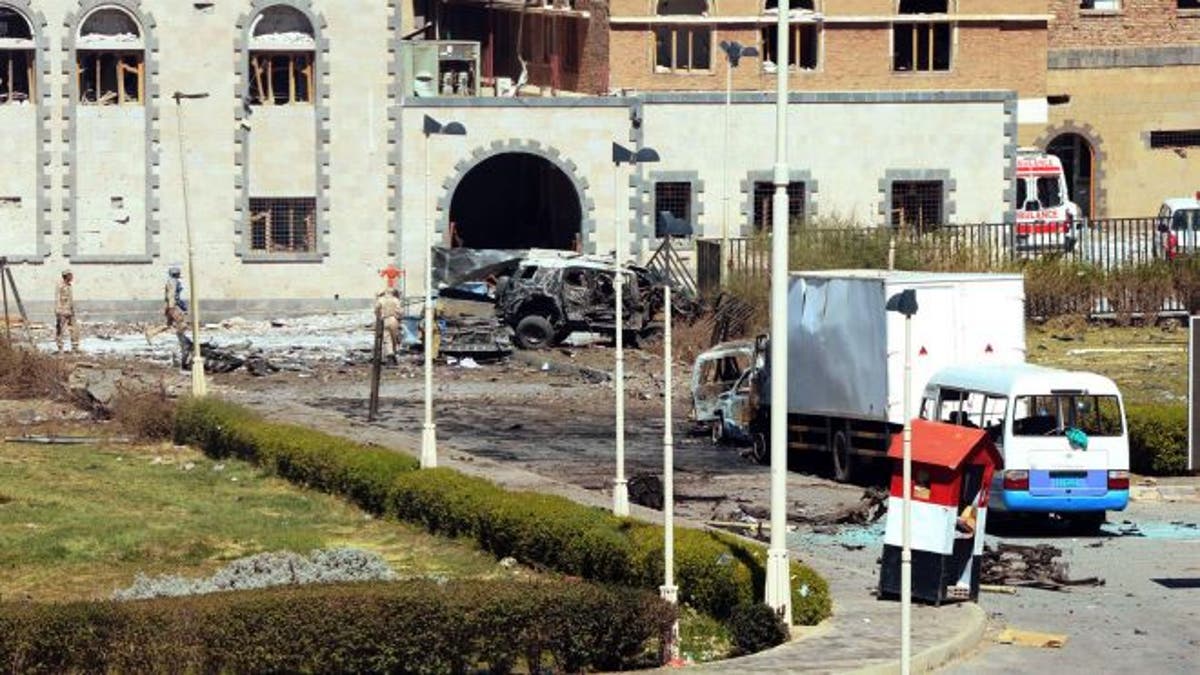 CAIRO – In a rare public apology, the militant leader of Al Qaeda's branch in Yemen has said that one of his fighters disobeyed orders and attacked a hospital attached to the Defense Ministry during an assault that killed 52 people earlier this month.
Qassim al-Rimi, commander of Al Qaeda in the Arabian Peninsula, said in a video posted on militant websites that the attackers were warned in advance not to enter the hospital within the complex, nor a place for prayer there. But he said one fighter did.
"Now we acknowledge our mistake and guilt," al-Rimi said in a video released late Saturday by Al Qaeda's media arm al-Mallahem. "We offer our apology and condolences to the victims' families. We accept full responsibility for what happened in the hospital and will pay blood money for the victims' families."
The apology seemed prompted by Yemen state television earlier broadcasting a video showing a gunman attacking doctors and other hospital staff. Several Al Qaeda jihadis tried to dismiss the video as fake on militant websites, but the outcry apparently embarrassed the Al Qaeda branch to the point of issuing an unusual expression of regret from the group.
"We rid ourselves of what our brother did," al-Rimi said. "We did not order him to do so and we are not pleased with what he did."
However, al-Rimi said despite the group making a mistake, "we are continuing with our jihad."
The authenticity of the English-subtitled video could not be absolutely confirmed, though it was consistent with other Associated Press reporting and came from Al Qaeda's media arm.
That fighter and eight other militants were killed in the Dec. 5 suicide bombing and gunmen attack on the ministry complex in Sanaa, Yemen's capital. Seven foreigners from Germany, India, the Philippines and Vietnam were among the dead -- all who were providing aid at the hospital.
Al-Rimi repeated Al Qaeda's earlier claim that the Defense Ministry was attacked because it housed drone control rooms and American experts. He also said that security headquarters used by Americans in their war are "legitimate targets."
He also warned that fighters also will attack any other military posts and camps that "cooperate with the American drones by spying, planting chips, providing information or offering intelligence advice."
"We have a long list of these places," al-Rimi said.
U.S. drone strikes in Yemen have inflicted heavy losses on Al Qaeda militants and are part of a joint U.S.-Yemeni campaign against a group which Washington has called the most dangerous branch of the global terrorist network.
But a Dec. 12 drone attack that mistook a wedding party convoy for an Al Qaeda convoy, killing 15 people, has fueled anger against the United States and the government in Sanaa among a Yemeni public already opposed to the strikes. Yemen's parliament later urged the government to end the use of Yemen's airspace by U.S. drones.