After WikiLeaks, no-shows trouble Argentina summit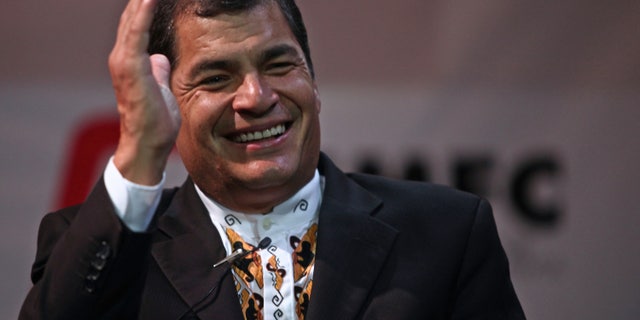 MAR DEL PLATA, Argentina – Leaders of the Spanish and Portuguese-speaking world held their annual goal-setting summit Friday amid tensions raised by the publication of U.S. diplomatic cables that in some cases plant doubts about the unity and friendship they publicly profess.
The presidents of Spain, Venezuela, Bolivia and Nicaragua all canceled at the last minute, citing reasons unrelated to the cables. But coincidentally or not, their decisions came right after the publication of secret dispatches whose very undiplomatic language has complicated the missions of foreign ministries all over the world.
Ecuador's President Rafael Correa said the cables show how the U.S. tries to manipulate the region's governments. "Enough of these things. Enough interfering with our sovereignty, our independence, enough of betraying the confidence of countries that consider the United States to be a friend," Correa said.
The official agenda of the 22-nation Iberoamerican summit — improving education as a tool for social inclusion — promised few fireworks. And given the absences, it was unlikely that a sidelines meeting Friday of the Union of South American Nations, or UNASUR, would result in the selection of a successor to former Argentine President Nestor Kirchner, the group's secretary-general until his death in October.
The big question was how leaders and diplomats from countries mentioned in the cables would address the subject.
Some tried humor. The president of the Dominican Republic, Leonel Fernandez, laughed at the irony of a superpower brought low by a memory stick no bigger than a little finger. "This is a reflection of the fragility of power," he said.
Others simply didn't show up. Venezuela's Hugo Chavez rarely misses an international forum, but he announced his absence at the last minute. WikiLeaks earlier posted a cable that said Mexican President Felipe Calderon accused Chavez of tampering with elections in Mexico.
The cable also said Calderon told the then-U.S. director of national intelligence, Dennis Blair, that there is a link between Iran, Venezuela, drugs, drug trafficking and human rights.
Chavez is a no-show for the third straight year after Spain's king interrupted one of his lengthy speeches by asking, "Why don't you shut up?" in 2007. Chavez's aides said he stayed home to deal with torrential rains that have killed more than 30 Venezuelans and displaced 15,000 families in recent days.
Bolivia's Evo Morales said recent knee operation kept him at home. WikiLeaks had posted a cable in which U.S. diplomats said Argentine President Cristina Fernandez had agreed to secretly help persuade Morales to improve his relations with Washington.
"I feel like this WikiLeaks thing is designed to set presidents up against each other, and generate a lack of confidence," Morales told reporters Friday in Bolivia. "But they're wrong. It's not going to happen. More likely, these tactics of the U.S. State Department will make us stronger and more unified. I want to tell you that I will never lack confidence in President Cristina. In difficult moments she has helped us considerably."
Domestic challenges and the weakness of the Spanish economy forced Spain's president, Jose Luis Rodriguez Zapatero, to suspend his trip, an official said.
Spanish Foreign Minister Trinidad Jimenez downplayed the importance of the leaked documents as "subjective impressions of some individuals."
One cable sent by the U.S. Embassy in Madrid in 2008 quoted the secretary-general of the Spanish presidency, Bernardino Leon, as saying that Spanish companies were worried about the "populist tone" of Fernandez's government, political polarization and high levels of corruption in Argentina.
The Iberoamerican summit is one of the last international appearances for Luiz Inacio Lula da Silva before he hands Brazil's presidency over to Dilma Rousseff in January.
Among those who won't be there to bid him farewell is Honduran President Porfirio Lobo, who wasn't invited to the gathering because host Argentina — and other countries in the region — consider his election the illegitimate result of the coup that removed President Manuel Zelaya from office.
The pullout of Nicaragua's Daniel Ortega dashed hopes that he and Costa Rica's Laura Chinchilla could work to resolve a border dispute. Ortega said during a speech Thursday night that the summit was the wrong place for such a negotiation, and accused Costa Rica of "trying to put Nicaragua on trial — them as victims and us as the aggressors."
Chinchilla said in an Associated Press interview that the dispute over a small island in their shared river distracts from what emerges as a constant theme in the State Department cables from Latin American embassies — the need to work together against drug trafficking and organized crime.
"You don't need secret documents to understand clearly that there is a threat to the institutional stability of the entire region," Chinchilla said. "That's why it frustrates me so much to be dedicating resources to this conflict with Nicaragua, when we could be advancing in a united defense against drug trafficking."
The absences left lower-ranking representatives to make the best of the summit, working on a declaration to reject coups, improve education, battle terrorism and reject the U.S. embargo against Cuba. It also will urge Britain to negotiate over the sovereignty of the Falkland Islands, which Argentines also claim.
The summit's focus on education is a recognition of how far Latin America still has to go two centuries after independence from Spain and Portugal. Preschools are scarce in many countries, educational quality is low, teachers lack training and students rarely have access to advanced technology.
Goals include creating universal primary and secondary education, strengthening connections between education and work and increasing investments in education.
___
Associated Press Writers Carolina Herrera in Managua, Nicaragua and Carlos Valdez in La Paz, Bolivia, contributed to this report.