Across Mideast nations welcome Morsi's ouster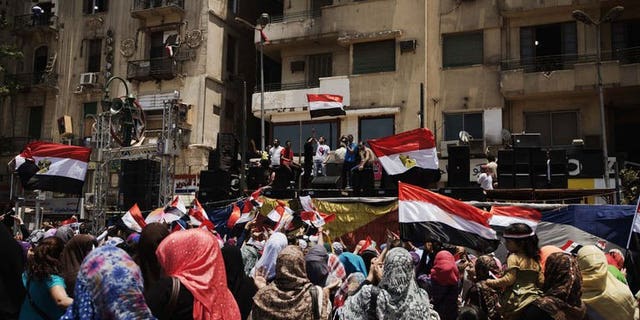 BEIRUT (AFP) – Governments across the Middle East welcomed on Thursday the ouster of Egypt's Islamist president Mohamed Morsi with varying degrees of enthusiasm, with war-hit Syria calling it a "great achievement."
In a reflection of tense ties between many regional governments and the Muslim Brotherhood organisation from which Morsi hails, reaction to the Egyptian leader's ouster was almost universally positive.
"Syria's people and leadership and army express their deep appreciation for the national, populist movement in Egypt which has yielded a great achievement," Syrian state television said, citing an official source.
The source said Syria -- which is battling rebels including Islamists determined to topple the government -- considered the mass protests that preceded Morsi's ouster to be a "rejection" of the Muslim Brotherhood "not only in Egypt but at the Arab level and the international level."
In Saudi Arabia, state news agency SPA reported that King Abdullah sent a message of congratulations to Morsi's successor, caretaker president Adly Mansour.
Abdullah also paid tribute to the Egyptian armed forces and its leader Abdel Fattah al-Sisi for using "wisdom" in helping to resolve the crisis and avoiding "unforseen consequences".
The United Arab Emirates, which had strained ties with Egypt during Morsi's reign, also praised the Egyptian army for stepping in to announce the ouster.
"Egypt's great army once more proves that it is Egypt's protector... that will ensure it remains a country of institutions and law that protects all components of the brotherly Egyptian people," Foreign Minister Sheikh Abdullah bin Zayed al-Nahayan said in statement.
He said the UAE was following developments in Egypt "with satisfaction" and would seek a strengthening of ties with Cairo.
Gulf monarchies Bahrain and Kuwait also sent messages of congratulations to Mansour.
Iraqi Prime Minister Nuri al-Maliki also congratulated Mansour and expressed support for the Egyptian people "who are going through a difficult period," a statement in Baghdad said.
In Israel, which has a peace treaty with Egypt since 1979 but strained ties, ministers were tightlipped after reportedly being instructed by Prime Minister Benjamin Netanyahu to refrain from comment.
"The government is closely monitoring the situation in Egypt but is not making any predictions because things are still developing," one official told AFP on condition of anonymity.
"It is important that the Egyptian people can enjoy a new level of freedom and self-determination ... but the current situation has sent shock waves throughout the Arab world and it is causing some concern in Israel," he said.
Reaction was more muted in Iran, which said it respected "the will of the people" but also called for democratic processes to be respected.
Diplomatic spokesman Abbas Araghchi, citied by the Nasimonline.ir site, said Iran hoped for "respect for democratic processes and the preservation of the gains of the revolution."
Jordan's King Abdullah II also congratulated Mansour and said in a statement released by the palace in Amman: ""Jordan supports the will and choice of the great Egyptian people."
In Qatar, a key Muslim Brotherhood ally, new emir Sheikh Tamim Bin Hamad al-Thani also sent Mansour congratulations while the foreign ministry said that Doha "will continue to back Egypt in its leading role in the Arab and Muslim worlds."
But pro-government media carried words of warning for Egypt.
"Egypt has never before been in such a foggy situation... Every political and ideological group now thinks it has the right to rule," read a commentary in Asharq daily.