A look at what the US-China climate deal means for the fight against global warming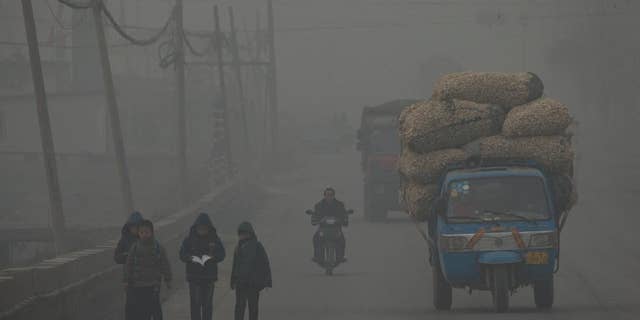 NEWYou can now listen to Fox News articles!
STOCKHOLM – The world's outlook for reaching a global climate deal next year brightened Wednesday as China and the U.S. — the top two polluters — presented a joint plan to reduce emissions of the heat-trapping greenhouse gases that are blamed for warming the planet.
The unexpected move was praised worldwide as a historic step in the fight against climate change, though some analysts said the targets aren't ambitious enough to prevent global warming from reaching dangerous levels.
The announcements from the American and Chinese presidents, Barack Obama and Xi Jinping, drew praise from environmentalists who had feared China's desire for fast growth and Obama's weakened political standing might prevent such action.
They were a less welcome surprise for U.S. Republicans, who will take control of Congress next year. They pointed out that the deal lets China keep increasing emissions while U.S. has to cut.
Here are some questions and answers about the significance of the announcement and the challenges that lie ahead for the United States and China — and for the rest of the world — as they negotiate an elusive climate pact that's supposed to be adopted in Paris next year.
WHAT DID THE US AND CHINA ANNOUNCE?
China, whose emissions are rising as it builds new coal plants to fuel its economic growth, set a target for its emissions to peak in 2030 or earlier. That's the first time China has set a deadline for stopping its emissions growth. China also said it would increase the share of clean energy sources like wind and solar power to 20 percent by 2030, about double what it is today.
The U.S. set a goal to make its 2025 emissions between 26 and 28 percent lower than they were in 2005. That would be faster than previous goals, and the Obama administration says it would help the U.S. achieve its longer-term goal of bringing emissions 80 percent lower than 2005 by 2050. U.S. emissions peaked in 2007, but about half the reductions since have been due to the recession. Emissions increased last year.
WHAT'S THE SIGNIFICANCE OF THESE TARGETS?
China is the biggest source of greenhouse gas pollution, pumping out about a quarter of the world's emissions. The U.S. is No. 2 with about 15 percent. The two countries are often adversaries at U.N. climate talks, and their unprecedented joint announcement sends an important signal that a deal is possible next year. Last month, the European Union said that its 2030 emissions would be 40 percent lower than in 1990. With pledges from the top three emitters on the table a year ahead of the Paris climate summit, pressure now builds on other countries including India, Russia and Japan to present their own targets.
Guri Bang, of the CICERO environmental research group in Norway, has followed the international climate talks for 15 years. She said that for the first time since a failed summit in Copenhagen in 2009, there is now "reason to be positive" about the negotiations.
WHAT OTHER ISSUES NEED TO BE SOLVED FOR A GLOBAL CLIMATE DEAL?
In the last global emissions pact, the 1997 Kyoto Protocol, rich countries took on legally binding commitments while developing countries did not. Many developing countries want that arrangement preserved in next year's deal, while developed countries including the United States — which didn't sign up for Kyoto — don't. And in fact, for the United States, any binding treaty would have little chance of being ratified by Congress.
Rich countries agreed in 2009 to jointly provide $100 billion a year by 2020 to help poor countries cut their emissions and adapt to rising seas, desertification and other fallout from climate change. Developing countries want the rich nations to make firm commitments to live up to their pledges.
WHAT IMPACT WILL THE US-CHINA DEAL HAVE ON GLOBAL WARMING?
It's difficult to assess the impact because China isn't committing to a specific level of emissions. China's target is for when emissions should stop rising — not how high they should reach. Also, it's unclear whether China's emissions would plateau or decline quickly after that. Either way, China's increases between now and 2030 will dwarf any decreases the U.S. can achieve, scientists tracking global emissions told The Associated Press, meaning global emissions will continue to rise.
Global temperatures have risen 0.8 C (1.4 F) since pre-industrial times, and the U.N. climate talks are aimed at keeping that number from topping 2 degrees C (3.2 degrees F). The U.N.'s expert panel says that would require cutting global emissions by 40-70 percent by 2050 and to zero by the end of the century.
WHAT ARE THE MAIN CHALLENGES FOR CHINA?
Coal still fuels about 80 percent of China's electricity, and heavy industries such as steel, cement and chemicals heavily depend on coal. Moving away from that will require China to transforming the very makeup of its economy. The government has already been trying to boost less polluting sectors of the economy, such as high-tech, and in fact coal use fell by a percentage point last year. Still, quitting coal will require a massive investment in natural gas and renewable energy.
WHAT ARE THE MAIN CHALLENGES FOR THE US?
A significant proportion of the reductions Obama promised hinge on cutting carbon pollution from coal-fired plants. But Republicans are fighting the plans both at the state level and in Congress.
Lawsuits have already been filed against the proposals, setting the stage for a lengthy battle that's likely to continue well beyond Obama's term. Without the support of the next president, the new pollution standards aren't likely to survive.
WHY HAS IT BEEN SO HARD TO GET A GLOBAL CLIMATE AGREEMENT?
Since they began more than two decades ago, the U.N. climate talks have been bogged down by arguments between rich and poor countries over who should do what to fix global warming. Rich countries say developing countries need to act because they account for most of the growth. Developing countries say the rich have already pumped out so much pollution for so long that they should take the lead.
The U.S. and China have been on opposite sides of that debate, which is why their joint announcement is seen as such a breakthrough.
___
Associated Press writers Josh Lederman and Jack Chang in Beijing and Dina Cappiello and Seth Borenstein in Washington contributed to this report.
___
Karl Ritter is reachable on http://twitter.com/karl_ritter