7-Year-Old Beauty Queen Stripped Of Title For Not Being Latina Enough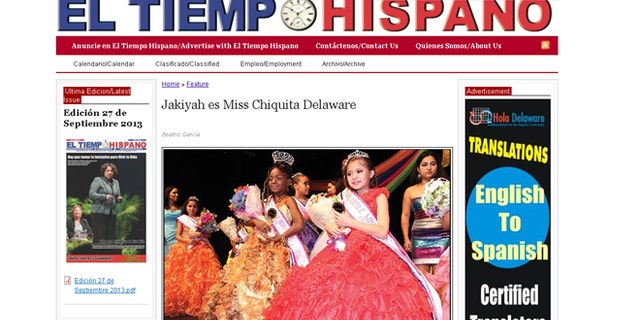 Beaming in a golden dress, sparkling crown and ear-to-ear smile, Jakiyah McKoy was crowned last month as Little Miss Hispanic Delaware. The 7-year-old, however, was only able to enjoy her title until last week, when pageant officials stripped the young beauty queen of her crown for not being able to prove her Latina heritage.
Jakiyah, who was born in Brooklyn, New York, has a grandmother who hails from La Vega, Dominican Republic – making her 25 percent Hispanic. Organizers of the pageant said that while McKoy might claim the 25 percent Latina heritage to qualify, her parents were unable to provide the proper paperwork to prove her ethnicity.
"We can't have her be the queen if she doesn't have the proper documentation," Maria Perez, the president of Nuestras Raíces Delaware, the pageant sponsor, told Latino Rebels. "It's not the first time that we've been confronted with the [burden of proof]. It's happened in the past and they've brought in the proof and we were satisfied with it."
After Jakiyah was dethroned, some questioned whether the crown was taken away from her because she is black and "not the best representative of Latin beauty," according to an online petition. The petition already has 750 signatures to try and get the little girl reinstated as the pageant's winner.
"The judges of this pageant should be ashamed of their racist, colonial mindset," wrote Rudy Velez of Rochester, New York. "Latinas come in all colors, a reflection of our wonderfully diverse heritage. We carry within us the legacy of our African, indigenous, and European foremothers."
Perez denied the allegations that the color of McKoy's skin played a part in having her title revoked.
"Color has nothing to do with it," she said. "We're all Latinos. That's why we're so beautiful, because we come in all different colors."
Some of the previous winners of the pageant include girls of Puerto Rican and French descent and Puerto Rican and Italian descent.
McKoy has been given runner-up status in the pageant.
"All the little girls got crowned," said Perez. "I feel so bad for [Jakiyah] because she is getting put in the middle of this and that's exactly what we wanted to avoid."
Follow us on twitter.com/foxnewslatino
Like us at facebook.com/foxnewslatino