New Jersey Latina Named Democratic Gubernatorial Running Mate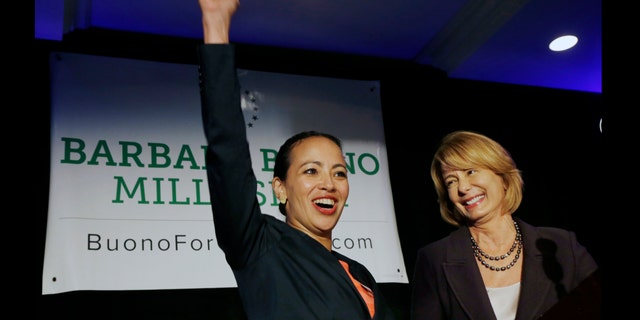 NEWYou can now listen to Fox News articles!
A Latina who long has championed the rights of workers is New Jersey's Democratic nominee for lieutenant governor.
On Monday, Democratic gubernatorial candidate Barbara Buono named labor leader Milly Silva, who came to New York with her mother from Puerto Rico and was raised in public housing in the Bronx, as her running mate.
Buono and Silva make up the first all-female ticket in a New Jersey gubernatorial race, and only the third nationwide. Buono and Silva are challenging Gov. Chris Christie and Lt. Gov. Kim Guadagno, Republicans who are seeking a second term.
For now, Christie has been beating Buono in polls of likely voters by wide margins.
Silva, who is executive vice president of the New Jersey chapter of 1199SEIU, a private union of health care workers, wasted no time in criticizing Christie, whose policies she says have hurt the middle- and working-class.
In a speech that included remarks in both English and Spanish, Silva denounced Christie's handling of Hispanic issues.
"We live in a New Jersey where whatever Chris Christie says goes," she said. "That's not a leader, that's a bully."
Silva, 43, and the mother of three children, also said that Christie is not the moderate politician he often projects himself to be, saying that he aligns himself with "right-wing extremists."
Silva criticized Christie for campaigning for U.S. Rep. Steve King, a Republican from Iowa who has come under fire – most recently last week – for inflammatory comments about immigrants.
"Just recently, his good friend Steve King casually said the majority of DREAMers – young immigrants who had no choice about whether to come to this country with their parents – are more likely to be criminals than scholars," Silva said, according to published reports.
Buono said that Silva would improve life for New Jerseyans from all walks.
"For the last 20 years, Milly has dedicated herself to being a voice for the voiceless," Buono said. "And I know she will bring the same passion to the lieutenant governor's office. From increasing the minimum wage to making tuition more affordable, Milly knows how public policy can help improve the lives of New Jerseyans and their families."
In recent week, Christie, who is seen as a potential 2016 presidential candidate, launched the "Hispanics for Christie" coalition for his gubernatorial re-election campaign.
The group has dozens of appointed members, including 13 pastors who form part of its Hispanic Clergy Advisory Council. The coalition will have representatives in all 21 counties and will be headquartered in Paterson, the state's third-largest city, where Latinos form a majority.
New Jersey is home to 1.6 million Hispanics, they are almost 20 percent of the state population, the eighth largest Latino share in the nation. About 680,000 of the state's Latinos are eligible to vote.
The Associated Press contributed to this report.
Follow us on twitter.com/foxnewslatino
Like us at facebook.com/foxnewslatino