6.9 Magnitude Late Night Earthquake Strikes Northern California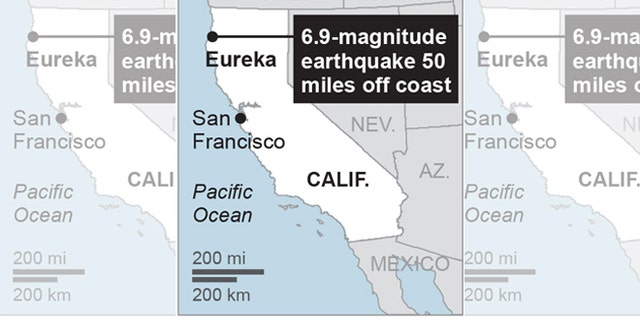 EUREKA, Calif. (AP) – A very strong earthquake rattled the Northern California coast and was widely felt across the region, but authorities said early Monday that there were no reports of any injuries or damages.
The magnitude 6.9 quake struck at 10:18 p.m. PDT Sunday and was centered 50 miles west of Eureka and about four miles beneath the Pacific seabed, according to the U.S. Geological Survey. It was followed by about a half-dozen aftershocks, including one of magnitude 4.6.
The quake was felt widely across the region but both fire and sheriff's officials in Humboldt County, which includes most of the populated areas near the epicenter, said early Monday more than four hours after the quake hit that they had no reports of any damage or injuries.
The National Tsunami Warning Center said there was no tsunami danger for the region.
But more than 3,000 people reported on the USGS website that they felt the quake. Some reported a long, rolling shake that woke children or knocked items off shelves. Some of those respondents live across the border in Oregon.
"This lasted longer than any earthquake I've ever felt," Raquel Maytorena, 52, who lives about a mile from the coast in Ferndale near Eureka, told The Los Angeles Times. "It just kept going and going, very slowly and softly. It was not violent. It almost felt like you were in a boat that was rocking."
Maytorena said she felt a little rattling in her nearly 100-year-old home, but power remained on without any interruptions. The quake felt like it lasted about 20 seconds, she said.
"The animals, they felt it," she said. "My two horses were running around out by the barn, and my dogs, six dogs, were ready to get out of the house."
Jana Pursley, a geophysicist with the National Earthquake Information Center, said that based on the area's tectonics and past temblors, damages or casualties were unlikely.
Earthquakes are very common in Eureka, a city of about 27,000 people about 270 miles northwest of San Francisco and 100 miles south of the Oregon state line. Nearby Arcata is home to about 17,000 people and Humboldt State University.
The area had a magnitude-5.6 earthquake in February, 2012 that did not cause serious damages or injuries.
An offshore magnitude-6.5 quake struck offshore in 2010 and caused bumps and cuts among residents and broke glass in some buildings, but it was about 25 miles closer to land than Sunday night's quake.
Follow us on twitter.com/foxnewslatino
Like us at facebook.com/foxnewslatino