20 injured after shuttle bus returning from church retreat overturns on California highway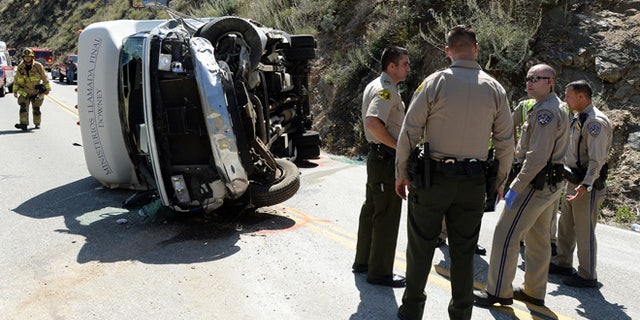 HIGHLAND, Calif. (AP) – A shuttle bus carrying nearly two dozen people returning from a women's church retreat overturned on a highway in Southern California's San Bernardino Mountains, leaving six people seriously injured and 14 with more minor injuries.
The bus turned on its side across State Route 330 shortly after 2 p.m., San Bernardino County Fire Capt. Jeremy Kern said.
The bus carrying 22 people was one of several buses transporting about 200 women who were returning Sunday from an annual mountain retreat to their church in Downey, California, a church official said.
"We got the news right after regular Sunday Service," Robert Acosta, assistant to the senior pastor at Iglesia de Cristo Ministerios Llamada Final, told the San Bernardino Sun. "It was unnerving, but we immediately pulled together."
All 20 of the injured were taken to hospital by ground ambulance and all were expected to survive, Kern said. Two people aboard were not injured. Authorities had initially reported an overall injury toll of 26.
At one point as it was coming down the mountain, the 2000 El Dorado bus made contact with a Nissan Versa sedan, California Highway Patrol spokesman Juan Quintero said. No one in the car was hurt.
The CHP is investigating the cause.
The highway was shut down for hours for a 16-mile stretch near Highland. The bus was lying on its right side diagonally across the road and blocking the entire highway.
The crash site is about 60 miles east of Los Angeles and about 20 miles from the site of a 2013 bus crash on another highway in the San Bernardino Mountains. Eight people were killed in that crash of a tour bus from Tijuana, Mexico.
Like us on Facebook
Follow us on Twitter & Instagram