17 die in Indonesian boxing match stampede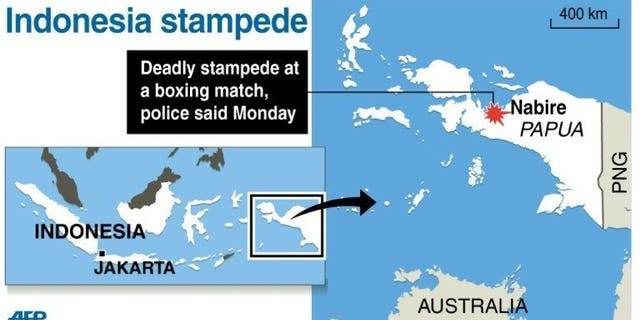 TIMIKA, Indonesia (AFP) – Seventeen spectators were crushed to death at a boxing match in remote eastern Indonesia after supporters of the loser started a riot, according to police.
"Seventeen people died in the crush, 12 of whom were women, and another 38 were injured and have been hospitalised for treatment," Papua provincial police spokesman I Gede Sumerta Jaya told AFP.
Around 1,500 people had watched the local championship match late Sunday night at a stadium in the town of Nabire when supporters angered by the outcome began throwing chairs.
"Everyone else made a quick dash for the exit in fear the violence would get out of control, and dozens of people were trampled on," Jaya said.
A witness, who did not want to be named, was quoted by news website Detik.com as saying: "There are five gates to the stadium, but only two were in operation during the match.
"So I just ran to the one closest to me."
In 2011, two people were killed in a stampede when thousands of fans jammed a Jakarta stadium for the Southeast Asian Games football final between the home nation and rival Malaysia.
In February 2008, 10 young people were trampled or crushed to death as hundreds of music fans tried to force their way out of a rock concert in the city of Bandung.
In September the same year, at least 21 people were killed in a stampede in East Java as they crowded an alley to receive a cash handout for Ramadan.