1 dead after shooting near Copenhagen synagogue, hours after deadly cafe attack
One person was killed, and two others injured, in a shooting near a Copenhagen synagogue early Sunday, just hours after a gunman with an automatic rifle opened fire on a cafe hosting a free speech event organized by a controversial Swedish artist who has faced threats for his caricatures of the Prophet Muhammad.
Police spokesman Allan Wadsworth-Hansen says it's still not clear whether that shooting is linked to an earlier shooting that killed one person and wounded three police officers in a suspected terror attack on a free speech event.
Wadsworth-Hansen says two police officers were wounded in their arms and legs in the shooting near the synagogue, while a civilian man was killed. The suspect fled on foot.
Police said the suspect in the earlier shooting at the Krudttoenden cafe drove away in a dark Volkswagen Polo after he sprayed the cafe with some 30 bullets. A 40-year-old Danish man attending the event was killed and three police officers were slightly wounded. Denmark's security service declared the shooting an apparent terror attack.
Lars Vilks, a Swedish artist who has faced numerous death threats for caricaturing the Prophet Muhammad, was one of the main speakers at Saturday's panel discussion, titled "Art, blasphemy and freedom of expression." He was whisked away by his bodyguards unharmed as the shooting began.
Vilks, 68, later told The Associated Press he believed he was the intended target of the shooting.
"What other motive could there be? It's possible it was inspired by Charlie Hebdo," he said, referring to the Jan. 7 attack by Islamic extremists on the French newspaper in Paris. He spoke from an undisclosed location for his own security.
"At first there was panic. People crawled down under tables," Vilks said. "My bodyguards quickly pulled me away."
The cultural center had a lecture hall as well as a cafe. Vilks said no one in the hall was wounded.
The PET agency said in a statement the circumstances surrounding the shooting "indicate that we are talking about a terror attack."
Several hours after the shooting, Copenhagen Police released a blurry photo of the suspect. They described him as 25-30, 6-feet-tall, "an athletic build with an Arabic appearance." He was wearing dark clothes and had a red "guerrilla scarf" covering part of his face.
Initial reports said police were searching for two gunmen.
The TV2 channel said in a report that police found the the getaway car, which had been carjacked, nearby. The vehicle had been abandoned and there was no sign of the assailant.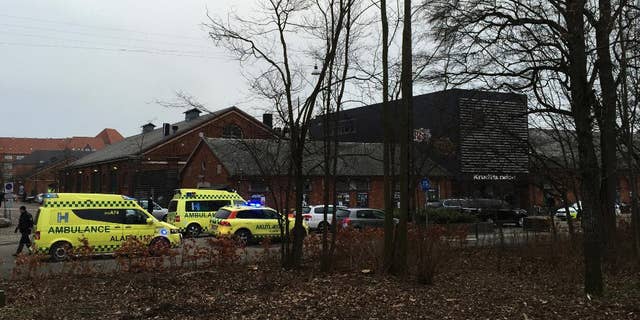 A shaken Francois Zimeray, the French ambassador to Denmark who spoke at the conference Saturday, tweeted that he was "still alive."
SkyNews reported that Zimeray told AFP: "They fired on us from the outside. It was the same intention as Charlie Hebdo except they didn't manage to get in."
The gunfire erupted shortly before 4 p.m.
"I heard someone firing with an automatic weapons and someone shouting. Police returned the fire and I hid behind the bar. I felt surreal, like in a movie," Niels Ivar Larsen, one of the speakers at the event, told the TV2 channel.
Helle Merete Brix, one of the event's organizers, told The Associated Press she saw a masked man running past and that two police officers were injured.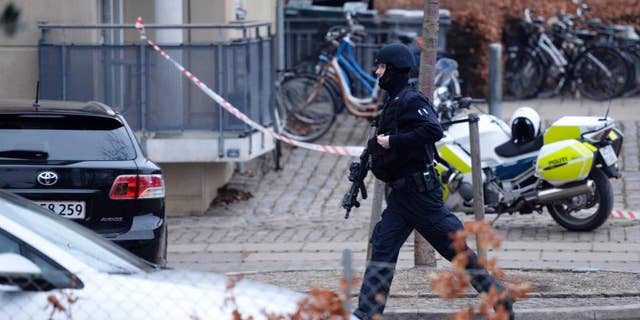 "I clearly consider this as an attack on Lars Vilks," she added, saying she was ushered away with Vilks by one of the Danish police guards that he gets whenever he is in Denmark.
French President Francois Hollande called the Copenhagen shooting "deplorable" in a statement and said Danish Prime Minister Helle Thorning-Schmidt would have the "full solidarity of France in this trial."
Thorning-Schmidt said Denmark would never yield to violence.
"Denmark was today hit by a cold-blooded act of terror," she said. "Everything points toward the shooting in Østerbro being a political assassination and thus an act of terror."
The cafe in northern Copenhagen is known for its jazz concerts. It was hosting an event titled "Art, blasphemy and the freedom of expression" when shots were fired.
Vilks, 68, has faced several attempted attacks and death threats after he depicted the Prophet Muhammad as a dog in 2007.
A Pennsylvania woman last year got a 10-year prison term for a plot to kill Vilks. In 2010, two brothers tried to burn down his house in southern Sweden and were imprisoned for attempted arson.
After Islamic militants attacked the Charlie Hebdo satirical magazine in Paris last month, killing 12 people, Vilks told the AP that even fewer organizations were inviting him to give lectures over increased security concerns.
Vilks also said he thought Sweden's SAPO security service, which deploys bodyguards to protect him, would step up the security around him.
"This will create fear among people on a whole different level than we're used to," he said. "Charlie Hebdo was a small oasis. Not many dared do what they did."
The Associated Press contributed to this report.