Trump at prayer breakfast: faith 'central' to American life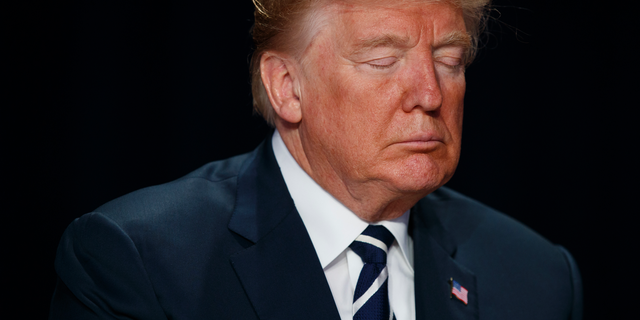 NEWYou can now listen to Fox News articles!
WASHINGTON – President Donald Trump told a prayer breakfast Thursday that faith is "central to American life and liberty."
In remarks to the annual gathering of lawmakers, religious leaders and dignitaries, Trump noted that America's founders invoked "our creator" in the Declaration of Independence, U.S. currency declares "In God We Trust" and "we place our hands on our hearts as we recite the Pledge of Allegiance and proclaim we are one nation under God."
Trump said the rights that all Americans enjoy "are not given to us by man" but that "our rights come from our creator."
"No matter what, no earthly force can take those rights away," he said at the 66th National Prayer Breakfast at the Washington Hilton hotel.
The president also spoke about seeing the "power of God's love" in Americans, particularly during the response to recent hurricanes and mass shootings.
"We can all be heroes to everybody," said Trump, who spoke in a subdued tone for about 15 minutes.
House Majority Whip Steve Scalise, R-La., who was gravely wounded last summer when a gunman opened fire on Republican members of Congress, was among those seated on the dais with Trump and was scheduled to deliver a keynote address, along with Rep. Cedric Richmond, D-La., chairman of the Congressional Black Caucus. Jeannette Kagame (keh-GAH'-may), the first lady of Rwanda, delivered the opening prayer.
Trump enjoys strong support from evangelical Christians, who helped power him to the White House.
Christians have cheered Trump during his first year in office as he appointed conservative judges, sought to weaken rules governing political activity by certain religious groups that receive tax exemptions and declared Jerusalem the capital of Israel.
___
Associated Press writer Darlene Superville contributed to this report.