Suspect in Washington state tried to hide in dryer: cops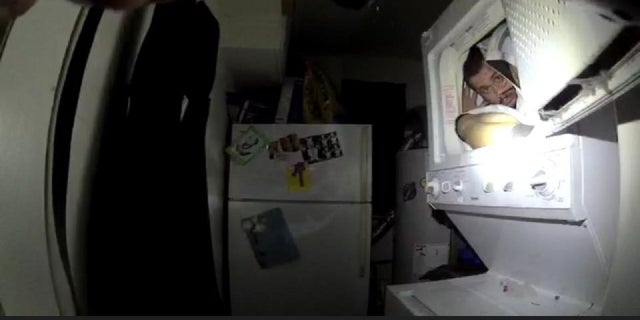 NEWYou can now listen to Fox News articles!
Was this man's hiding attempt a washout?
Washington state authorities took to Facebook this weekend, where they shared an image of a suspect who they said hid out in a dryer.
"The adult version of hide and seek never turns out well for anyone," Spokane police said. "What is depicted in this body camera footage frame is the lengths that some suspects will go through to avoid police."
SLOW-SPEED PURSUIT OF TRACTOR LEADS TO CRASH, ARREST, 2 INJURED
Authorities explained that they "were working on a tip from our Domestic Violence Unit that an offender may go back to the victims home, thus be in violation of a protection order [sic]."
Spokane police said the suspect went indoors and refused to emerge.
"(Yes that is an apartment sized stackable washer and dryer combo) [sic]," they confirmed.
A K9 found the man, and nobody was harmed, according to the post.
BOSTON WOMAN A MILLIONAIRE -- BRIEFLY -- AFTER BANK MIX-UP
The suspect was arrested for violating a no-contact order, police spokeswoman Cpl. Teresa Fuller told Fox News in an email.
"We had information from another jurisdiction that they had probable cause to arrest him for that charge and he was found in our jurisdiction to have violated a protection order at the address he was found at in Spokane," she said.