Small army races to finish Burning Man festival's 'The Man'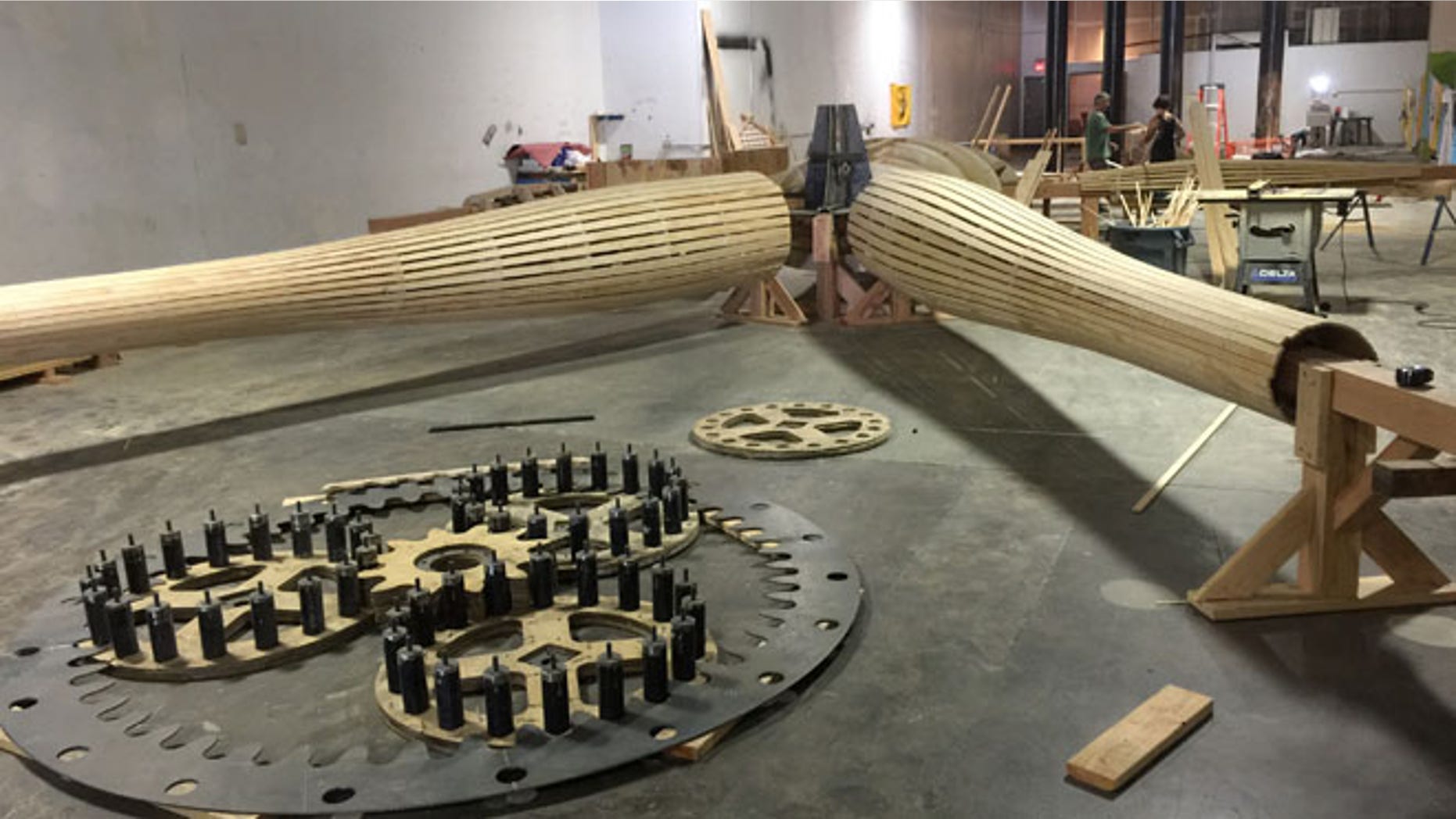 It seems like a futile effort, given that it's built only to burn down, but construction of The Man heading to Burning Man is in its intense final weeks, with every nail hammered, every gear installed, in homage to Leonardo da Vinci.
With the annual music and art festival less than a month away, a small army of artists and builders is racing to complete the huge wooden statue that takes center stage at the temporary metropolis in Black Rock City, Nevada. And this year, The Man is no ordinary human effigy. It's a giant "Vitruvian Man," modeled after da Vinci's famous drawing more than 500 years ago. The design is in keeping with this year's Burning Man theme, "Da Vinci's Workshop."
"If he were alive today," says designer Andrew Johnstone, "Da Vinci would absolutely be a Burner." Johnstone, a professional muralist from Oakland and creative force behind The Man, says he began designing this year's statue in May while teaching an art class in Italy. He says the massive base supporting the statue is influenced by Brunelleschi's famous baptistery in Florence, and will feature iconic Renaissance exhibits and demonstrations, from leather and fabric making, to blacksmiths and glass blowers.
"If we're makers, inventors and artists, if we're disciples of anybody, it must be da Vinci. He was our Messiah," says Johnstone.
The statue aims to combine the concept of ideal human proportions with geometry and art. Inside a vast studio in San Leandro, California, The Man lies splayed out on his back, waiting for a team of 20 artists, designers and builders to attach his head. With plywood ribs and bones made of Douglas fir, he will stand 45 feet tall, his arms and legs outstretched inside a ring atop a 24-foot-high base. At the top of every hour, Burners will be able to turn a crank, and The Man will rotate -- one vertical full spin every 2 minutes. The entire structure will weigh some 25,000 pounds, and need to withstand high desert winds of up to 90 mph. At night, The Man, which is centrally located, will be outlined in neon lights, and used as a landmark to help an estimated 70,000 Burners navigate around the semi-circular community.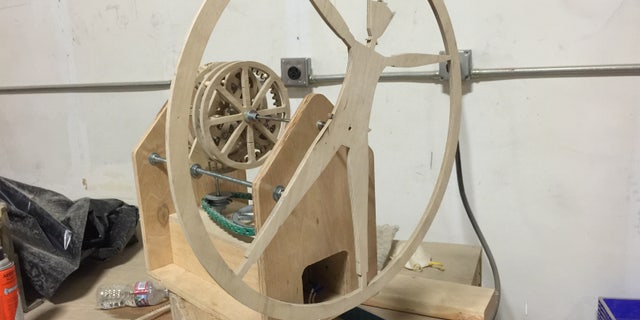 "It's all about safety and structure," says Joe Schwan, the general contractor who's been in charge of building The Man for the past 7 years. "We usually do the build on site," he says, "but this one was too complicated, and we needed more resources. So we build it here, take it apart, pack it up, and transport it up in nine semi-trucks." He says the crew will have only a few weeks to re-assemble and erect the statue before it officially goes on display August 28.
As always, The Man will have a short life span: one week. On September 4, amid a lavish fireworks show, he will be set on fire, and burn to the ground -- along with the gears, the neon lights, and a hidden plaque bearing the names of Burners who've recently passed away.
When asked if they're sad to see their giant creations go up in flames, Johnstone and Schwan say they were never intended to be permanent.
"This is about the journey, and the passion we have to acquire this goal, to acquire this piece of art that's so amazing," says Schwan. "And then it'll go into the ether, and we're okay with that, because the journey of actually building it is amazing, that we can actually get it done. It's really an accomplishment."