North Carolina Navy vet finds angry note after parking in veteran-designated space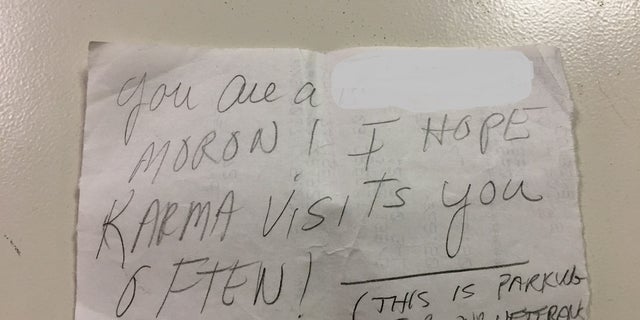 United States military veterans should be treated with more respect, a North Carolina Navy vet told Fox News after he discovered a hateful note placed on his car that was parked in a veteran-designated spot on Saturday.
Rod Boyle, 56, said he parked his car in a "reserved for veterans" spot at a Harris Teeter location in Wake Forest at about 5:45 p.m. to quickly grab a few items.
"I was kind of in a hurry so I used the veteran parking spot because I am a veteran. I served in the U.S. Navy for 20 years," Boyle told Fox News on Thursday.
As he was pulling away from the parking lot, he discovered the note flapping under his windshield wiper.
"You are a [expletive] moron! I hope karma visits you often! (this is parking for our veterans)," the note said.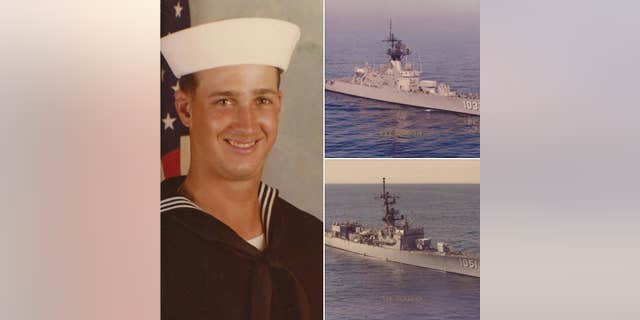 Boyle said he was initially angry that someone would assume he wasn't a veteran and place such a scathing note "written using colorful metaphors."
"Why would somebody do this? This is just such a hateful note," Boyle said. "Why is someone assuming based on my car that I didn't serve in the military?"
Boyle served in the Navy from 1981 to 2001. He told Fox News he joined the military because he felt "it was the right thing to do" to protect his country, his family and to honor his grandfather, who was his only family member to serve in the military at the time.
"I am a veteran. I served in the United States military. What business is it for a customer to do that?"
VETERANS BLAST VA HOSPITAL IN DC TOWN HALL MEETING
Boyle didn't want the incident to go unnoticed, so he drove back to the store and called for the store manager.
"I told him, 'First of all, before you say anything, I want you to know that there's nothing you can do for me,' but I wanted him to know the nature of the situation," Boyle said.
The retired Navy veteran said he hopes his story will make others think twice before jumping to conclusions, but to also remind people to show more appreciation for veterans.
"I take it to heart that growing up as a child I saw how Americans treated Vietnam veterans — it wasn't great," Boyle recalled. "Today, that viewpoint really hasn't changed."
He added, "Somebody should be rewarding veterans rather than handing out a hateful message."
But Boyle said he doesn't hold it against the individual for speaking out because that person had the right to do so. "However, where is the line of standards between rights and moral/ethic conduct?" he wondered.
Boyle said he still doesn't know who left the note on his car, but joked that he wanted to thank that person for bringing awareness to a situation that often goes unnoticed.
WWII VETERAN GOES SKYDIVING FOR 96TH BIRTHDAY
Harris Teeter has offered veteran-designated parking spaces since October 2014. Boyle said the company reached out to him to thank him for his service and apologize for the incident. He will be meeting with Harris Teeter representatives on Thursday.
"It is extremely unfortunate anyone would receive a note like this, and we are certainly disappointed it happened while this veteran was shopping in our store," a company spokeswoman said in a statement to Fox News.
Boyle said he doesn't blame the supermarket chain at all, but thanked it for offering veteran-designated parking spaces.