New Jersey's 'Gold Coast' starting recovery process from superstorm Sandy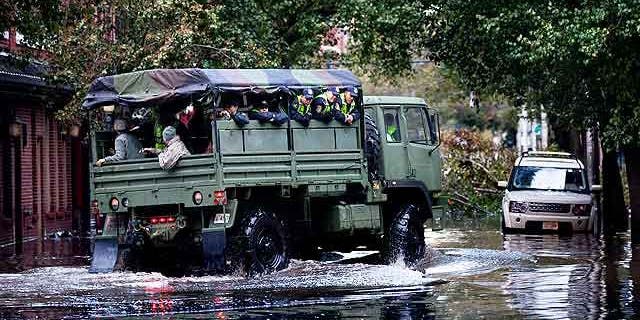 NEWYou can now listen to Fox News articles!
The Jersey Shore took a beating from Sandy, but the Garden State's so-called "Gold Coast," the densely-populated commuter communities across the Hudson River from Manhattan, also took a vicious punch from the devastating storm.
Hoboken, the so-called mile-square city of 50,000, absorbed a tide- and wind-driven surge that left streets underwater and thousands of residents trapped for days. On Thursday, the water had largely been pumped out or receded back into New York Harbor. Just south of Hoboken and also along the western bank of the Hudson, residents of an equally waterlogged downtown Jersey City were slowly returning to their homes Thursday as flood waters began to recede.
In both communities, restoration of power became the top priority once trapped residents were rescued and most of the water is out.
"We just got off the phone with [gas and electric provider] PSE&G and said, 'Tell us the resources you need to get the power up and running in Hoboken,'" Hoboken Mayor Dawn Zimmer said during a news conference Thursday afternoon on the steps of City Hall. "At this time I can't give an estimate. ... I can say that it will be shorter than the seven to 10 days they originally put out."
[pullquote]
The National Guard arrived on Wednesday with high-wheeled vehicles to rescue those trapped. On Thursday, PSE&G and FEMA moved in. The mayor's office has also asked for volunteers to assist with checking on senior residents, delivering food and water and helping to get prescriptions filled.
The city has also made a call for donations of non-perishable food, blankets and coats to be brought to City Hall and Hoboken High School. Power-charging stations and WiFi were also set up by battery maker Duracell, and mobile ATMs were made available by Capital One bank.
In nearby Jersey City, authorities imposed a nighttime pedestrian curfew, as residents sifted through their flood-ravaged belongings. Tousdah Younger, the mother of a 5-month-old infant and a 7-year-old, told the Jersey Journal her ground-floor apartment was flooded with a foot of water.
"I'm just throwing things out and starting all over," said Younger, who returned home to a pile of destroyed toys in front of her door Thursday afternoon.
More than 150,000 PSE&G customers in Hudson County remained in the dark Thursday afternoon.
Across the harbor on Staten Island, N.Y., power has been restored to 48,000 homes and businesses from the original 121,000 that had been left in the dark since the storm.
Con Edison spokeswoman Sara Banda said tree damage and downed power lines continue to pose a significant challenge for some 1,600 utility crews working to restore power to the borough.
"We have thousands of power lines that have come down on Staten Island alone," Banda told FoxNews.com, adding that the utility is focusing on repair work that will restore power to the greatest number of customers at once.
The power utility expects to bring in an additional 1,600 crews from utility companies across the country to assist with power restoration efforts in the region by the end of the week.
Sandy devastated several communities in Staten Island, flooding homes and tossing boats and cars. More than a dozen people have died in the borough as a result of the storm, according to the Staten Island Advance.