Mississippi Businesses Close Due to Rising Water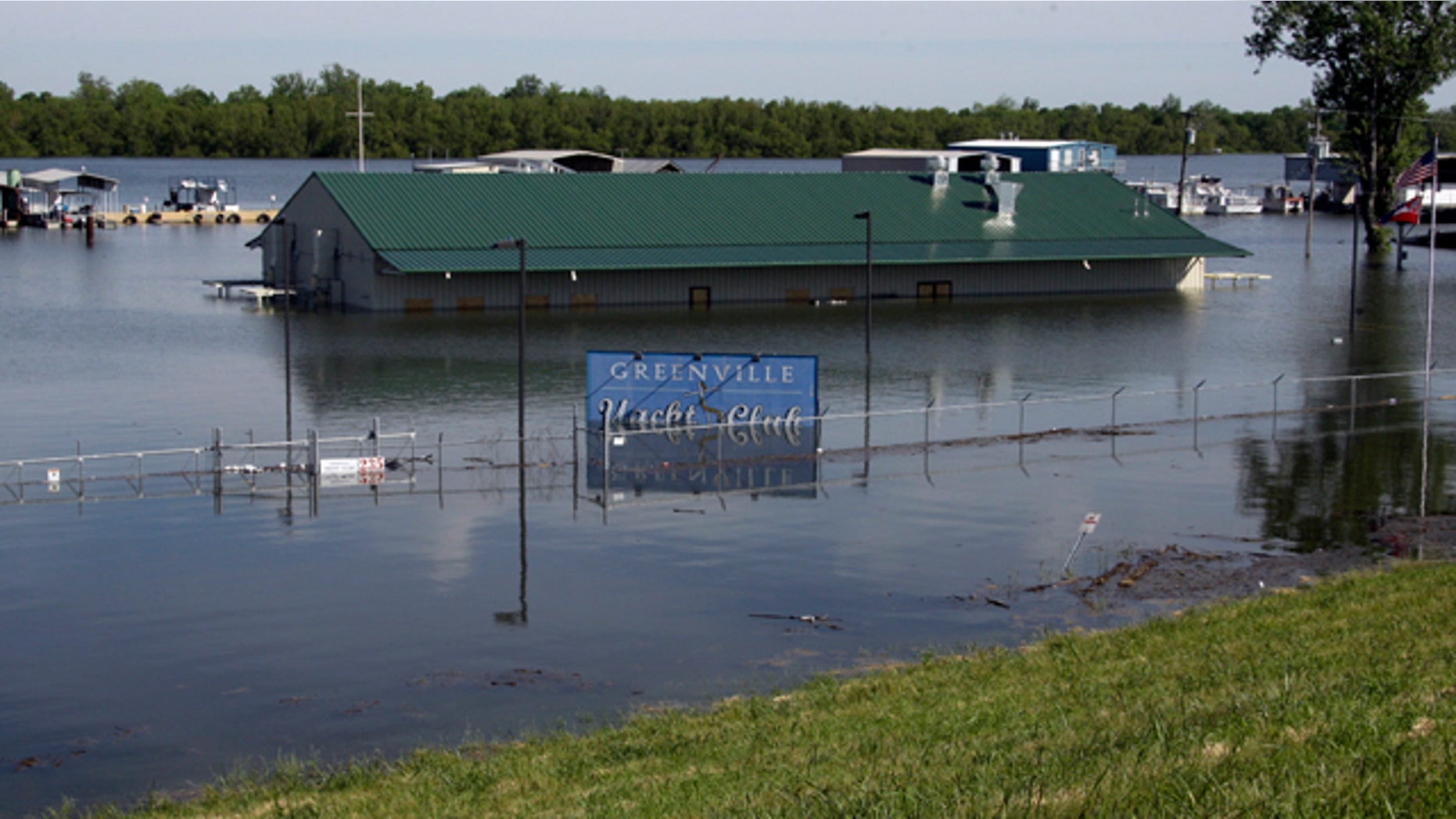 JACKSON, Miss. -- Issaquena County Emergency Management Director Chris Hamlin says he and local law officers have been going door-to-door urging residents in low-lying areas to evacuate as Mississippi flood waters continued their rise along the Delta region.
"There has not been a mandatory evacuation for the county. Most people are evacuating on their own," Hamlin said Friday. "There's high water in some areas already."
Farther north in Washington County, the Lake Ferguson neighborhood along the riverbank also had been evacuated, said Myrties Sutton, who works with emergency officials in the county. Sutton said inland Greenville currently wasn't under a threat.
"If we have to evacuate we'll let everyone know through media, radio and we'll sound the siren," Sutton said. "None of that is expected right now."
The National Weather Service said Friday the mighty Mississippi will crest at 64 feet at Natchez on May 22. Currently, all areas along the water body are above flood stage. Flood warnings have been issued for Warren and Issaquena counties, said Brian Koeneke, a weather service forecaster. In the northwest, flood warnings were issued for Coahoma, Tallahatchie, Quitman, Yalobusha, Panola, Tate, Tunica and DeSoto counties, he said.
All the levees along the river are expected to hold up to the waters, said U.S. Army Corps of Engineers spokesman, Kavanaugh Breazeale said Friday.
"The levees are doing what they're designed to do and things are working well," Kavanaugh said. "We do have a backwater levee north of Vicksburg that is designed to have water come over that, which will happen if water gets to predicted levels. That will help to relieve pressure."
Kavanaugh said the corps was finishing its Buck Chute Project on Friday. Officials cleared trees and vegetation around a sand boil discovered last year, built a berm, brought in 20,000 yards of sand, and topped it with clay on Friday.
The American Red Cross has opened two shelters for those fleeing rising waters: the G.W. Henderson Senior Recreation Center in Tunica and Hawkins United Methodist Church in Vicksburg.
Hamlin said many of the Issaquena residents impacted by the 2008 flood have left their homes. He estimated about 75 homes could be affected and between and 20 and 25 had evacuated.
In neighboring Warren County, Redwood Elementary School was closed on Friday, said Liz Swinford, superintendent of the Vicksburg-Warren County School District.
Swinford said the school's 450 students will be routed to other schools in the district. Swinford said school officials were building a three-foot dirt and clay barrier around Redwood Elementary. She said students in other schools in the area also have been affected by the flooding.
"Many students are being displaced. Parents are trying to stay or leave the children until the end of the school year," Swinford said, explaining the end-of-the-year testing is underway.
Several casinos from Tunica to Natchez have announced closures. Mississippi Gaming Commission director Larry Gregory has said Vicksburg's five casinos remain open, but could close next week.
The Isle of Capri casino in Natchez will close at 3 a.m. Saturday, said Jill Haynes, a spokeswoman for the company. Casinos have already closed in Tunica and Coahoma counties.
Haynes said employees would stay on the payroll. She said no decision had been made on the Vicksburg casino.
The federal government on Thursday declared the following counties as disaster areas: Adams, Bolivar, Claiborne, Coahoma, Desoto, Issaquena, Jefferson, Tunica, Warren, Washington and Wilkinson. All touch the Mississippi River.