McCabe says Rosenstein was 'absolutely serious' about secretly recording Trump; Booker speaks out on Smollett
Welcome to Fox News First. Not signed up yet? Click here.
Developing now, Monday, Feb. 18, 2019
McCABE SAYS DEPUTY AG ROSENSTEIN 'ABSOLUTELY SERIOUS' ABOUT SECRETLY RECORDING TRUMP: The former FBI deputy director said in an interview broadcast Sunday that Deputy Attorney General Rod Rosenstein "was not joking" when he suggested secretly recording President Donald Trump in the Oval Office following the May 2017 dismissal of FBI Director James Comey.
McCabe, speaking to CBS News' "60 Minutes," recounted a conversation soon after Comey's firing about the ongoing Russia investigation in which he said Rosenstein told him: "I never get searched when I go into the White House. I could easily wear a recording device. They wouldn't know it was there."
"Now, he was not joking," McCabe said of Rosenstein's comments. "He was absolutely serious. And in fact, he brought it up in the next meeting we had."
Graham calls McCabe comments 'beyond stunning' as he threatens to subpoena former FBI chief
McCabe says Rosenstein was 'absolutely serious' about secretly recording Trump
CLICK HERE TO GET THE FOX NEWS APP
CORY BOOKER 'WITHHOLDING JUDGMENT ON SMOLLETT CASE AFTER CALLING IT 'ATTEMPTED MODERN-DAY LYNCHING': Democratic presidential candidate Cory Booker told reporters Sunday that he would withhold judgment on the alleged attack on "Empire" actor Jussie Smollett after calling the incident "an attempted modern-day lynching" when it was first reported last month ... Booker cited the deadly shooting at a Pittsburgh synagogue this past October as well as the June 2015 shooting at a historically black church in Charleston, S.C.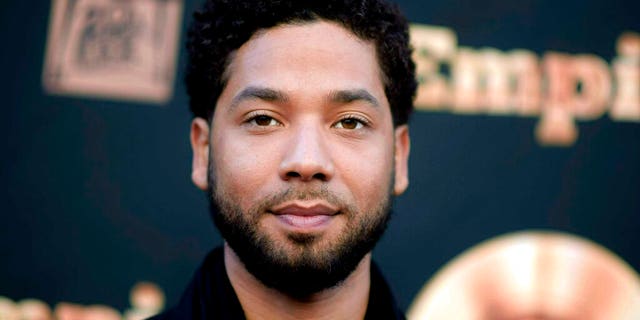 "I'm gonna withhold until all the information actually comes out from on-the-record sources," the senator from New Jersey said after meeting with voters in Rochester, N.H. "We know in America that bigoted and biased attacks are on the rise in a serious way, and we actually even know-- in this country-- that since 9/11, the majority of the terrorist attacks on our soil have been right-wing terrorist attacks -- the majority of them white supremacist attacks."
RUSH LIMBAUGH: SPENDING BILL WAS EFFORT BY SOME REPUBLICANS TO SABOTAGE TRUMP: Conservative talk radio host Rush Limbaugh, speaking to "Fox News Sunday," charged that the compromise spending bill recently signed by President Trump to avert another partial government shutdown was little more than a disguised effort by some Republicans to torpedo his 2020 presidential candidacy...The radio host rejected claims that Trump is unduly influenced by right-wing media figures and "wackos" -- an accusation that resurfaced amid the ongoing border wall funding dispute.
"Both parties have people that are still trying to get rid of Donald Trump," Limbaugh said, asserting that Democrats are also working to guarantee a "permanent underclass of voters" who are "uneducated" and "don't even speak" English.
WATCH: Rush Limbaugh on whether Trump is justified in taking executive action to secure funding for his border wall
BILL DE BLASIO CORRECTS OCASIO-CORTEZ'S CLAIMS ABOUT SPENDING AMAZON TAX BREAK MONEY: New York City Mayor Bill de Blasio suggested on Sunday that critics of the potential Amazon campus New York City — such as Democratic Rep. Alexandria Ocasio-Cortez — got the facts wrong over the money behind the tax breaks ... The Democratic mayor said: "And that $3 billion that would go back in tax incentives was only after we were getting the jobs and getting the revenue."
On Sunday morning, de Blasio responded in the affirmative when Chuck Todd of NBC News' "Meet the Press" asked if the tax breaks offered to Amazon weren't "money you had over here. And it was going over there."
THE SOUNDBITE
SOMETHING WAS AMISS - "This is a duly elected president, someone who the entire country said we want to be our president, and here we see that yet again people cannot accept the results of an election. And by the way, the president knew that something was amiss, he'd been saying from the very beginning, something's going on within in the FBI, something's wrong within my justice department. He knew and everybody said, "oh, he's crazy." No, he wasn't. This is exactly the thing that he was talking about happening. It's disgraceful and I think he needs to answer a lot of questions." – Lara Trump, on "Fox & Friends," discussing former FBI Deputy Director Andrew McCabe's admission that he ordered an obstruction of justice probe against President Donald Trump. WATCH
TODAY'S MUST-READS
New Yorkers fleeing to Florida need to leave their terrible blue state policies behind as well
How Amazon's Jeff Bezos and the National Enquirer went to war
Florida boy, 11, arrested after refusing to recite 'racist' Pledge of Allegiance: report.
MINDING YOUR BUSINESS
Student-loan payment may soon come directly out of your paycheck
IRS refund frenzy: Democrats blast Trump Treasury for 'goosing' paychecks
Amazon vs Ocasio-Cortez: 25K NYC job promise had holes
If Joe Biden runs, his presidency goes through Wall Street
Married filing taxes jointly vs. separately: Pros and cons
STAY TUNED
On Fox Nation:
Dr. Drew reacts to Jonah Hill's comments on "UN-PC" - Dr. Drew Pinsky urged actor Jonah Hill to "double-down" on his traditional form of comedy on Fox Nation's "UN-PC" after Hill said in a recent interview that he wants to "challenge traditional masculinity" in his films. Watch a preview of the show now.
Not a subscriber? Click here to join Fox Nation today!
On Fox News:
Fox & Friends, 6 a.m. ET: Special guests include Scott Stephenson, president of the Museum of the American Revolution; Cyndi Zagieboylo, president and CEO of National MS Society; Chef John Doherty, former executive chef at the Waldorf Astoria hotel in New York City for 23 years, owner and chef at Black Barn Restaurant; Spencer Brown, Young America Foundation.
Outnumbered Overtime with Harris Faulker, 1 p.m. ET: Guests include Ash Wright, GOP strategist, Sr. advisor to George P. Bush, former political director at the Republican Party of Texas.
Your World with Neil Cavuto, 4 p.m. ET: Special guest: Melissa Armo, founder of the educational firm "The Stock Swoosh."
The Story with Martha MacCallum, 7 p.m. ET: Guests include: Katie Pavlich, FNC contributor, and Juan Williams, co-host of "The Five."
Tucker Carlson Tonight, 8 p.m. ET: Elizabeth Wagmeister, Page Six TV.
Hannity, 9 p.m. ET: Gregg Jarrett, attorney, and Fox News anchor.
On Fox News Radio:
The Fox News Rundown podcast: "Trump Will Defend National Emergency Declaration" - President Trump and his advisers defend the use of a national emergency declaration to get funding for a border wall. FOX News Contributor and CEO of 32 Advisors, Robert Wolf, discusses what happens next. Famous for his role of Lt. Dan in Forrest Gump, Gary Sinise has been traveling the world and supporting the United States military through his work with his foundation. He joined the podcast to talk about his experiences, and about what he's learned. Plus, commentary by FOX's Senior Judicial Analyst Andrew Napolitano.
Want the Fox News Rundown sent straight to your mobile device? Subscribe through Apple Podcasts, Google Play, and Stitcher.
The Brian Kilmeade Show, 9 a.m. ET: Guests include: Rich Lowry discusses President Trump's national emergency and the 2020 race; Amb. Dennis Ross, former special assistant to President Barack Obama, on Iran; Jonah Goldberg on McCabe, Trump's national emergency and the 2020 race; Former Mississippi Gov. Haley Barbour on McCabe and the national emergency; American historian Jay Winick discusses Presidents' Day.
#TheFlashback
2009: President Barack Obama launched a $75 billion foreclosure rescue plan aimed at saving homes.
1988: Anthony M. Kennedy was sworn in as an associate justice of the U.S. Supreme Court.
1997: Astronauts on the space shuttle Discovery completed their tune-up of the Hubble Space Telescope after 33 hours of spacewalking; the Hubble was then released using the shuttle's crane.
Fox News First is compiled by Fox News' Bryan Robinson. Fox News' Bradford Betz contributed to this edition. Thank you for joining us! Have a good day! We'll see you in your inbox first thing Tuesday morning.