PORTSMOUTH, N.H. – Sen. Cory Booker on Saturday took aim at President Trump over his declaration of a national border emergency and defended his credentials as a political fighter as he kicked off a three-day presidential campaign swing in the state that holds the first primary in the race for the White House.
"If there's any emergency at the border, it's the one he created, the crisis he created," the Democrat from New Jersey said during an interview with Fox News. "If there's any crisis, you see it in humanitarian issues about separating families, caging children and more."
On Friday, the president declared a national emergency along the southern border, with the hopes of diverting billions in Defense Department funding toward wall construction. "We're going to confront the national security crisis on our southern border … one way or the other, we have to do it," Trump said in the Rose Garden.
But Booker, making his first trip to New Hampshire since declaring his candidacy for president, argued that "we've been making progress and we still need to do more to secure our border but not with a wasteful wall."
Booker on Thursday joined three other Democratic senators running for White House – Kamala Harris, of California; Kirsten Gillibrand; of New York, and Elizabeth Warren of Massachusetts – in voting against a bipartisan compromise that averted another federal government shutdown. The deal also gave the president $1.3 billion for the construction of barriers along the U.S.-Mexican border, far less than the more than $5 billion Trump demanded.
"This is outrageous," Booker said of president's actions in signing the compromise agreement from Congress and then declaring the border emergency. "I didn't vote for that simply because of the way the president has his posture towards all this."
TEAR DOWN THAT BORDER WALL: IS BETO'S BATTLECRY THE NEW DEM LITMUS TEST FOR 2020?
The senator was also noncommittal on a recent call by former Rep. Beto O'Rourke of Texas to tear down existing parts of the border wall in his hometown of El Paso.
"I have no specific knowledge of that section," Booker told Fox News.
O'Rourke, who's seriously mulling a White House bid of his own, said Thursday in an interview with MSNBC that he'd "absolutely … take the wall down," referring to the barrier by El Paso, Texas.
O'Rourke, who came close to upsetting GOP Sen. Ted Cruz in last November's Senate election in Texas, argued that the existing 600 miles of wall and fencing along the 2,000-mile border have "not in any demonstrable way made us safer."
Republicans quickly criticized O'Rourke, charging that he embraces open borders.
Booker, if elected, would be the first vegan president in American history. In a recent interview with VegNews, he lamented that "the tragic reality is this planet simply can't sustain billions of people consuming industrially produced animal agriculture because of environmental impact."
Asked if he would advocate for Americans to eat a vegan diet, Booker said, "I think that whatever you eat is a very personal decision and everybody should what eat what they want to eat. That's America. That's freedom. Here it's live free or die. The last thing we want is government telling us what to eat."
CORY BOOKER SAYS MEAT-CENTRIC 'STANDARD AMERICAN DIET' NOT SUSTAINABLE
But he warned that massive corporate companies "are coming in here and polluting our water and creating unsustainable practices."
During his speech to a jampacked crowd that his campaign estimated at nearly 500, Booker touted his credentials as a fighter. Pushing back against those who might term as "weak" his advocacy of a politics of love, he said "come on…love is the most powerful force," adding it "can topple the strongest of leaders."
And he touted his credentials a political fighting coming up through the ranks in Newark, New Jersey, where he served two terms as mayor before being elected to the Senate.
But Booker added that the 2020 election "cannot be just about who can beat the guy in the White House. … This has got to be not just about how to beat somebody but how to unite all of us."
During a question and answer session with the audience, the conversation turned to health care.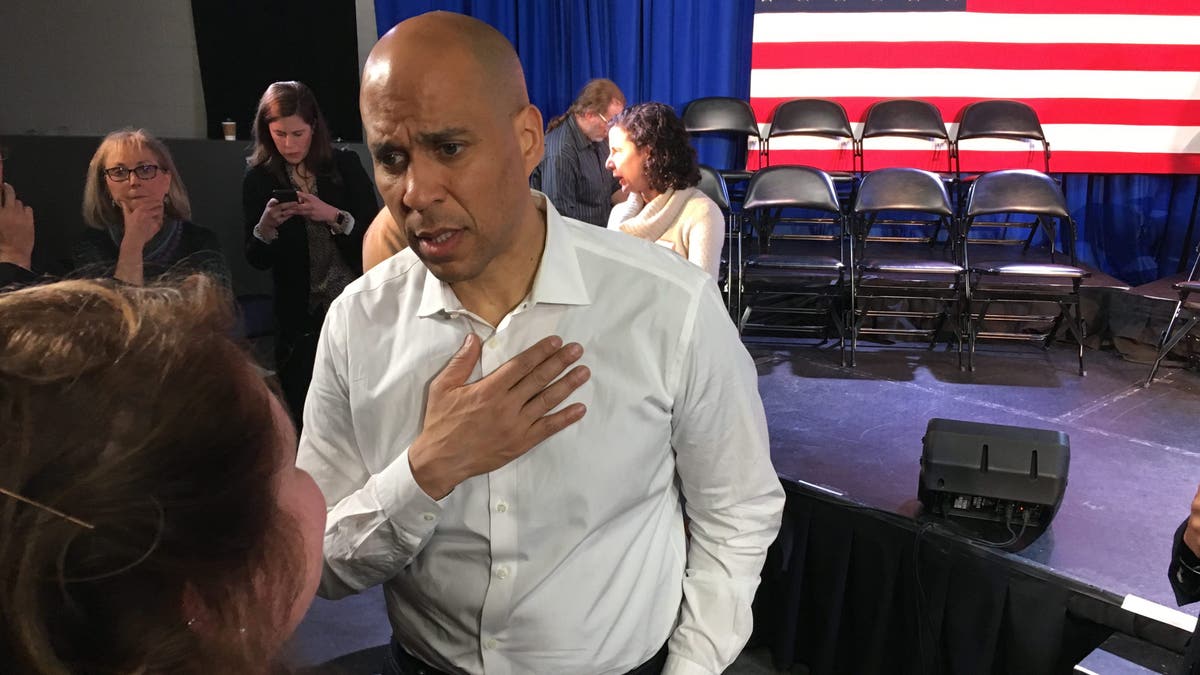 Booker spotlighted that there are a "lot of pathways" to achieve universal coverage. But he warned that those who back the "Medicare for All" proposal will "have to find ways to advance the ball given the Congress we have."
Ahead of his trip to New Hampshire, the Republican National Committee attacked Booker for his "support of out-of-the mainstream policies, to his over-the-top theatrical style."
"Cory Booker is nothing but extreme - and so is his agenda. Booker's Presidential platform would upend our way of life, cost taxpayers trillions of dollars and is more pie-in-the-sky than actual reality," the RNC said.