FOX NEWS FIRST: Samantha Bee wants to move on from her 'one bad word'; Kim's letter to Trump; Buzz for Holder 2020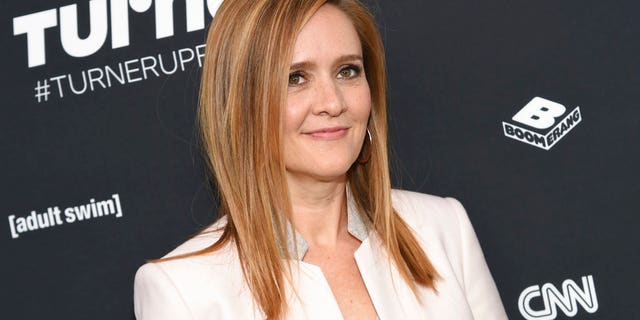 NEWYou can now listen to Fox News articles!
Welcome to Fox News First. Not signed up yet? Click here.
Developing now, Friday, June 1, 2018
Samantha Bee urges the media to move on from her vulgar insult of Ivanka Trump, as Bee accepts an award from the Television Academy
Roseanne Barr says she 'begged' ABC not to yank her show and let her apologize as new details of ABC's cancellation of 'Roseanne' emerge
President Trump is to receive a 'personal letter' from North Korean leader Kim Jong Un on Friday as talks for a possible summit continue
Fired FBI Director James Comey was recently questioned as part of criminal investigation of his former deputy, Andrew McCabe, a report says
Former U.S. Attorney General Eric Holder heads to New Hampshire on Friday, fueling speculation about a 2020 presidential run
A 14-year-old Texas boy wins this year's Scripps National Spelling Bee Championship by spelling the word 'koinonia' correctly
TUNE IN: Conservative filmmaker Dinesh D'Souza will appear on 'Fox & Friends' for an exclusive interview Friday morning, the day after President Trump gave him a full presidential pardon for a 2014 guilty plea to campaign finance fraud
THE LEAD STORY - STINGS LIKE A BEE ... FLOATS LIKE A BUTTERFLY: Samantha Bee apologizes for a vulgar insult hurled at Ivanka Trump while her show, "Full Frontal with Samantha Bee," loses at least two corporate sponsors, including State Farm. But unlike Roseanne Barr, don't expect Bee to be fired and her show to be canceled. In fact, the Television Academy honored Bee and her show Thursday night, even after the Ivanka Trump uproar... Bee would prefer that the media move on from the controversy. She told the academy crowd in L.A. that the media focus should shift from the "one bad word" she uttered to describe Ivanka Trump to the nation's treatment of immigrant children and families.
'I BEGGED LIKE 40 MOTHERF-----S': Following heavy backlash for a string of controversial tweets, Roseanne Barr said she "begged" ABC to let her apologize before it canceled her hit show ... "I told them I was willing to do anything & asked 4 help in making things right," Barr said. "I'd worked doing publicity4 them 4free for weeks, traveling, thru bronchitis. I begged4 ppls jobs." She went on to apparently recall a conversation during which she claimed she "begged 4 my crew jobs." "He said: What were you thinking when you did this? I said: I thought she was white, she looks like my family! He scoffed & said: "what u have done is egregious, and unforgivable.' I begged 4 my crews jobs. Will I ever recover from this pain? Omg"
Barr may further explain the events that led to the cancellation of "Roseanne" during a scheduled appearance on Joe Rogan's podcast, "The Joe Rogan Experience," on Friday.
RED LETTER DAY FOR TRUMP: Secretary of State Mike Pompeo said North Korean official Kim Yong Chol will travel to Washington on Friday to deliver a "personal letter" from the rogue regime's leader Kim Jong Un, adding that talks for a potential summit were moving in the "right direction" ... Pompeo, after meeting with the visiting senior official in New York City, said the North Korean envoy will hand off the letter on Friday in D.C. It is presumably the formal response to President Trump's letter last week canceling the summit. But since then, planning discussions have resumed, including Pompeo's high-level meetings the past two days. Pompeo told reporters a summit in Singapore is "expected."
Trump-Kim summit, from the invitation to the cancellation: A timeline
MORE TROUBLE FOR MCCABE? - Former FBI Director James Comey was recently questioned by the D.C. U.S. Attorney's office as part of a probe into whether Andrew McCabe, his former deputy, committed a crime by lying to federal agents, according to a report ... The Washington Post report indicated that McCabe, whom Attorney General Jeff Sessions fired earlier this year just days before he would have been eligible for a lifetime pension, could be charged criminally, according to a person familiar with the matter. McCabe was fired after the Justice Department's watchdog said he lied to investigators reviewing the bureau's probe of Hillary Clinton's email server. Justice Department Inspector General Michael Horowitz said McCabe had not been forthcoming in regard to the handling of the FBI's probe.
HOLDER 2020 BUZZ: Eric Holder's visit Friday to New Hampshire is sparking further speculation that the former attorney general is seriously mulling a Democratic presidential bid in 2020 ... But in an interview on the eve of his trip, Holder appeared to downplay the significance of his visit, saying, "At this point, I'm just thinking about it." Holder, who ran the Justice Department from 2009 until 2015 under President Barack Obama, is slated speak and take questions at "Politics and Eggs" at the New Hampshire Institute of Politics. The gig is a must-stop for presidential candidates or potential White House contenders.
SPELLING C-H-A-M-P-I-O-N: Karthik Nemmani, 14, of McKinney, Texas, won this year's Scripps National Spelling Bee late Thursday ... Nemmani spelled the word "koinonia" correctly to become the 91st champion of the spelling competition. The word is defined as "Christian fellowship or communion, with God or, more commonly, with fellow Christians." "I had confidence, but I didn't really think it would happen," Karthik said, according to USA Today. "I'm just really happy. This has just been a dream come true."
PROGRAMMING ALERT EXCLUSIVE: DINESH D'SOUZA ON 'FOX & FRIENDS' FRIDAY MORNING: Dinesh D'Souza will appear on "Fox & Friends" Friday morning, the day after President Trump pardoned conservative filmmaker for an illegal campaign contribution conviction ... "Today, President Donald J. Trump issued an Executive Grant of Clemency (Full Pardon) to Dinesh D'Souza, an accomplished author, lecturer, and scholar," said a statement from White House press secretary Sarah Sanders. "Mr. D'Souza was, in the president's opinion, a victim of selective prosecution for violations of campaign finance laws. Mr. D'Souza accepted responsibility for his actions, and also completed community service by teaching English to citizens and immigrants seeking citizenship."
D'Souza, 57, pleaded guilty to campaign finance fraud after donating $20,000 to New York politician Wendy Long, a Republican, during her Senate race in 2012. He was indicted two years later, in January 2014, for using a "straw donor," a person who makes illegal contributions to a campaign in the names of others, to make the donation. As a result, D'Souza was sentenced to five years' probation, eight months in a "community confinement center," weekly counseling sessions and ordered to pay a $30,000 fine.
AS SEEN ON FOX NEWS
DEMS TRYING TO 'OUT-TRUMP TRUMP': "The left says Trump is radical. They've responded by going completely off the edge. They say he's vulgar. So they now shout profanity on television and at campaign events. Donald Trump has somehow convinced the Democratic Party to completely destroy itself. Nobody ever mentions that, but it may be the biggest change Trump has brought to this country. " – Tucker Carlson, in his opening monologue on "Tucker Carlson Tonight," pointing out that something "transformative" has happened to the Democratic Party since President Trump was elected. WATCH
TOOLS OF THE HYPOCRITICAL LEFT: "Racism and sexism are tools for power in politics to [the left]. They want to use it as a hammer to get us to agree or acquiesce to their political claims." – Fox News contributor Rachel Campos-Duffy, on "The Ingraham Angle," arguing that there is a double standard when it comes to obscene remarks from people on the right versus people on the left. WATCH
THE SWAMP
House Leader McCarthy slams Google over 'Nazism' error, claims bias against conservatives.
DeVos awards Texas district $1M grant for recovery after Santa Fe High shooting.
Georgia city sued by fed-up residents over 'ridiculous' fines for chipped paint, driveway cracks.
ACROSS THE NATION
Hawaii volcano prompts new warning -- heed evacuation order or face arrest.
Tennessee deputy-killing suspect stole officer's gun, car before disappearing, report says.
Toxins in Salem drinking water prompt Oregon governor's emergency declaration.
MINDING YOUR BUSINESS
May jobs report: What will it take to roil the markets?
Trump tariffs are about national security: Peter Navarro.
Your Harley could cost more thanks to U.S. tariff decision.
These are Wall Street's highest-paid CEOs.
Fiat Chrysler's future in focus as CEO presents strategy.
FOX NEWS OPINION
Lou Dobbs: Trump using tariffs to pursue fair trade.
Marc Thiessen: Democrats' dishonesty about MS-13 hands Trump a winning issue.
EPA Administrator Scott Pruitt: Trump put America first when he withdrew from Paris Accord one year ago.
Jeff and Jimmy Kemp: Instead of fighting about NFL kneeling, let's work together for national healing.
HOLLYWOOD SQUARED
'West Virginia Wilder' slammed by Sen. Joe Manchin for portraying 'vicious stereotypes.'
'Fixer Upper' stars Chip, Joanna Gaines mark wedding anniversary on social media.
Montel Williams hospitalized after workout at NYC gym.
DID YOU HEAR ABOUT THIS?
'Treasure trove' discovered at ancient fort destroyed by Vikings.
Michigan girls discover World War I practice bomb while diving for treasure.
Plane makes emergency landing after passengers vomit, faint from 'unbearable' smell of 'unwashed' man.
STAY TUNED
On Fox News:
Fox & Friends, 6 a.m. ET: Country duo Thompson Square perform in the next installment of Fox & Friends' All-American Summer Concert Series! Plus, an exclusive interview with conservative filmmaker Dinesh D'Souza the day after being pardoned by President Trump. Other guests include: "Life, Liberty & Levin" host Mark Levin, former White House press secretary Sean Spicer and the Daily Wire's Amanda Prestigiacomo.
On Fox Business:
Mornings with Maria, 6 a.m. ET: Guests include: Alan Dershowitz; former White House press secretary Sean Spicer; Stephanie Pomboy, president of MacroMavens.
Varney & Co., 9 a.m. ET: Rep. Martha McSally, U.S. Senate candidate for Arizona; Larry Kudlow, director of the National Economic Council.
Cavuto: Coast to Coast, Noon ET: Alberto Gonzales, former U.S. attorney general; Bill Richardson, former governor of New Mexico.
The Intelligence Report, 2 p.m. ET: Economist Glenn Hubbard; Rep. Peter King; Howard Kurtz, host of "MediaBuzz."
On Fox News Radio:
The Fox News Rundown podcast: Friday marks the start of the 2018 hurricane season. Fox News senior meteorologist Janice Dean and Dr. Dan Kaniewski, deputy administrator for National Preparedness at FEMA, discuss what to expect from this year's hurricanes and how to prepare. Walmart has announced it will pay for the college tuition of its employees. Drew Holler, vice president of People Innovation for Walmart, explains how the new program will work. Fox News' Tonya J. Powers has the "good news of the day." Plus, commentary from "Fox News Sunday" host Chris Wallace.
Want the Fox News Rundown sent straight to your mobile device? Subscribe through Apple Podcasts, Google Play, and Stitcher.
The Brian Kilmeade Show, 9 a.m. ET: Geraldo Rivera, Ainsley Earhardt and David Bossie take on the Samantha Bee and Roseanne Barr controversies; Shannon Bream on the latest in the Robert Mueller investigation; other guests include: Mike Linnington and Andrew Coughlan of the Wounded Warrior Project.
On Fox News Weekend:
Cavuto Live, Saturday, 10 a.m. ET: Interior Secretary Ryan Zinke on the U.S. nearing energy independence; Rep. Dave Brat on President Trump imposing steel and aluminum tariffs on the EU; Rasheda Ali, daughter of Muhammad Ali, on the "Roseanne" controversy.
Fox News Sunday, Sunday, 2 p.m. and 7 p.m. ET: Don't miss Chris Wallace's interview with former Trump campaign manager Corey Lewandowski.
Legends & Lies: The Civil War, Sunday, 8 p.m. ET: "John Wilkes Booth: The Killing of Lincoln" - Days after the fateful Battle of Appomattox Court House, John Wilkes Booth assassinates Lincoln, potentially reversing the South's Civil War loss with a single bullet.
Life, Liberty & Levin, Sunday, 10 p.m. ET: This week, host Mark Levin and special guests Andy McCarthy and David Limbaugh break down the Mueller investigation, James Comey's inconsistencies, spies in the campaign and the left's war on Trump and their desire to impeach him.
#OnThisDay
1980: CNN (Cable News Network), the world's first 24-hour television news network, makes its debut.
1967: The Beatles release "Sgt. Pepper's Lonely Hearts Club Band," often cited as the first "concept album," and as the inspiration for other great pop stars of the19 60s, from the Rolling Stones and the Beach Boys to Stevie Wonder and Marvin Gaye
1934: The Nissan Motor Company is founded.
Fox News First is compiled by Fox News' Bryan Robinson. Thank you for joining us! Enjoy your day and weekend! We'll see you in your inbox first thing Monday morning.