FOX NEWS FIRST: Libs wage multi-million dollar war on Trump's unnamed Supreme pick; U.S.-China trade war heats up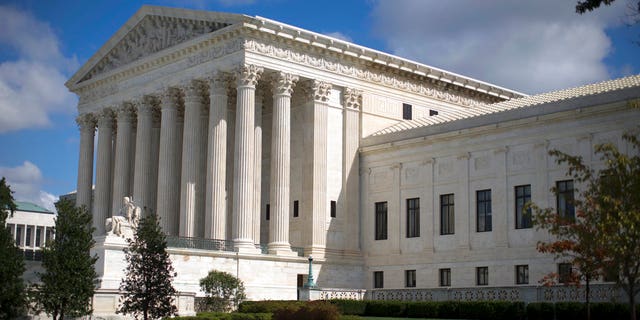 Welcome to FOX News First. Not signed up yet? Click here.
Developing now, Friday, July 6, 2018
A group tied to Hillary Clinton and other advocacy organizations launch a multi-million campaigns to pressure GOP lawmakers into opposing President Trump's pick for the Supreme Court, days before his expected announcement Monday
President Trump slams 'low-IQ' Maxine Waters, 'fake Pocahontas' Elizabeth Warren in Montana rally to unseat bitter political foe, Democratic Sen. Jon Tester
Scott Pruitt stepped down as head of the Environmental Protection Agency Thursday after a string of controversies and some lawmakers call his resignation 'long overdue'
Secretary of State Mike Pompeo is in North Korea in a follow-up trip to last month's historic summit between President Trump and Kim Jong Un
Trump tariffs on $34 billion in Chinese products went into effect early Friday morning, and the president indicated he's ready to further escalate trade war between the U.S. and China
A former navy SEAL assisting in the rescue efforts for a soccer team trapped in a cave in Thailand has died due to lack of oxygen, authorities said
THE LEAD STORY - A SUPREME WAR BEGINS: President Trump hasn't even announced his Supreme Court nominee and already liberal advocacy groups are pumping millions into campaigns pressuring Republican lawmakers to oppose his pick ... One group at the forefront of these efforts, Demand Justice, has launched what is reported to be a $5 million campaign targeting two moderate GOP senators – Susan Collins of Maine and Lisa Murkowski of Alaska. Demand Justice is led by the former press secretary for Hillary Clinton's presidential campaign, Brian Fallon, and is one of several groups launching an aggressive push to sway moderate senators of both parties to oppose the eventual nominee.
The Washington Post reported the group's ads were set to start airing Thursday in Murkowski and Collins' home states. They focus on the possibility that Trump's pick to replace retiring Justice Anthony Kennedy could help the court overturn Roe v. Wade, among other major decisions. Fox News reported Thursday that Trump has completed his interviews of Supreme Court candidates after speaking to six judges -- Brett Kavanaugh, Raymond Kethledge, Amy Coney Barrett, Amul Thapar, Joan Larsen and Thomas Hardiman. He is said to be focusing on Kavanaugh, Kethledge and Barrett, and is expected to announce his decision Monday.
TRUMP UNLOADS ON WATERS, WARREN, THE WHOLE DEMOCRATIC PARTY IN MONTANA: President Trump held a rally in Montana Thursday night as part of his effort to oust Sen. Jon Tester, one of his most bitter political opponents -- but the president took time to rail against several other big-name critics ... Speaking at the Four Seasons Arena in Great Falls, Trump said "it's time to retire" Tester, a red-state Democrat. He added that Democrats "actually got their ass kicked" in 2016, drawing raucous applause as he proceeded to unload on such varied targets as The New York Times, Rep. Maxine Waters and Sen. Elizabeth Warren.
Trump said he would offer to donate $1 million to Warren's preferred charity if she took the ancestry test. Warren has long been accused of falsely claiming she is of Native American heritage to help in securing jobs, including one as a Harvard law professor. Trump called California Rep. Maxine Waters "the new leader" of the Democratic party. "I said it the other day, yes, [Maxine Waters] is a low-IQ individual. Honestly, she's somewhere in the mid-60s, I believe," Trump said.
EPA 'PUNCHLINE': Environmental Protection Agency chief Scott Pruitt's resignation was "long overdue," some lawmakers said as President Trump announced the Cabinet change on Thursday ... Pruitt, 50, and his office, which he led since 2017, had come under fire for extravagant spending habits, including on first-class travel, pay raises to top aides and a $43,000 soundproof booth. In announcing his resignation, Trump said Pruitt had "done an outstanding job" leading the EPA and "will always be thankful to him for this."
However, Pruitt's resignation sparked a variety of responses from lawmakers. "Scott Pruitt was the worst EPA administrator in the history of the agency. Not only has he acted, time and time again, in an unethical manner, but he has led the agency in exactly the wrong direction," Sen. Bernie Sanders, I-Vt., said in a statement. Sen. Chuck Grassley, R-Iowa, said Trump "made the right decision" in accepting the resignation of Pruitt. Sen. Tom Carper, the top Democrat on the Environment and Public Works Committee, said Pruitt made the EPA "a punchline."
POST-SUMMIT GOALS WITH NORTH KOREA: Secretary of State Mike Pompeo arrived in North Korea Friday in his first trip to the region since the historic June 12 nuclear summit in Singapore ... His visit to Pyongyang is his third since April. His high-stakes objective, which analyst Harry Kazianis called his "Mission: Impossible," is to help convert the regime's promises of denuclearization into concrete action that would eliminate the threat posed by Kim Jong Un's nuclear arsenal.
Since the summit, doubts over the secretive regime's intentions have grown again, amid reports it was continuing to expand facilities related to its nuclear and missile programs and that U.S. intelligence was skeptical about its intentions to give up its weapons. However, Pompeo said Friday he expects North Korea will approach future negotiations in good faith.
ON THE BRINK OF ALL-OUT TRADE WAR: When the clock stuck midnight Friday morning, U.S. tariffs on $34 billion in Chinese imports took effect ... Beijing has vowed to respond immediately in kind, the two biggest economies are on a collision course for a full-blown trade war. Earlier on Friday, China's state media reportedly lashed out at U.S. President Donald Trump, accusing the White House of behaving like a "gang of hoodlums" as the deadline approached. Trump has warned that the United States may ultimately target over $500 billion worth of Chinese goods, or roughly the total amount that the United States imported from China last year, according to Reuters.
TRAGEDY STRIKES RESCUE MISSION: A former Thai navy SEAL assisting in the rescue efforts to save 12 boys and their soccer coach trapped in a cave has died from lack of oxygen, authorities said ... The volunteer rescuer died during an overnight mission in which he was placing oxygen canisters, SEAL commander Arpakorn Yookongkaew told a news conference Friday morning. He said while underwater, the rescuer passed out and efforts to resuscitate him failed. "Despite this, we will continue until we accomplish our mission," Arpakorn said. Thai authorities are racing to pump out water from a flooded cave where 12 boys and their soccer coach have been trapped since June 23, before more rains are forecast to hit the northern region.
AS SEEN ON FOX NEWS
A CHALLENGE TO JOE SCARBOROUGH: "Let's see if he has the guts to put me on his show so I can tell his viewers the truth." – Alan Dershowitz, on "Tucker Carlson Tonight," asking if MSNBC's Joe Scarborough has the courage to invite him on his show after the host justified the Martha Vineyard crowd for shunning him over his support of President Trump's civil liberties. WATCH
BLACK EXODUS FROM THE DEMOCRATIC PARTY? - "There is going to be a major black exit from the Democrat Party and they are going to actually have to actually compete for their votes in 2020." –Candace Owens, Turning Point USA communications director, on "FOX & Friends," saying she believes black voters will flee the Democratic party leading up to the 2020 presidential election. WATCH
TRENDING
U.S. Post Office to pay $3.5M for using wrong Statue of Liberty on stamp.
Texas mom shoots man trying to take car with her kids inside at gas station: 'I hope that woke him up.'
20-foot shark surprises Coast Guard crew off Maine coast: 'It's real life Jaws.'
Nathan's Hot Dog Eating Contest mulls tech overhaul after scoring mistakes
21 people exposed to rabies after woman rescues baby raccoon, shows friends.
THE SWAMP
Nunes calls for public testimony from 15 people, many with links to anti-Trump dossier, Fusion GPS.
DHS touts drop in border crossings amid 'zero tolerance' push.
Bill Shine, former Fox News executive, formally named deputy White House chief of staff.
Hillary Clinton to appear at OZY Fest alongside acts like Michelle Wolf, Chelsea Handler, Common and more.
ACROSS THE NATION
Statue of Liberty climber speaks outside court, says decision to scale monument was 'spur of the moment.'
Federal judge strikes down 'troubling' California sanctuary state law, upholds two others.
Connecticut assault victim gets 18 months in jail for stabbing attacker.
MINDING YOUR BUSINESS
Aramco massive IPO now appears highly unlikely: report.
Why didn't many retirees see a Social Security increase?
Higher state taxes, not OPEC, boosting gas prices?
Why AT&T could become the next online advertising giant.
Chick-Fil-A ranked top fast-food restaurant in customer satisfaction.
FOX NEWS OPINION
Lauren DeBellis Appell: The 'conservative' resistance continues against Trump, the man delivering all the conservative results.
Gustavo A. Flores-Macias: What should the U.S. expect from Mexico's new president?
Tammy Bruce: 'Abolish ICE' narrative is a recipe for disaster for Democrats.
HOLLYWOOD SQUARED
Anthony Bourdain worth $1.21M at the time of his death.
Sacha Baron Cohen takes aim at Donald Trump in new 4th of July project teaser.
Chris Brown arrested on out-of-county warrant after concert: report.
Zac Efron shows off dreadlocks on Instagram, sparks accusations of cultural appropriation.
DID YOU HEAR ABOUT THIS?
A look at summer's sexiest swimsuit trend.
Spiders can use electricity to fly through the air like a 'real-life Spiderman.'
NASA's Opportunity Mars rover still silent beneath raging dust storm.
STAY TUNED
On FOX News:
FOX & Friends, 6 a.m. ET: What can we expect from President Trump in the run up to midterms? We'll take a closer look. A former ICE special agent responds to calls to abolish the agency. An NRA TV host has a message for a "confused" Huffington Post contributor about his race and political beliefs. How your smart TV is keeping track of more than what you're watching. Plus, Phil Vassar rocks the All-American Summer concert stage!
Tucker Carlson Tonight, 8 p.m. ET: Tucker Carlson Tonight returns to San Francisco's waste and needle-filled streets. The city's filthy environment is finally hurting tourism, as a major medical group has moved its annual convention due to safety concerns. Will the city finally try to clean itself up now that there are real financial costs? We'll take a closer look.
On FOX Business:
Mornings with Maria, 6 a.m. ET: Guests include: Steve Forbes, Forbes Media chairman; Phil Flynn, Price Futures Group; Rep. Chuck Fleischmann; Ron Heck, Iowa soybean farmer.
Varney & Co., 9 a.m. ET: Art Laffer, former economist under President Reagan; John Lonski, Moody's managing director; Paul Conway, former Labor Department chief of staff; Chuck DeVore, former California State assembly member.
Countdown to the Closing Bell, 3 p.m. ET: Greg McBride, Bankrate chief financial analyst; Carlos Gutierrez, former U.S. Secretary of Commerce.
On FOX News Radio:
The FOX News Rundown podcast: There is another cabinet shakeup in the Trump administration as Scott Pruitt has resigned as EPA administrator. FOX' News Radio White House correspondent Jon Decker is has the latest details. A boys soccer team and their coach have been trapped in a cave in northern Thailand for almost two weeks, due to high water levels. Jake Zweig, a former Navy SEAL combat swimmer and diver, will give insight as he says rescue efforts are extremely dangerous and could take four months to safely evacuate them. FOX News' Tonya J. Powers has your good news of the day. Plus, commentary from Brian Kilmeade.
Want the FOX News Rundown sent straight to your mobile device? Subscribe through Apple Podcasts, Google Play, and Stitcher.
The Brian Kilmeade Show, 9 a.m. ET: Jillian Mele takes on the top headlines of the day. Soccer legend Cobi Jones has the latest update on the World Cup. Morgan Ortagus on Secretary of State Pompeo's trip to North Korea and a preview of Trump's July 16 summit with Putin. Chris Stirewalt on Trump's looming decision on his nominee for the Supreme Court, the president's Thursday night rally in Montana, the midterms, Scott Pruitt's resignation and more.
On Fox News Weekend:
Cavuto Live, Saturday, 10 a.m. ET: Guests include: Turning Point USA's Candace Owens on the search for a new Supreme Court justice.
OBJECTified, Sunday, 8 p.m. ET: Don't miss Harvey Levin's in-depth conversation with Dr. Phil!
#OnThisDay
2017: The maker of opioid painkiller Opana ER says it will stop selling the drug at the request of the Food and Drug Administration in an effort to curb abuse.
1957: Althea Gibson becomes the first black tennis player to win a Wimbledon singles title as she defeats fellow American Darlene Hard 6-3, 6-2.
1933: The first All-Star baseball game is played at Chicago's Comiskey Park; the American League defeats the National League, 4-2.
Fox News First is compiled by Fox News' Bryan Robinson. Thank you for joining us! Enjoy your day and weekend! We'll see you in your inbox first thing Monday morning.