FOX NEWS FIRST: Government shutdown enters Day 3; Texts suggest Clinton exoneration in email probe was fixed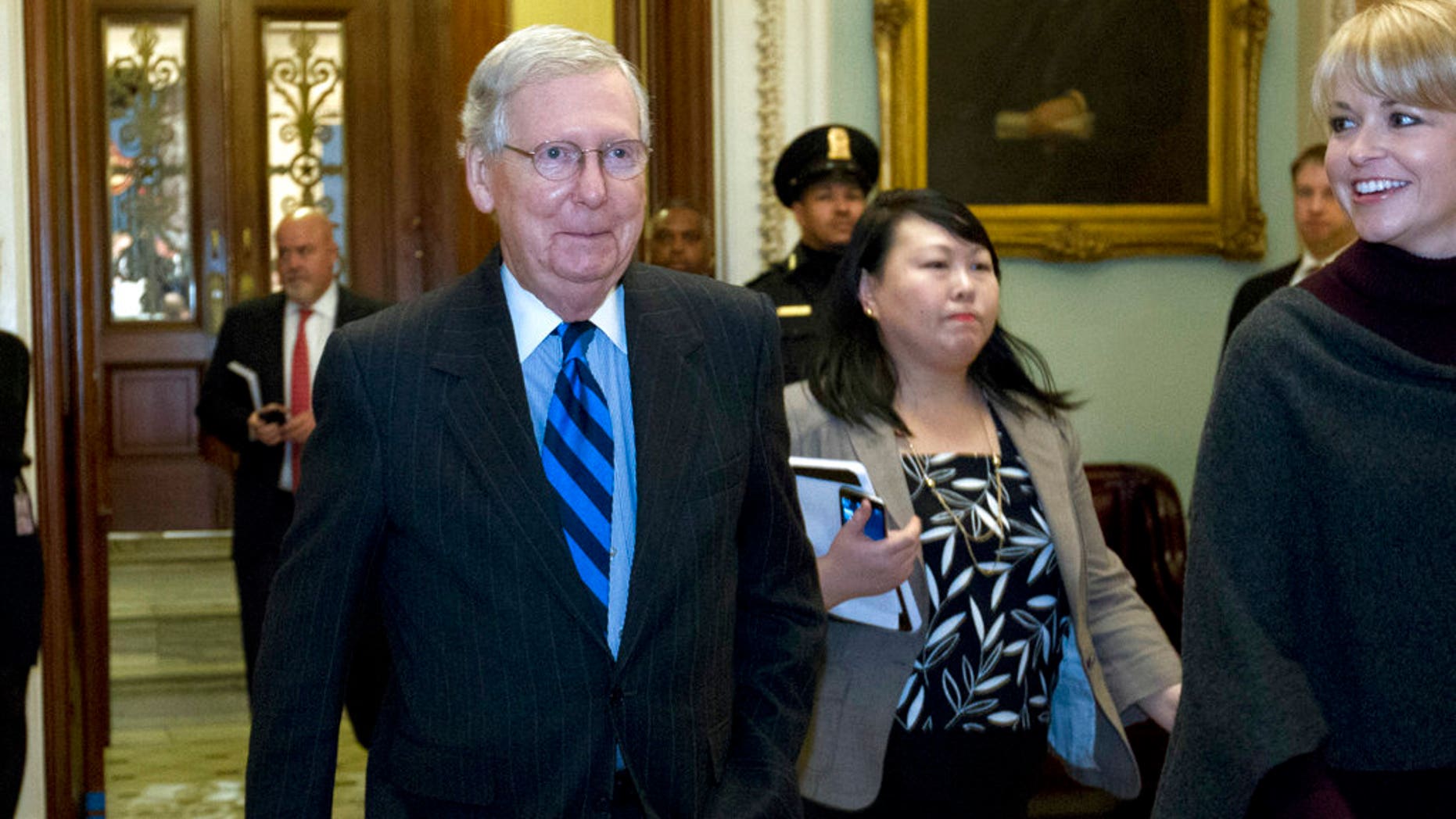 Welcome to Fox News First. Not signed up yet? Click here.
Developing now, Monday, Jan. 22, 2018
The government shutdown enters its third day as the Senate adjourned Sunday without reaching an agreement
Newly-released text between ex-members of Special Counsel Robert Mueller's team suggest they knew beforehand that Hillary Clinton wouldn't face charges in the email server scandal
Report: Investigators may bring cadaver dogs to California 'house of horrors' to search for remains of other children
A string of recent porn star deaths leaves adult film industry rattled
The stage for Super Bowl LII is set as the Eagles route Vikings and Tom Brady rallies the Patriots past the Jaguars in Sunday's NFC and AFC championship games
THE LEAD STORY - A GOVERNMENT DIVIDED AND CLOSED FOR BUSINESS: The government shutdown enters its third day Monday with both sides as divided as ever as the Senate adjourned Sunday without reaching an agreement ... Senate Majority Leader Mitch McConnell has called for both parties to "step back from the brink." However, Senate Minority Leader Chuck Schumer said he and McConnell "have yet to reach an agreement on a path forward" to re-opening the government. There is an expected procedural vote in the Senate on Monday at noon that would fund the government until Feb. 8, The Wall Street Journal reported. But it is unclear if there's enough support, and it would not reopen the government.
Meanwhile, the shutdown seems to have damaged the relationship between President Trump and top Democrats. Marc Short, the White House director of legislative affairs, told Fox News on Sunday that the relationship between Trump, Democratic leader Chuck Schumer and Senate Minority Whip Dick Durbin, D-Ill., is "probably deteriorating."
MORE EVIDENCE OF PRO- HILLARY BIAS IN THE FBI?: The Justice Department has given various congressional committees nearly 400 pages of additional text messages between two FBI officials who were removed from Special Counsel Robert Mueller's investigation into alleged collusion between the Trump campaign and Russian officials. One of the newly discovered messages, lawmakers said, appeared to indicate that Peter Strzok and Lisa Page knew that charges would not be filed against Democratic presidential candidate Hillary Clinton as a result of the investigation into her email server -- before Clinton was interviewed by the bureau ... Strzok and Page were pulled off the probe last summer after it emerged that some of their messages to each other included anti-Trump content. Strzok, an FBI counterintelligence agent who was also involved in the Clinton email probe, was reassigned to the Bureau's human resources division after the discovery of the exchanges with Page, with whom he was having an affair. 
'HOUSE OF HORRORS' COULD BE INVESTIGATED AS HOUSE OF DEATH: Homicide detectives could use cadaver dogs to sniff for the remains of other children in the suburban California "house of horrors," according to a report ... A week after 13 children, ages 2 to 29, were found living in deplorable conditions in the Riverside County home, detectives have been in "serious discussions" to use the canines to search the home for any unknown children who may have been buried there, according to the syndicated news show Crime Watch Daily.
PUZZLING PORN STAR DEATHS: Olivia Lua, Olivia Nova, August Ames, Turi Luv, and Shyla Stylez. These five young women, all adult entertainment stars, have died in less than three months, rattling the industry and leaving the tight-knit porn community searching for answers ... Derek Hay of L.A. Direct Models, which represented both Lua and Nova, said it was a "coincidence" about the spate of deaths in such a short time, The Daily Mail reported. However, some performers say many of these deaths could have been prevented with more safeguards in place to reduce whatever may trigger depression or drug abuse, including the stress associated with the job and attacks from online trolls.
A SUPER REMATCH, 13 YEARS IN THE MAKING: There will be no home Super Bowl for the Minnesota Vikings. And Bill Belichick and Tom Brady will be waiting for the Philadelphia Eagles, just as they were 13 years ago ... Nick Foles threw for 352 yards and three touchdowns and the Philadelphia defense forced two critical turnovers as the Eagles defeated the Vikings, 38-7, in Sunday's NFC Championship Game at a rapturous Lincoln Financial Field in Philadelphia. The Eagles will play the New England Patriots in Super Bowl LII at U.S. Bank Stadium in Minneapolis, Minn. on Feb. 4. The Patriots defeated the Jaguars earlier Sunday, 24-20, to advance to their eighth Super Bowl since 2001. The franchises previously met at Super XXIX in Jacksonville, Fla. back in 2005. The Patriots won that matchup, 24-21, to win their third Super Bowl in four seasons. They will try to repeat that accomplishment against the Eagles in two weeks.
AS SEEN ON FOX NEWS WEEKEND
'THE DEMOCRATS ARE GAMING US': "Obstruction is their mission. Pure and simple." – Judge Jeanine Pirro, in her "Opening Statement" on "Justice with Judge Jeanine," blasting the hypocrisy of top Democrats who she said appear to be forcing a government shutdown over an issue on which they previously had aligned with Republicans. WATCH
'CAVUTO LIVE' EXCLUSIVE: "We just passed a tax bill, which I think is a piece of garbage." – Michael Dukakis, 1988 Democratic presidential nominee in a rare interview on "Cavuto Live," ripping President Trump's new tax reform law and saying Republicans have lost their way when it comes to fiscal responsibility. WATCH

ACROSS THE NATION
Explosive device triggers fire at Florida mall, forcing evacuation.
Flu season getting worse, as illness has 'lot more steam' than expected.
Mom, wife with secret online life found slain outside her home.
MAINSTREAM MEDIA MADNESS
Hoda Kotb, Megyn Kelly among 'Today' hosts trading jabs on air.
Trump may dis NBC News, skip pre-Super Bowl interview.
As LA Times publisher takes unpaid leave amid harassment claims, his newsroom unionizes.
MINDING YOUR BUSINESS
Wall Street week ahead: Where Netflix goes, Big Tech may follow.
Amazon's automated grocery store of the future opens Monday.
Icahn, Deason push for Xerox to explore sale.
NEW IN FOX NEWS OPINION
Michael Goodwin: Media grade after one year of Trump: F for effort, F for result, and F for lack of honesty.
John Moody: Which Trump will show up in Davos?
Google cloaks itself in virtue, lawsuit may unmask it.
HOLLYWOOD SQUARED
Aziz Ansari receives no applause, skips the Screen Actors Guild Awards amid sexual misconduct controversy.
Alison Brie defends brother-in-law James Franco saying reports are not 'fully accurate.'
Grammy Awards 2018: What you should know about the show and nominees.
DID YOU HEAR ABOUT THIS?
Is earlobe reduction surgery the next big beauty fad?
20 handy things you didn't know Google Photos can do.
Dad's plea for kidney on T-shirt during Disney World trip results in transplant in NY.
STAY TUNED
On Fox News:
Fox & Friends, 6 a.m. ET: House Majority Leader Kevin McCarthy and Kellyanne Conway on the latest in the government shutdown; The Federalist senior editor Mollie Hemingway discusses coverage of the March for Life and the Women's March; Rachel Campos-Duffy talks about attending the Women's March.
Hannity, 9 p.m. ET: Is there any California love for President Trump? Tomi Lahren checks in on The Golden State after year one of the Trump presidency.
Fox News @ Night, 11 p.m. ET:  Exclusive - Vice President Mike Pence sits down with Shannon Bream in Israel as he discusses his meeting with Benjamin Netanyahu meeting, the future of Israeli relations and more.
On Fox Business:
Stay with Fox Business all day for team coverage of the latest developments and analysis of the government shutdown!
Mornings with Maria, 6 a.m. ET: Guests include: Mercedes Schlapp, White House senior adviser for Strategic Communications; Kim Lopdrup, Red Lobster CEO; and Sheila Bair, former FDIC chairman  and founder, Systemic Risk Council.
Varney & Company, 9 a.m. ET: Texas Gov. Greg Abbott; David Rubin, former mayor of Shiloh, Israel; John Cox, California gubernatorial candidate; and Bryan Braman, defensive end for the Philadelphia Eagles.
After the Bell, 4 p.m. ET: Rep. Martha McSally, Arizona Senate candidate.
On Fox News Radio:
The Fox News Rundown podcast: The nation waits as Congress continues to work on a deal to reopen the government. Fox News' Eric Shawn talks with Fox News contributor and former deputy assistant to President Trump Sebastian Gorka about the future of our government and its security overseas. Plus, commentary from Heritage Action for America CEO Michael Needham.
Want the Fox News Rundown sent straight to your mobile device? Subscribe through Apple Podcasts, Google Play, and Stitcher.
The Brian Kilmeade Show, 9 a.m. ET: Mick Mulvaney, director of the Office of Management and Budget, RNC Chairwoman Ronna Romney McDaniel, and Rep. Mark Meadows on the government shutdown; New York Post columnist Michael Goodwin on President Trump's first year.
#OnThisDay
2008: Actor Heath Ledger, 28, is found dead of an accidental prescription overdose in a New York City apartment.
1998: Theodore Kaczynski pleads guilty to being the "Unabomber" responsible for three deaths and 29 injuries in return for a sentence of life in prison without parole.
1973: The U.S. Supreme Court, in its Roe v. Wade decision, legalizes abortions using a trimester approach.
Fox News First is compiled by Fox News' Bryan Robinson. Thank you for joining us! Enjoy your day and we'll see you in your inbox first thing Tuesday morning.