FOX NEWS FIRST: DOJ to investigate alleged 'infiltration' into Trump campaign; Mueller probe could end soon if ...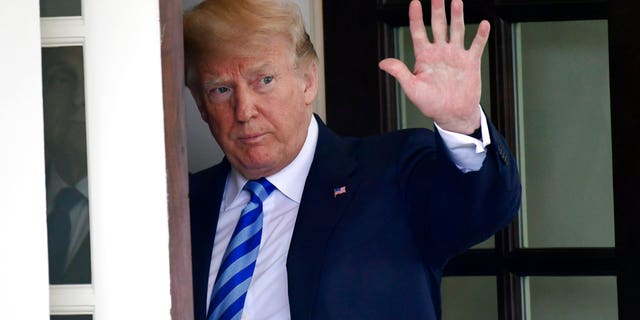 NEWYou can now listen to Fox News articles!
Welcome to Fox News First. Not signed up yet? Click here.
Developing now, Monday, May 21, 2018
The Justice Department asks its watchdog to look into alleged wrongdoing in the FBI's investigation of Russia interference in the 2016 election after President Trump orders a review into whether agents infiltrated his campaign
Special Counsel Robert Mueller tells Trump's legal team he could wrap up his Russia investigation by Sept. 1 if he is able to interview the president by mid-July, Rudy Giuliani tells Fox News
Tony Podesta, older brother of former Hillary Clinton campaign chairman John Podesta, finds himself under scrutiny for dealings with Russia after a series of tweets by Trump
In a commencement address to graduating Yale students, Hillary Clinton admits she's still 'not over' her loss to Trump in the 2016 president election
Famed chef Mario Batali is accused by a former employee of drugging and sexually assaulting her in a 'rape room' in a New York City restaurant
THE LEAD STORY - FBI UNDER INVESTIGATION: The Justice Department asked its watchdog to look into any alleged "impropriety or political motivation" in the FBI's investigation of Russian interference in the 2016 election, the DOJ said Sunday night -- hours after President Trump ordered a review looking into whether federal agents infiltrated or surveilled his campaign for political purposes ... She also released a response from Deputy Attorney General Rod Rosenstein: "If anyone did infiltrate or surveil participants in a presidential campaign for inappropriate purposes, we need to know about it and take appropriate action." Trump, late last week, began accusing the Justice Department of trying to frame him by planting a spy in his campaign -- an allegation his own lawyer, Rudy Giuliani, said might not be true.
MUELLER SETTING NEW TRAP FOR TRUMP?: Special Counsel Robert Mueller has told President Trump's legal team he should be able to wrap up the Russia investigation by Sept. 1 if he is able to interview Trump by mid-July, Rudy Giuliani told Fox News on Sunday ... Giuliani said he and Mueller spoke about an end date to the investigation approximately two weeks ago. During that conversation, Giuliani told Mueller that any interview of Trump by the special counsel would be contingent on knowing when the probe would wrap up. Giuliani added that he wants Mueller's investigation wrapped up by Sept. 1 so that it doesn't affect Republican chances in November's midterm elections. He said the date refers only to aspects of the investigation related to Trump, as opposed to court cases involving former national security adviser Michael Flynn, former campaign manager Paul Manafort and others.
'WHY HASN'T THE PODESTA BROTHER BEEN CHARGED?': Tony Podesta, the older brother of Hillary Clinton campaign chairman John Podesta and co-founder of the onetime lobbying powerhouse the Podesta Group, was thrust back into the political spotlight after President Donald Trump pointedly questioned why he had not been "charged and arrested" ... Trump focused on Podesta in one of a series of tweets Sunday attacking Special Counsel Robert Mueller's investigation into alleged collusion between the Trump campaign and Russian officials. In October, reports emerged that Mueller was investigating the Podesta Group over its lobbying work on behalf of a nonprofit group called the European Centre for a Modern Ukraine (ECMU). According to the special counsel's indictment of former Trump campaign manager Paul Manafort and associate Rick Gates, the Brussels-based ECMU functioned as a "mouthpiece" for Viktor Yanukovych, Ukraine's pro-Russian president between 2010 and 2014.
HILLARY'S SOUR GRAPES TOUR STOPS AT YALE: Early in her address to graduating Yale students at Sunday's Class Day, Hillary Clinton reached behind the lectern, pulled out a traditional Russian ushanka hat, and held it aloft ... "I mean, if you can't beat 'em, join 'em." she said as the audience laughed and applauded. The Russian hat gag, a nod to the student tradition of wearing extravagant headgear during Class Day, set the tone for a wide-ranging speech in which Clinton alternately cracked jokes about her loss to Donald Trump in the 2016 presidential election and warned Yale's Class of 2018 that "we are living through a full-fledged crisis in our democracy." Clinton admitted that she still thinks about her defeat by Trump: "No, I'm not over it. I still think about the 2016 election. I still regret the mistakes I made. I still think, though, that understanding what happened in such a weird and wild election in American history will help us defend our democracy in the future."
DISTURBING ALLEGATIONS AGAINST BATALI: Mario Batali, one of the most famous chefs in the world, was accused of a string of disturbing crimes by a woman who used to work for him — including drugging and sexually assaulting her inside a New York City restaurant, in a third-floor space notoriously known by employees as the "rape room" ... The woman told CBS News' "60 Minutes" on Sunday that she woke up surrounded by broken bottles with scratches on her legs and semen on her skirt. As The New York Post reported, she said she recalled waking up at dawn on the third floor of the downtown restaurant, The Spotted Pig, owned by Ken Friedman, a friend of Batali's. The woman said: "I woke up by myself on the floor, I don't know where I am, of an empty room, wooden floor. I see broken bottles. The first thing I think is, 'I've been drugged.' That was the first thing I thought is, 'I've been — I've been assaulted.'"
AS SEEN ON FOX NEWS WEEKEND
'THE MOST DANGEROUS MAN IN AMERICA': "The most powerful prosecutor in the country ... The man who holds the scales of justice in his hands hides behind the coattails of one [Deputy Attorney General] Rod Rosenstein. Jeff Sessions is indeed the most dangerous man in America." – Judge Jeanine Pirro, in her "Opening Statement" on "Justice with Judge Jeanine," slamming U.S. Attorney General Jeff Sessions on the one-year anniversary of Robert Mueller's Russia investigation and accusing him of not doing anything to make anyone responsible for the "blatant corruption, the unmistakable perjury [and] the in-your-face obstruction of our laws." WATCH
THE VERY DEFINITION OF SPYING: "If you have someone that is going proactively, spending money to go talk to somebody you know is involved in a political campaign just to be an 'informant' from the Obama administration ... that's spying by the very definition." – Jason Chaffetz, on "Fox & Friends Weekend," sounding off on reports of an FBI informant was placed inside the 2016 Trump campaign. WATCH
THE ROYAL WEDDING - THE LAST WORD
Yes, Meghan Markle did curtsy to Queen Elizabeth.
Meghan Markle and Prince Harry's first dance song revealed.
How the royal wedding's Bishop Michael Curry stole the show at Prince Harry and Meghan Markle's ceremony.
Harry and Meghan's blue Jaguar is a $500,000 green machine.
Royal wedding 2018: Best hats and fascinators.
TRENDING
NAACP leader's racial profiling claim challenged after bodycam footage released.
Maduro declared winner of Venezuelan presidential election decried as a sham.
Pope Francis reportedly tells gay man, 'God made you that way and loves you.'
Dad allegedly rams SUV into restaurant, killing daughter.
THE SWAMP
'Fox News Sunday': Mnuchin says U.S. has deal with China to cut trade deficit, will hold off on tariffs.
'Sunday Morning Futures': China must stop stealing American innovation, Kellyanne Conway says
New NRA leader Oliver North on school shootings: 'Disease isn't the Second Amendment.'
ACROSS THE NATION
Hawaii volcano creates toxic steam clouds as corrosive as diluted battery acid.
First funeral of Santa Fe High School shooting: Pakistani exchange student remembered as 'precious gift.'
DNA leads to arrest in Washington cold-case murder of young couple.
Truck's fuel tank hid $90M worth of liquid meth; two men arrested
MINDING YOUR BUSINESS
Stock futures soar as tariff dispute 'put on hold.'
Week ahead features retail earnings, Fed speeches.
Vicente Fox: U.S. auto companies will fail if NAFTA does.
FOX NEWS OPINION
Steven W. Mosher: Trump beware -- China lies and cheats on trade deals and will likely do so again.
Jeremy Carl: Here's why it matters that Americans are having fewer children than ever before.
J. Warner Wallace: The three things I wish someone had the guts to tell me when I graduated from college.
HOLLYWOOD SQUARED
Billboard Music Awards host Kelly Clarkson demands 'action' after Texas school shooting.
'Deadpool 2' finally dethrones 'Avengers: Infinity War' at the box office.
'Jurassic Park' dinosaur expert's next big thing: Holograms.
DID YOU HEAR ABOUT THIS?
Prosthetic arm points California deputies to three burglary suspects.
#ProudAmerican: George Washington's headquarters flag makes historic return to Philadelphia.
Maine high school students block street for prom photo as cops get in on the fun.
STAY TUNED
On Fox News:
Fox & Friends, 6 a.m. ET: Constitutional law professor Jonathan Turley reacts to the DOJ asking its watchdog to look into alleged impropriety in the FBI's probe of Russian interference in the 2016 election. A documentary explores the difficult duty of bringing home the remains of fallen American soldiers. Plus, other scheduled guests include: Alan Dershowitz, Candace Owens of Turning Point USA and NRA spokesperson Dana Loesch.
Tucker Carlson Tonight, 8 p.m. ET: Tentatively scheduled guests include: Rep. Eric Swalwell, Mark Steyn and Washington Examiner chief political correspondent Byron York.
On Fox Business:
Mornings with Maria, 6 a.m. ET: Guests include: Steve Forbes, Forbes Media chairman; U.S. Commerce Secretary Wilbur Ross; Sen. David Perdue; Bob Wright, former vice chairman of General Electric; Joe Piscopo.
After the Bell, 4 p.m. ET: Michelle Steel Orange County, Calif. supervisor.
The Evening Edit, 5 p.m. ET: Rep. Doug Collins.
Lou Dobbs Tonight, 7 p.m. ET: Reps. Andy Biggs and Dave Brat.
On Fox News Radio:
Benson & Harf, 6 p.m. ET: Don't miss the new show hosted by Guy Benson, political editor at Townhall.com and Marie Harf, former senior adviser of strategic communications at the State Department.
The Fox News Rundown podcast: President Trump spoke with South Korean President Moon Jae-in over the weekend following North Korea's threat that leader Kim Jong Un might not participate in the upcoming Singapore summit on June 12. Asia analyst and author of "Nuclear Showdown," Gordon Chang, discusses whether North Korea will be at the summit. Plus, commentary by Josh Holmes, former chief of staff to Senate Majority Leader Mitch McConnell.
Want the Fox News Rundown sent straight to your mobile device? Subscribe through Apple Podcasts, Google Play, and Stitcher.
The Brian Kilmeade Show, 9 a.m. ET: New York Post columnist Michael Goodwin on why Trump shouldn't be blamed for running out of patience with Mueller. Bill Richardson, former U.S. ambassador to the U.N., on the road bumps Trump may encounter before his scheduled summit with North Korean dictator Kim Jong Un.
#OnThisDay
1932: Amelia Earhart becomes the first woman to fly solo across the Atlantic Ocean as she lands in Northern Ireland, about 15 hours after leaving Newfoundland.
1927: Charles A. Lindbergh lands his Spirit of St. Louis monoplane near Paris, completing the first solo airplane flight across the Atlantic Ocean in 33 1/2 hours.
1881: Clara Barton founds the American Red Cross.
Fox News First is compiled by Fox News' Bryan Robinson. Thank you for joining us! Enjoy your Monday! We'll see you in your inbox first thing Tuesday morning.