Dramatic, emotional texts from students inside Florida high school emerge after shooting
As students at a Florida high school huddled together in classrooms and auditoriums while a gunman stalked the hallway Wednesday, they reached out to their parents and loved ones to let them know what was happening -- and in at least one case, to let them know how much they were appreciated.
"If I don't make it I love you and I appreciated everything you did for me" one 14-year-old student, who survived the shooting at Marjory Stoneman Douglas High School, texted to a parent.
James Harrison, a sophomore at the school, dashed off a series of messages to his stepfather Joe.
"Joe there is gunshots here at my school," the first message read, followed by, "I'm super scared," "I love you," and "I'm really scared."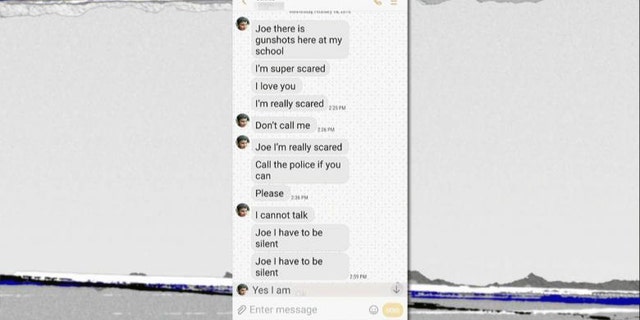 NEWYou can now listen to Fox News articles!
The next message from James was the admonishment, "Don't call," then "Joe, I'm really scared." "Call the police if you can."
Harrison also survived the shooting and recounted his experience on Fox News' "The Story."
"I'm still shaking a little bit, my heart's still pounding, I still have a bunch of adrenaline because it was right outside my door, right outside the class door," he told host Martha MacCallum. "I heard the shells of the bullets from the gun on the floor."
One female student exchanged messages with a local CBS reporter while she hid in a classroom closet before police arrived to escort her class to safety.
"All of a sudden there was a really loud noise," she wrote, adding, "People are crying [in] the closet."
At least 17 people were killed when the gunman, identified by authorities as 19-year-old Nikolas Cruz, opened fire with an AR-15 rifle, after he apparently pulled a fire alarm to draw his classmates out of their classes, and into the open.