Cruz Picks Fiorina as Running Mate; Trump Says "Cruz Can't Win"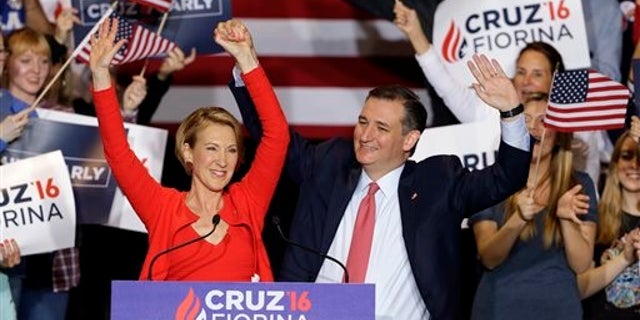 NEWYou can now listen to Fox News articles!
Big news in the race for the White House today.
Ted Cruz has announced Carly Fiorina will be his running mate if he wins the GOP nomination. Some applauded the move, but Donald Trump isn't. He said, "Cruz can't win, what's he doing picking vice presidents?"
Sean Sullivan writes in the Washington Post today:
"In choosing Carly Fiorina for that spot here Wednesday, Cruz reached for a political lifeline at a time when he is running out of them. Facing a must-win situation against Trump in next Tuesday's Indiana primary, Cruz is trying one unorthodox maneuver after another in hopes of extending the race and forcing a contested Republican convention in Cleveland - his only hope for becoming the nominee.
The announcement was designed in part to sharpen the contrast with Trump that Cruz is trying to draw. Introducing Fiorina at an afternoon rally in downtown Indianapolis, Cruz highlighted the former Hewlett-Packard chief executive's fierce exchanges with Trump and her refusal to back down from him when she was a candidate."
There are several live events to watch for this morning and during our hours:
0900EDT -- Donald Trump Convention Mgr Paul Manafort holds meeting with GOP Trump Supporters, including Reps. Duncan (CA), Duncan (TN), and DesJarlais. Capitol Hill Club. LIVE STAKEOUT via LiveU
1100EDT -- Sen Cruz holds a rally. Grand Wayne Convention Center, Fort Wayne, IN. LIVE via LiveU
1300EDT -- Donald Trump holds a rally. Old National Events Plaza, Evansville, IN. LIVE
The Sanders campaign is laying off hundreds of staffers after losing four of five primaries Tuesday night.
Philip Rucker, Dan Balz and Paul Kane write in today's Washington Post:
"In an election defined by anti-establishment energy and anger, the two parties are now diverging as Republicans fully embrace an outsider as their presidential nominee and Democrats line up behind a quintessential insider.
Republicans seem certain to nominate a bomb-throwing insurgent in celebrity real estate mogul Donald Trump or, should he fall short, Sen. Ted Cruz of Texas, while Democrats are consolidating around a guardian of the status quo, former secretary of state Hillary Clinton, who all but locked up the nomination with decisive victories in Tuesday's primaries.
The successes of Trump and Clinton underscore important nuances in the sentiments coursing through the two parties. While voters in both share a frustration with the state of the nation's economy and politics, Republicans blame their own leaders as much as anybody else and are, therefore, more eager for a radical fix, whereas Democrats still believe their elected leaders can bring change from within."
Abby Phillip and Sean Sullivan write in the Washington Post that Hillary Clinton is moving on:
"As Hillary Clinton increasingly turns her attention to a general election against Donald Trump or Sen. Ted Cruz, her campaign and fellow Democrats have begun in earnest to bolster staff and campaign organizations in key battleground states.
In Virginia, Ohio and Florida - the three biggest swing states in the last election - the Clinton campaign is teaming up with state and national Democratic organizations to build voter files, organize thousands of volunteers, register tens of thousands of voters and raise the funds necessary to compete against a Republican opponent.
And in the first concrete sign that Clinton's general-election effort has gone beyond planning, the Democratic National Committee has begun transferring money raised jointly with the Clinton campaign to state committees to help fund the effort, according to Democrats with knowledge of the financial strategy."
The Associated Press reporting today that big GOP donors are not chipping in to help John Kasich or Ted Cruz in their push to stop Donald Trump. The AP says less than 3% of 14,600 donors who gave to Bush or Rubio gave the max to Kasich or Cruz.
Karl Rove writes in a column in today's WSJ that many voters will flee their parties if Trump and Clinton end up being the nominees.
Donald Trump laying out his foreign policy in a wide-ranging speech partly during our hours yesterday. He said "We're getting out of the nation building business."
President Obama talked with the New York Times about the 2008 financial crisis and the economic recovery. He admitted failures over selling his policies.
Former House Speaker Dennis Hastert sentenced to prison for 15 months over charges related to his serial molestation of boys he coached.
U.S. stocks are set to fall at the open lower after the Bank of Japan decided not to act to shore up the economy. The U.S. Fed late yesterday held interest rates unchanged, but told investors to prepare for further hikes. We get Q1 GDP figures today at 8:30am with analysts expecting anemic growth. We also get weekly jobless numbers.
Facebook shares surged after hours yesterday after it reported earnings that exceeded expectations. The social network's profit was nearly triple year over year. The stock likely to open at a record high. We get earnings reports this morning from Bristol Myers, Coke, Charter, Ford, Viacom and UPS.
Volkswagen apologized again for cheating on emissions for years, and promised a slew of electric cars going forward.
The Obama administration is making a push to get more Americans into lower interest rate student loan repayment plans.
The AP today says insurers are likely to ask for big hikes under Obamacare next year. Some insurers say they aren't making money under Obamacare.
North Korea had another embarrassing failure as it tried for the second time in recent weeks to launch a new ballistic missile in another provocation.
For more news, follow me on Twitter: @ClintPHenderson