Benghazi mastermind's FBI statements should be dismissed, lawyers say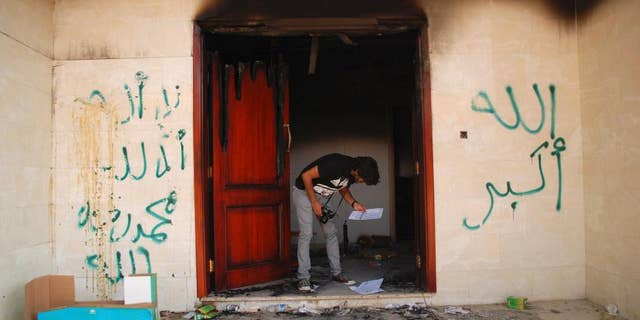 As Washington continues its investigation into Abu Khattala – the former leader of the Ansar al-Sharia militia, which waged the 2012 attacks in Benghazi, Libya – his defense lawyers are alleging that U.S authorities inappropriately denied him his right to an attorney.
They contend his initial FBI statements should be dismissed as "meaningless" as his capture and detention were "coercive," according to the Washington Post.
Prosecutors argue that Khattala never definitively requested legal representation and, according to the Washington Post, "implicated himself as a conspirator when he cooperated" with the interrogation process in addition to signing waivers surrendering his lawyer rights.
However, Khattala's counsel claims that such waivers are meaningless and they are now accusing the U.S government of having explicitly crafted his capture and interrogation around being able to flout legal challenges, which included such actions as having the suspect shackled, masked and donning sound-cutting headphones during the boat ride, being interrogated by a High-Value Detainee Interrogation Group of military, intelligence and law enforcement officials for three days and then handed over to a second FBI team to collect evidence for civilian court purposes.
He was reportedly masked for all movements outside his cell and, at least in the initial stages of the interrogation, was moved at least every two hours with lights kept on the entire time.
However, Khattala also is believed to have been read and shown his Geneva Convention rights prior to questioning, and issued a mattress, prayer rug, writing materials and later a watch so he was aware of his prayer times.
In October 2014, Khattala pleaded not guilty in a brief court appearance to charges related to the 2012 attacks, some of which could carry a death sentence – including one count of murder of an internationally protected person and two counts of maliciously damaging and destroying U.S. property by means of fire and an explosive causing death.
The 6-foot auto mechanic, held for a decade as a political prisoner by ousted dictator Muammar Qaddafi, was captured four months earlier in a raid by U.S special operations forces and remains the only person charged by the U.S for involvement in the attacks. Khattala was then brought to the United States over a 13-day period crossing the Atlantic Ocean aboard the USS New York.
He is currently being held in the Alexandria, Va., city jail and his trial is slated to begin in September. Nonetheless, Khattala's case also may enter unchartered territory and signal the first time a federal judge "rules on the constitutionality of interrogation practices developed for terrorism suspects captured overseas," the Washington Post reports.
The attack, which he is suspected of orchestrating, claimed the lives of four Americans, including Ambassador Chris Stevens.
READ THE HOUSE BENGHAZI REPORT
BENGHAZI HERO KRIS 'TANTO' PARONTO: SUSAN RICE IS A PATHOLOGICAL LIAR
Late last month, Khattala's former group – Ansar al-Sharia – announced that it has dissolved, with most of its leadership being eliminated while fighting the Libya National Army. Majority of the group's fighters are believed to have defected to ISIS in recent years.
The embattled country's leadership remains crippled by two rival parliaments and three governments, with the magnitude of the fighting for control between the UN-supported Government of National Accord (GNA) in Tripoli and the Libyan National Army.
Furthermore, the wrongful death suit brought against former Secretary of State Hillary Clinton by the parents of two Americans -- Sean Smith and Tyrone Woods -- murdered in the 2012 attacks was dismissed late last month. Federal judge Amy Berman ruled that Clinton was acting in her official capacity when using her private email server, thus the U.S government should have been named the defendant, and that the parents should have taken their accusations to the State Department before initiating legal action.