Travel: Philadelphia In 5...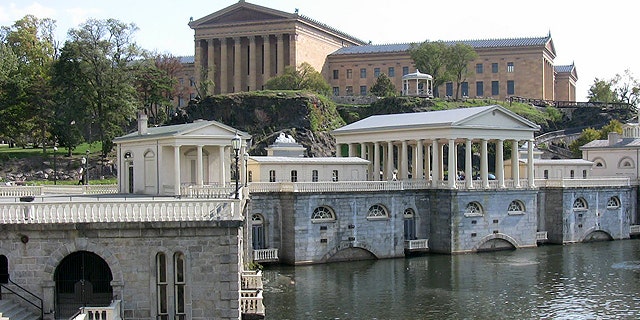 Looking for some cool ways to take in the city that gave birth to the United States of America? After fighting the school groups at the Liberty Bell and Independence Hall, worthy attractions to be sure, it helps to have some guidance for exploring the rest of this lovely city. We've concocted a recipe of art, beer, birds, ghouls, and exercise. Enjoy!
5…Lose yourself in art and engineering
How to take in art? That is the question. The Philadelphia Museum of Art (26th St. and Ben Franklin Pkwy., www.philamuseum.org, 215-763-8100, $16) is best explored by wandering aimlessly. Cross from one world to the next as when you move from a Japanese teahouse into a Chinese monastery. Also wander into Marcel Duchamp's Etant Donne - a disturbing murder scene - and the works of Thomas Eakins - his rowers plied the nearby Schuykill River. Then wander over to the Perelman Building with the hip Art Deco façade: museum collections have been moved there for open display.
Just outside the museum, amble down to the Fairmount Water Works (640 Waterworks Dr., www.fairmountwaterworks.com, 215-685-0723, Free), a marvel of 19th century engineering with some crazy large machinery. But arrange a group tour, as the guides are known to be some of the most entertaining in the city.
Also nearby, the Rodin Museum (Ben Franklin Pkwy. at 22nd St., www.rodinmuseum.org, 215-568-6026, $5 suggested) is a tiny, hidden treasure full of works by the French master. For good beers and French fries try the Belgian Café (21st and Greene Sts, www.thebelgiancafe.com, 215-235-3500). On Greene, pass the fantastic house of former State Senator Vince Fumo - now in prison - and the nuns of the Chapel of Devine Love in their pink habits.
4…Mountain bike the wilds of Philly
Philly is a biking city, but don't expect Amsterdam. Biking on city streets can prove hazardous, though legions of helmetless hipsters ride from bar to bar for their art. What sets the city apart are the bike paths that weave throughout Fairmount Park and along the Schuykill River. Find the most wild of these in the Wissahickon Valley, easily accessible from Chestnut Hill and Mount Airy. Serious mountain bikers ride challenging trails on the steep inclines of this wooded valley. Locals prefer Forbidden Drive, a gravelly, vehicle-free road that follows the Wissahickon River. Walkers, joggers, and horseback riders also enjoy these paths.
Manayunk is the destination neighborhood for bicyclists. You can bike paved trails there through the Wissahickon Valley, or take the path along either side of the Schuykill River from the Art Museum. That same trail continues past Manayunk all the way to Valley Forge, 15 miles away, and passes through impressively broken down post-industrial landscapes along the route. Manayunk's Main Street has an easygoing vacation town vibe with galleries, bars, and boutique shops. Outdoor seating abounds. Try Coopers (4365 Main Street, www.jakesrestaurant.com, 215-483-0444) and Le Bus, (4266 Main St, www.lebusmanayunk.com, 215-487-2663).
3…Exploring the city's neighborhoods through beer
A short list of good local brewers follows: Victory, Stoudts, Yards, Philadelphia Brewing Company, Dog Fish, Sly Fox, Flying Fish, and Dock Street. Now you know what to order as you explore the pub scene neighborhood by neighborhood.
West Philly 's Dock Street Brewing Company (701 S. 50th St., www.dockstreetbeer.com, 215-726-2337) has a fantastic brew pub which serves delicious flat bread pizzas in an old firehouse. At Earth Bread and Brewery (7136 Germantown Ave., www.earthbreadbrewery.com, 215-242-6666) in leafy Mount Airy, the brewmeister cooks up four batches of ever-changing house brews. Other taps are dedicated to local craft brews.
In artsy-hipster Northern Liberties go to Standard Tap (2nd and Poplar Sts., www.standardtap.com, 215 -238-0630) with its mussels and hot sausage, local beers on tap, and a secret outdoor deck. Further north in Fishtown is the Memphis Taproom (2331 E. Cumberland St., www.memphistaproom.com, 215-425-4460), a corner bar with a marvelous local beer selection.
Pub and Kitchen (1906 Lombard St., 215- 545-0350) in center city has great burgers and duck fat fries, and a mix of local and other American craft beers. South Philly boasts The P.O.P.E. (1501 E. Passyunk Ave., http://pubonpassyunkeast.com, 215.755.5125), a former mafia bar near the 9th Street Italian Market, and the Sidecar Bar and Grille (22nd and Christian Sts., www.thesidecarbar.com, 215-732-3429), which serves specialty beers from local brewers.
2…Stepping on dead and other macabre activities
Christ Church (2nd and Market Sts., www.christchurchphila.org, free), founded in 1695, is a major tourist attraction in Old City for its austere interior beauty, and dare we say pleasant graveyard. Speaking of the dead, one strange habit of prominent ye olde folk was to bury their loved ones under the main aisle of the church, so that you can't help but walk upon them. Good martinis are found at the opposite corner at Continental.
Eastern State Penitentiary (2027 Fairmount Ave., www.easternstate.org, 215-236-3300, $12), a former prison in the Art Museum Area, was founded on principles meant to be humane -- prisoners could be reformed by speaking directly to God, and no one else, by years of total isolation -- but instead often brought on insanity. Various art exhibits are hit and miss. Across the street, Jack's Firehouse has good upscale barbecue/American bistro fare and sidewalk seating.
But the granddaddy of the macabre is the Mütter Museum (19 S. 22nd St, www.collphyphil.org/MUTTER.ASP, 215-563-3737). Medical oddities are beautifully displayed in 19th century cabinetry, mixing the appeal of a circus sideshow with the veneer of the medical establishment. What's more fun than opening the drawers of a compact desk full of swallowed items, a wall full of skulls, a lady who turned to soap in a mass grave, and the world's largest cyst? Don't eat too soon before or after.
1…Bird watching by the airport
Between the airport and an oil refinery, John Heinz National Wildlife Refuge at Tinicum (8601 Lindbergh Blvd., http://heinz.fws.gov, 215-365-3118) is a birders destination. Regular sightings include eagles, herons, egrets, loons, orioles, cardinals, and kingfishers, plus turtles on logs. The main trail circles a lake. Relax on the walkway that cuts across it. Guided night walks go in search of owls.
Close by, and also with good bird watching, is Fort Mifflin (Fort Mifflin & Hog Island Roads, 215.685.4167), where planes come in for landing just above you. Rarely are more than 20 visitors here at a time. Yet it's steeped in American history, from the Revolution to the 1950s. It is also enormous: surrounded by a moat with high, thick walks, there are more than 14 building within that you can walk through. The most fun is to walk on top of the walls. Exhibits within the buildings are laughably dated, but still interesting.
A couple miles up the road is Bartram's Garden's (54th St. and Lindbergh Blvd., 215.729.5281, www.bartramsgarden.org) America's oldest botanical garden, with 45 acres of grounds. It's the former home of 18th century botanist and explorer John Bartram. Make sure you enter the dirt road, not the driveway to Bartram's Village, a hangout of notorious gangs.