Tourists at Greek island of Zakynthos injured after cliff collapses on beach
At least seven people were injured on Thursday after part of a cliff overlooking a popular beach in Greece came crashing to the sand.
Footage of the incident, which took place at Navagio Beach on the isle of Zakynthos, shows tourists fleeing as the large sheet of rock breaks away from the cliff face.
Officials were initially worried that some beachgoers had been buried in the rubble, but no one has been reported missing. However, authorities conducted searches out of an abundance of caution.
TRIPADVISOR USER SENTENCED TO 9 MONTHS IN JAIL FOR POSTING FAKE REVIEWS
"So far, we haven't found any trapped people but we will continue searching," said one official with the local fire brigade, Reuters reported.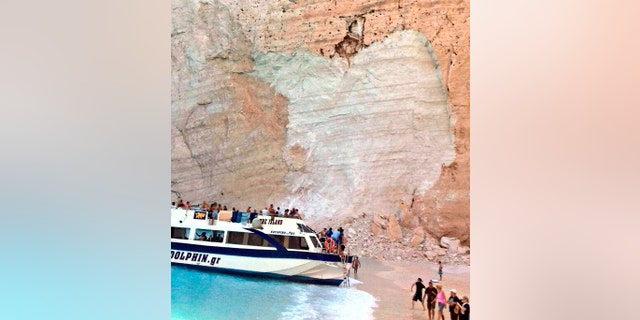 In total, seven people suffered non-life-threatening injuries as a result of the rockslide, including a 34-year-old Czech woman who was hospitalized with a spinal injury, the Associated Press reported. Her husband and two children were also hospitalized with minor injuries, along with three other beachgoers who were treated and released.
WATCH: TOURISTS BANNED FROM MALAYSIAN MOSQUE AFTER WOMEN FILMED DANCING PROVOCATIVELY OUT FRONT
Two small boats just off Navagio beach — nicknamed "Shipwreck Beach," after a freighter shipwreck in 1980 — also capsized as a result of the rockslide.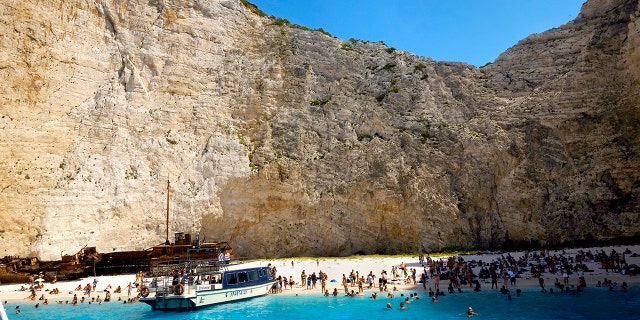 "There was a noise and a small piece of rock fell, then a second bigger and finally a third big piece of rock that during the fall created a sea whirlpool that overturned the boats," a witness told the BBC.
Officials have closed off the area to boats — which is the only way to access the beach — until further notice.
FOLLOW US ON FACEBOOK FOR MORE FOX LIFESTYLE NEWS
Zakynthos, the Western Greek island where the incident occurred, has long been a popular destination for travelers, but also for rowdy party-goers, leading authorities to crack down on bad behavior following the death of 22-year-old American tourist Barkari Henderson, who was beaten to death outside a Zakynthos bar in July 2017.
Locals have also been critical of the island's disorderly tourism industry and sex-fueled attractions, following incidents such as the death of a 17-year-old English tourist outside a bar in 2008, and the arrest of 21 British and Greek citizens following an oral sex competition held on the island's Laganas beach, also in 2008.