Say 'I do' to these 8 over-the-top beach weddings
The sea breeze is blowing, the waves are crashing behind you and your loved one declares "I do." Many an engaged couple dream of a beach wedding, and resorts and hotels around the world are rolling out the red carpet to woo them. From mermaids and black pearls to private islands and diamond jewelry, these beach weddings truly take the cake.
1. Beach Bling
What bride would turn down beautiful jewels to complement her wedding dress? Several resorts are offering brides major bling when hosting their wedding ceremonies. At the St. Regis Bora Bora Resort, the soon-to-be-married couple can dive for their very own Tahitian black pearl, once a rare jewel worn only by royalty. The pearl is meant to symbolize the eternal commitment to each other. The resort also partners with jeweler Robert Wan Pearls to lend additional black pearl jewelry for use during the wedding.
If diamonds are more your thing, then pretend you're an Oscar nominee and borrow up to $100,000 in diamond jewelry from Levinson Jewelers with the All That Shimmers wedding package at the Westin Beach Resort & Spa in Fort Lauderdale. Options include chandelier earrings, diamond cuff bracelets and an assortment of necklaces.
2. Wet Weddings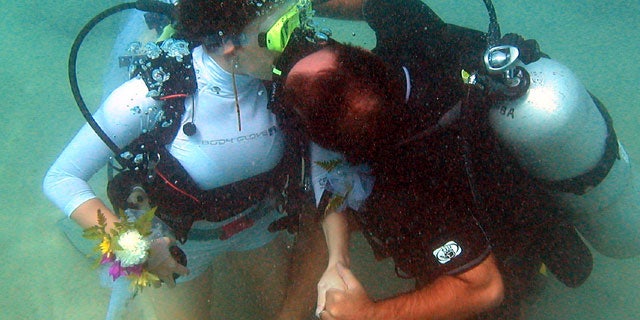 As crazy as it seems, underwater weddings are gaining steam. Several resorts let you literally "take the plunge" as you exchange vows. The Occidental Grand Cozumel in Mexico lets brides and grooms charter a private boat to exchange rings amid a colorful coral reef in the Caribbean. The Hotel Caravelle on St. Croix in the U.S. Virgin Islands – site of the largest underwater wedding in 2003, with more than 103 guests – also offers a package that allows a couple to tie the knot under the sea.
Fans of The Little Mermaid can live out their princess fantasies at the Sheraton Fort Lauderdale Beach Hotel, where their underwater wedding takes place in the deep end of a pool near the hotel's Wreck Bar. Couples are trained to hold their breath, so no scuba gear is required. The wedding takes place on the beach, but you exchange rings, have your first kiss and enjoy the first dance while submerged and wearing mermaid tails.
In Trang, Thailand, known as the land full of love, couples can dive deep below the emerald green surface for a traditional Thai wedding (scuba gear is required with this one). Held annually around Valentine's Day and open to both engaged or married couples, the Trang Underwater Wedding includes a Buddhist ritual and the actual signing of the marriage certificate beneath the sea.
3. Golfer's Delight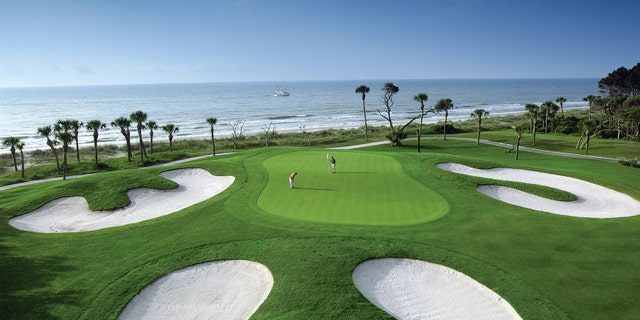 Lovers of golf can tee up their marriage at the Palmetto Dunes Oceanfront Resort on Hilton Head Island. The resort, which has three golf courses, offers a special ceremony at its oceanfront Robert Trent Jones course.
At the 10th hole, with gorgeous views of the Atlantic, the couple can exchange vows on the green. The bride rides in on a golf cart while the couple's new name flies in the wind on a custom golf flag at the hole. They may also find a special message for them written in the sand trap, along with their wedding rings around golf tees. Couples also enjoy getting engaged at this hole, with the groom surprising his future bride with a ring inside the golf hole.
4. Say Olé on Your Wedding Day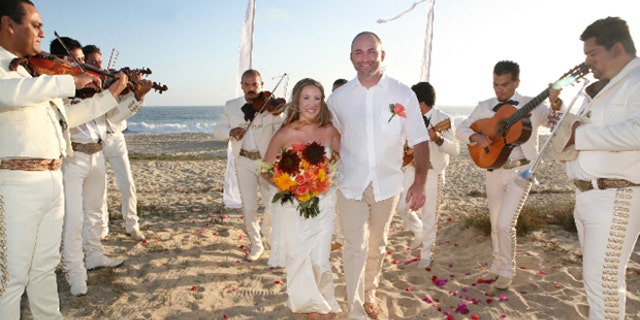 What to do after you're declared bound in holy matrimony? At Rancho Pescadero, an oceanfront resort on the Baja Peninsula in Mexico, you can have a full mariachi band play you down the aisle. The resort offers drinks, chips, salsa and a guacamole bar during the reception, as well as a tequila toast in place of the traditional champagne. Rancho Pescadero is known for its complimentary yoga for guests in its 2000-square-foot yoga pavilion, as well as its poolside straw hats.
5. Make Your Mark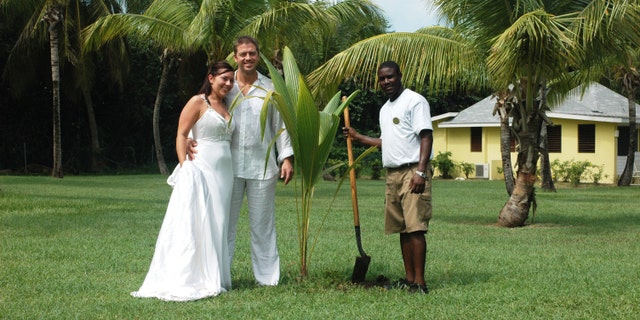 At the Nisbet Plantation Beach Club, newlyweds can plant a coconut palm on the property with a plaque that includes their name and the date of their wedding. The idea is that they will return year after year, perhaps on their anniversary, to watch their palm grow just as their "love for one another grows." We also love that this resort has a loaner "best man," who has stood in at some 50 weddings over the years.
6. Your Own Private Island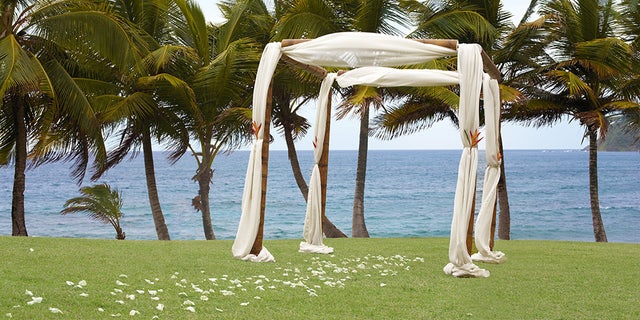 For the ultimate in privacy, book your own private island for your beach wedding. Rendezvous, an all-inclusive resort in St. Lucia, offers an "Ever After" collection of wedding packages, one of which allows you to tie the knot on the beach on a secluded island. You can also choose to have a steel band play at your wedding or reception. How fun!
Another option for privacy is to arrive by helicopter at Azura at Quilalea in Mozambique. Couples get married on an uninhabited island paradise surrounded by the waters of the Quirimbas Archipelago marine sanctuary. The resort provides candlelit beach dinners and personal butlers to attend to your every need.
7. Get Cultural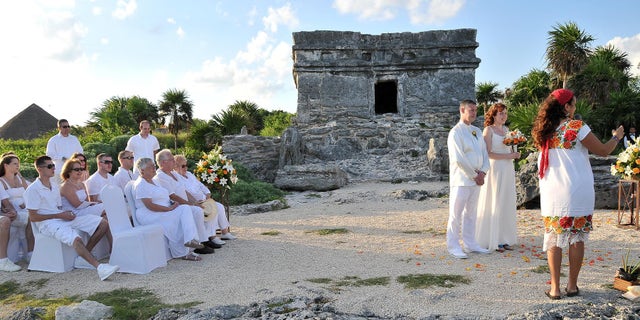 Several venues offer ceremonies that recall a culture's ancient traditions. You can have a traditional Mayan ceremony performed by a shaman in the Mayan language at the all-inclusive Occidental Grand Xcaret in the Riviera Maya in Mexico. The venue overlooks the Caribbean and ancient Mayan ruins. The shaman directs his prayers to the water, earth, wind and fire "so that their presence may strengthen and bless the union for many years."
If a Hawaiian wedding strikes your fancy, consider a traditional Ho'ao ceremony at the Andaz Maui at Wailea, but prepared to get married in the nude. This ceremony originally was for a chiefly couple and stresses honesty, integrity and the connection between the two people. The couple disrobes within a tented cloth drawn around them for privacy while they speak their vows so only they can hear. They then emerge with their clothes back on as two united "spiritual beings."
8. Just for Kicks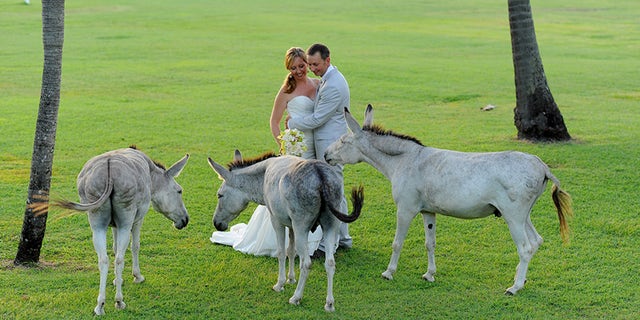 We couldn't resist sharing these two really-out-there wedding traditions. At Caneel Bay in the U.S. Virgin Islands, donkeys (and other wildlife) roam free on the private peninsula where the resort is located. The donkeys often wander into the ceremony and join the wedding party. How's that for a photo op?
Finally, a tradition at the Occidental Grand Xcaret is to "trash your dress" by jumping into a nearby Dolphinarium and swimming with 20 or more dolphins for a grand photo session.
Wherever you choose to say "I do," here's hoping it's a once-in-a-lifetime memory – donkeys or not.