Mechanical issue on American Airlines flight sends 4 to hospital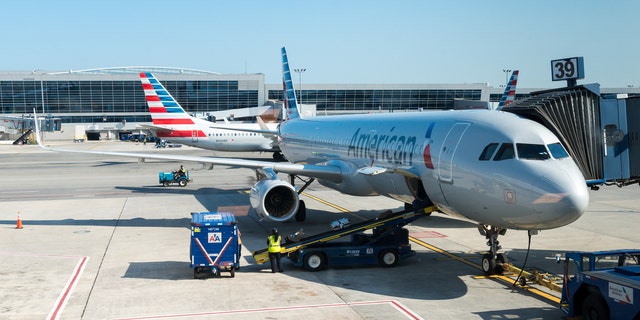 An American Airlines flight scheduled to depart Boston for Charlotte, N.C., was forced to return to the gate on Monday following reports of an odd odor which ultimately sent a passenger and multiple crew members to the hospital.
The airline has determined that the aircraft had turned around due to a mechanical issue, according to the Associated Press, although it's unclear how the issue was, if at all, related to the odor.
BIRD FLIES INTO COCKPIT, FORCES DELTA FLIGHT TO TURN AROUND
In total, four people were transported from Boston's Logan International Airport to nearby hospitals, including three members of the flight crew and one passenger. The rest of the passengers continued on to Charlotte on a different aircraft, and after a nearly four-hour delay, MassLive.com said.
American has confirmed that the original aircraft was subsequently inspected, and untimately returned to service later that same day.
"American Airlines Flight 1719 from Boston to Charlotte returned to the gate prior to departure on Jan. 1 because of a possible mechanical issue," according to a statement from American Airlines. "There were reports of an odor onboard and the captain elected to return to the gate.
"The aircraft was taken out of service and the flight departed for Charlotte later in the day with a replacement aircraft. Three flight attendants and one passenger requested medical attention at Boston Logan and were transported to a local hospital to be evaluated. All were later released," the airline added.
FOLLOW US ON FACEBOOK FOR MORE FOX LIFESTYLE NEWS
This isn't the first time an odor aboard an American Airlines flight has sent passengers or crew to the hospital. In July, at least three people were taken to a hospital after crew reported a mysterious odor on a flight from Houston to Miami. Later, in October, several crew members requested medical attention after reportedly smelling an odor on a flight that hadn't yet left the gate.
The Associated Press contributed to this report.