Manchester Airport apologizes for telling young girl her diabetes medication could 'make the plane crash'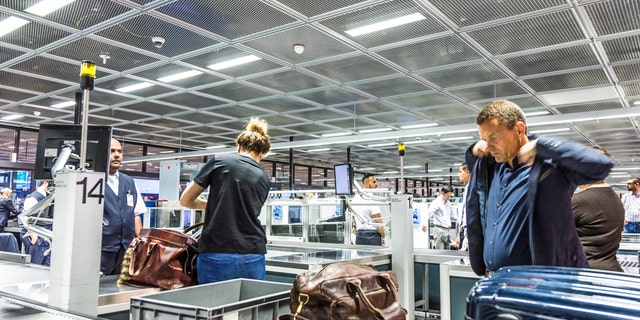 Manchester Airport in England has apologized to a family after a security staff member allegedly told a 13-year-old girl that her diabetes medication "could make the plane crash" and that it would be "her fault."
Joanne Holland, 47, was traveling to Naples with her husband Simon and their 13-year-old daughter Polly, who has Type 1 diabetes. The family had Polly's life-saving insulin in their carry-on luggage, like they always do when they travel. In addition to the medication, the family carried letters from the Sheffield Children's Hospital authorizing the insulin, The Star reported.
AMERICAN AIRLINES APOLOGIZES TO RAPPER WALE AFTER HE CLAIMED EMPLOYEES WERE RACIST
However, despite the paperwork, the Holland family from Sheffield said that the security staff made them feel "like terrorists."
Joanne told The Star the family was made to open all their medication and place it into individual plastic bags — like other, non-medical liquids. Joanne feared this could cause contamination of the medication.
Later, the family said they were called back by security, who then allegedly told Polly her medicine could "make the plane crash" and told her it would be "her fault."
DELTA APOLOGIZES FOR CALLING POLICE ON BLACK CUSTOMER FOR TRYING TO FILE A CLAIM OVER DAMAGED LUGGAGE
"As a parent, your children are always your priority but with Polly it is even more because I am carrying medicine that will keep her alive," Joanna told The Star. "For me it was frustrating but she was worried she would not be able to go on holiday. I just held her hand and said everything was going to be ok. She looked close to tears."
Manchester Airport did not respond to Fox News' request for comment, but said in a statement to The Star that they apologized to the family for the incident and explained their medication policy.
FOLLOW US ON FACEBOOK FOR MORE FOX LIFESTYLE NEWS
"We'd like to apologize to the Hollands for their experience when travelling through the airport recently. The correct procedure for medicines and medical equipment is that they require scanning unless there is a written exemption from a doctor or hospital. This is why the Hollands were asked to present their daughter's diabetes medication for screening."