Delta throws 102nd birthday party for pioneering flight attendant, WWII vet
Delta Air Lines recently threw a very special 102nd birthday bash for a former flight attendant and World War II veteran, who was one of the carrier's first stewardesses.
On July 9, Delta hosted a birthday soiree for Sybil Peacock Harmon at her retirement home in Acworth, Ga., full of sentimental details.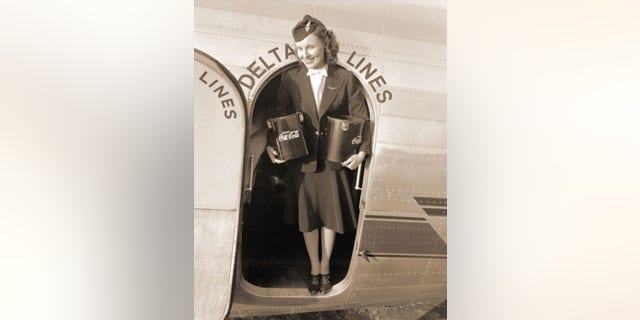 Surrounded by family, friends and airline staffers, Harmon was presented with an orchid in a Delta tradition, and pinned with a new set of flight attendant wings by S.V.P. of In-Flight Service Allison Ausband. A display of the centenarian's original log books, an original 1940s stewardess uniform and a life-size cutout of Harmon herself in an iconic Delta marketing campaign further commemorated her career.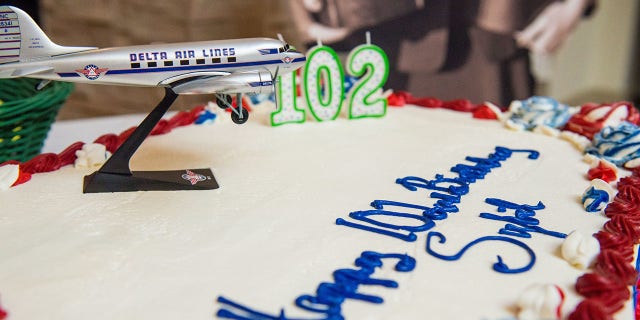 OFFICIALS SAY VAPING CO-PILOT CAUSED AIR CHINA FLIGHT TO DROP 21,000 FEET
"Flying was special because I was going places," Harmon said in a news release. "When I was 9, I told everyone, "I'm going to go all over the world." And I did."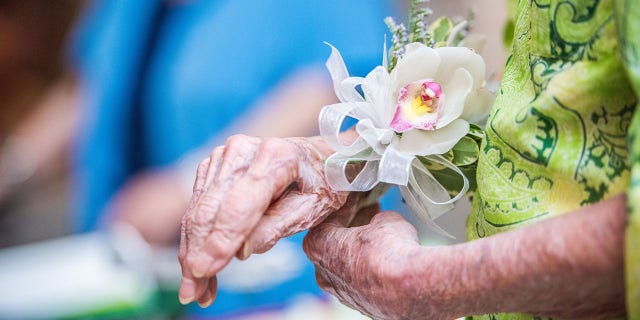 Born in Minden, La., in 1916, Harmon began her career at Delta at age 24 in 1940 as a member of the carrier's first-class stewardesses, and primarily worked on the 21-seat aircraft DC-3. Given her critical role in the high skies, she was also required to be a registered nurse.
"Most of the customers we had in the beginning were businessmen and you got to know them real well because you would see them over and over," she recalled in a 2014 interview. "But this was the beginning, really, of people flying. An emergency would come up ... people would get on a flight ... But this started people to flying because they realized how quick it was."
"You felt like a celebrity," she mused at her birthday bash. "People would come out to the airport with their children and they would say, 'Look, that's the stewardess!' They even asked for our autographs."
Harmon further remembered serving in-flight meals of "fried chicken, potato salad and a Coke" as well as chewing gum given the lack of cabin pressurization, as well as flying young WWII pilots back to their bases after they had shuttled war plans to North Africa, during her time with the carrier.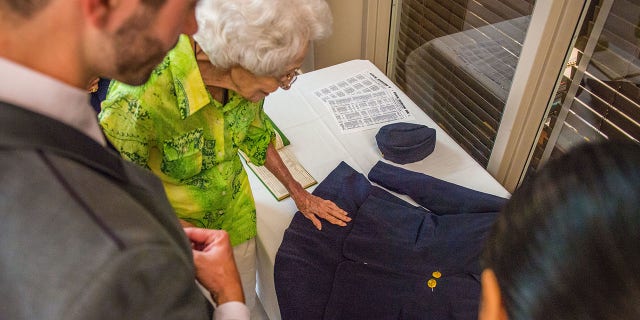 Leaving Delta to serve in the Air Force in 1943, she was soon promoted to First Lieutenant and went on to marry U.S. Army Capt. Wallace Harmon a few years later. Her husband, who had worked for Delta as a reservations agent before the war, returned to work as a District Director of Traffic and Sales in Dallas. Their daughter Peggy also went on to enjoy a fruitful career at the carrier, working as a Delta flight attendant from 1973 to 2008.
FOLLOW US ON FACEBOOK FOR MORE FOX LIFESTYLE NEWS
Delta caught wind of Harmon's upcoming birthday through one of her fellow retirement home residents. According to the news release, resident Don Fries was telling his son about Harmon's aviation career, who proceeded to track down her famous photograph on the Delta Flight Museum website.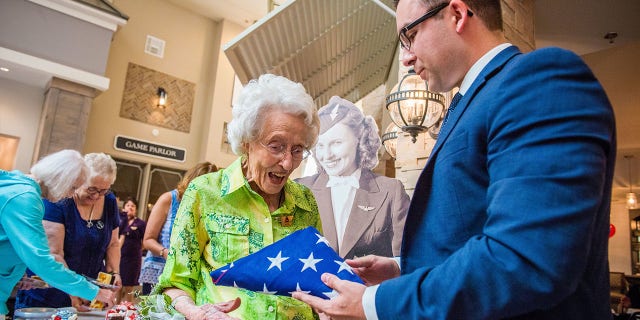 "I showed it to Sybil and she said, "That's me!" She had a tear in her eye," Fries said.
On his next Delta flight, a few weeks ahead of Harmons' exciting birthday, Fries' son told flight attendant Kevin Jennings about Harmon, and the company got involved.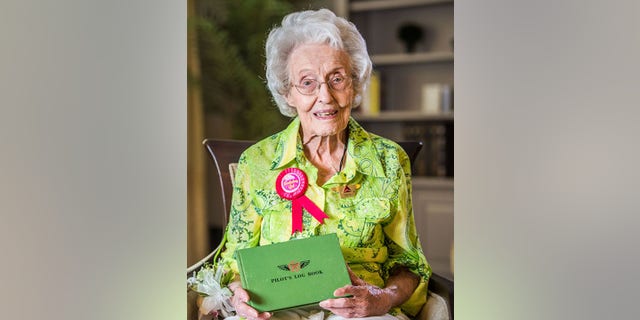 "It was like somebody up there put everybody together at the right time for Sybil," Fries said of the successful plan.
At her special party, Harmon offered a word of sage advice to two young Delta flight attendants present.
"It's a whole new world now," she said. "I am proud to have paved the way for the next generation."